Byrne Ready to "Take No Prisoners" in Elite Tour Return at Madison Square Garden
By: Kacie Albert Tuesday, January 2, 2018 @ 6:37 PM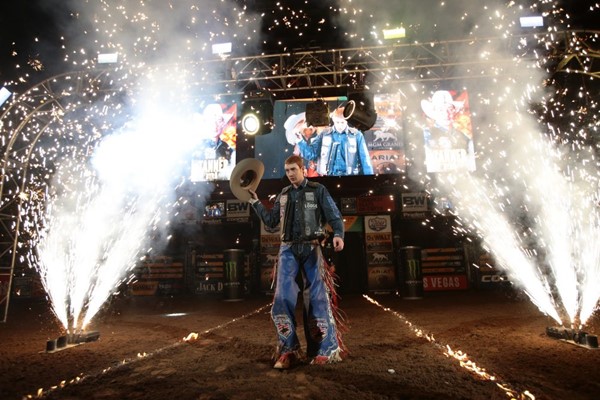 NEW YORK – In 2017, three-time Glen Keeley Award winner Tanner Byrne competed at just five elite tour events as he battled numerous injuries, namely a torn groin.
RELATED: Byrne Sidelined for Remainder of Season
However, when the 2018 season for the 25th Anniversary Tour begins in less than one week's time, the Canadian powerhouse is ready to write a much different story as he prepares to ride in his first premier series event since August's Music City Knockout in Nashville, Tennessee. 
"Definitely looking forward to it," Byrne said of his upcoming return to the sport's biggest stage.
"I've been absent from it for most of the year last year, so that's always pretty cool when you can start fresh at the biggest stage in the world, Madison Square Garden, and start the year off right, I can't wait."
"New York has always been my favorite event, I always look forward to riding there so I can't wait," Byrne elaborated.
And when he returns, fans can expect to see Byrne back competing at 100%, a form which propelled the rider to two event wins in 2016, becoming the first Canadian since 2003 to accomplish the feat.
"It all feels good again," Byrne said.
"The last couple of times I came back I don't think I was totally 100%, but as of right now I feel great."
"I went to Australia and stayed on one over there and was able to get that feeling and timing back. I think that was the biggest thing, just not being on bulls for so long and then only getting on not very many last year, didn't really give me the chance to get that timing and feeling back, the confidence of staying on."
"So I think I'm really getting that back and starting to go back to where I feel like I ride the best against the best bulls, best guys."
"I can't wait to go back there, get up on those chutes, and put my rope on that caliber of bulls again and show what I've got."
After he was forced to the sidelines in August, Byrne planned to rehab up until November's inaugural Global Cup in his home nation. Byrne, however, made an earlier-than-anticipated return to competition when he accepted a bid to the 2017 Real Time Pain Relief Velocity Tour (RVT) Finals.
RELATED: Byrne Earns Vegas Invite
Since returning to competition, Byrne has ridden at six events.
The 25-year-old went 1-for-3 at the RVT Finals, 1-for-5 at the Global Cup, and 1-for-2 to finish 12th at the November RVT event in New Town, North Dakota before travelling to Australia for the second time in his career to make a final push before the elite tour resumes in January.
RELATED: "Game On" for Byrne as He Heads to Australia
Once Down Under, after getting shutout during the Melbourne Invitational, Byrne rebounded with a seventh place finish the following weekend at the Adelaide Invitational.
RELATED: Byrne Leads Canadian Contingent in Adelaide
And while the 2015 PBR Canada Champion hoped to have earned a few world points, he believes that those six events greatly helped his mental confidence.
"I felt good in Edmonton, I was dealing with a wrist issue," Byrne recalled of the Global Cup.
"After I broke it and came back, it just kind of was still sore, but I didn't ride like I could in Edmonton."
"I think that's behind me now and you know how it is, some days are good and some days are bad, that's bull riding, but I feel good again now."
"Like I said, it was a lot of gaining confidence back, getting that feeling back. When you nod your head and get hurt, after being out for six months, and your first couple back you get wrecked out again, it's kind of getting your mind back into it, of I'm doing 100% again, and giving it your all without that fear in the back of your mind of getting injured or having to sit out again.
"So just kind of getting that mental attitude of take no prisoners and give it everything you've got that I had to get back and I think I feel like I'm back there now."
While Byrne finished the 2017 season ranked No. 101 in the world, the Prince Albert native has three injurie exemptions awaiting him for the 25th Anniversary Tour, one of which he will use for the New York City event on Jan. 5-7.
"I've got three because I kept going back last year, and it seemed like I would go back for one and get hurt in the first round and not even get to finish that event, but that counts as your event. So I've got three left to do my job."
"Game on."
"I know I've got the right skills and abilities to do my job and I'll let the rest fall where it lays, there's not much more I can do. I've been training and I'm ready, I feel like I'm more ready than ever. I'm just excited to have the opportunity to go back to it strong."
And Byrne believes he is stronger than ever ahead of his return, crediting his time away from the sport for reinvigorating his passion for bull riding.
"Being gone for the whole year and sitting out that long made me fall back in love with the sport again, I think I kind of lost it there for a while," he said.
"The drive and that want to go and win, I think that being out that long, I kind of got that back and now I feel like I want to go prove myself, right back like I'm 18 years old again."
"Just pretty excited to get back to riding bulls."
As much as Byrne is excited to return to the sport he loves, he is also looking forward to travelling once again alongside his brother, Jesse Byrne, one of the tour's primary bullfighters.
"That's added aspects of my game that I'm fortunate enough to have that, which a lot of the other guys don't have, is having that family tie," Byrne said.
"I get to go to all of the events with my brother, hang out with him on the weekend. You don't feel so alone or that you're doing it by yourself, you kind of feel like you've got that team behind you, the backing and support that I get from him, so it's cool."
Byrne is also optimistic that him and fellow Canadian Dakota Buttar, who established himself as a tour regular in 2017, will be joined by additional Canucks in 2018.
"As many Canadians as we can get on the tours is wicked," Byrne said.
I think there's going to be a lot more you'll see this year. I can see Zane [Lambert] ripping it up, Brock Radford, you've got Lonnie West rolling, Jordan Hansen."
"The Global Cup kind of showed a lot of the guys the talent that we have, and I think it gave those guys the confidence and the mental attitude of they do belong there and they can make it there."
"I think that's a lot of guys' problem is their belief in themselves and it hinders them to where they don't get on to the main tour because they don't have the belief that they are one of the best in the world. I think that you see a lot of these guys have that now, and I think you're going to see a lot more Canadians on tour this year. "
"Hopefully me and Buttar are joined by all those guys and just all keep representing Canada the best way."  
While Byrne is hoping to have a much different season than last, his goal remains consistent, win a world title.
"I'm fresh and ready to go," Byrne said confidently. 
"I've got that drive and that fire back so I think I'm more ready than ever to win a world title. It's why I always do it and why I started riding bulls in the first place, to be a world champion, so that's my goal for the year." 
The 2018 season for the 25th Anniversary Tour gets underway Jan. 5-7 at Madison Square Garden in New York City, New York with the Monster Energy Buck Off at the Garden.
Be sure to stay tuned to PBRCanada.com and follow the tour on Facebook (PBR Canada), Twitter (@PBRCanada), and Instagram (@PBRCanada) for the latest results.