Byrne Readies for Fourth World Finals Appearance
By: Kacie Albert Monday, November 5, 2018 @ 1:54 PM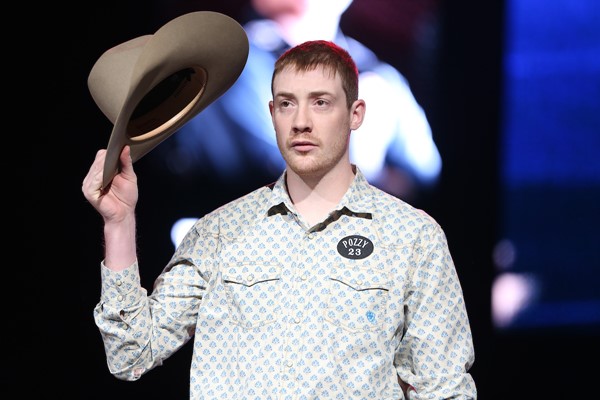 LAS VEGAS – Last season, Tanner Byrne missed the PBR World Finals after making three consecutive trips due to the numerous injuries he battled, limiting him to just five elite tour events.
In 2018, however, the Prince Albert, Saskatchewan-native returned with the competitive intensity he is widely known for, leading him to qualify for his career fourth PBR World Finals, ranked No. 29 in the world ahead of the event's first round inside T-Mobile Arena.  
RELATED: Buttar and Byrne Qualify for 2018 PBR World Finals
"It's awesome," Byrne said. "As a little kid growing up I've always had a dream of being a World Champion bull rider. So to make it to the World Finals even once I feel like is pretty cool.
"And I was happy when I did that and now to go for my fourth trip is awesome."
While Byrne didn't completely avoid the injury bug in 2018, sidelined for numerous events, namely due to an ankle injury, he recorded the third elite tour event win of his career in February at the St. Louis Invitational, presented by Express Employment Professionals.
RELATED: Byrne Cherishes Victory Amidst Emotional 'Roller Coaster'
Byrne recorded an additional two Top-10 efforts, including a sixth place showing in Nashville this August at the Music City Knockout, the fourth Major event of the year.
"I definitely take it to heart and really know that I've accomplished lots of my goals in the bull riding world," Byrne reflected. "There's still lots to do and I'm gung-ho and ready to move forward. I want to win the Finals and my ultimate goal is to be a World Champ. So I'm looking forward to go to the finals."
The Byrne family, however, will be represented beyond Tanner inside T-Mobile Arena.
After first selected to the event as an alternate in 2008, becoming the first Canadian to work the prestigious event, brother Jesse Byrne will once again be one of the World Finals' four bullfighters.
"It still seems like yesterday we were just kids with dreams of being on the PBR, and now he's been there 11 times," Byrne said of his brother's accomplishments.  "It's pretty wild, but I'm super proud of him."
"You don't have to brag him up, but he shows day in and day out in the arena that he's the best in the world so it's pretty cool. I'm really happy for him that he's able to fulfill his dreams and do what he's always known that he's the best at.
"I'm super proud of him, and pumped to get there with him."
The bull pen will also include a bovine athlete from the family's stock company, Flying Four Bucking Bulls, via Milky Chance.
RELATED: Eleven Canadian Bulls Selected to 2018 PBR World Finals
"That's badass," Byrne said of the bull's first selection to the most prestigious event in bull riding. He's had a really stellar year."
"It's always an honor when you can have one that goes to the World Finals," he continued. "It just shows that your program works and you're doing the right thing with the bulls. It's just like I'm making the World Finals, it's a huge accomplishment for those bulls.
"Looking forward to being there myself and getting to watch him and see him do his job as well."
This season the bull bucked at seven PBR Canada events, and was also selected to the Calgary Stampede where he recorded a career-high 45.5-point bull score for his 4.46-second buckoff of Derek Kolbaba.
 "He was a bull that we got as a yearling and he always kind of looked like a roping steer, he was just one where I didn't know if I should be bucking him or running him in the roping chutes," Byrne remarked.
"He was kind of an ill-build, late bloomer. He's got a crazy attitude, he's always really high strung, always on the lookout and always jittery and moving around.
"But when he's in that bucking chute and starts bucking he's a pretty cool to watch his athletic ability and how he can control that freakishness and really let it out when he bucks."
Unridden in 15 outs across all levels of competition, Milky Chance's buckoff streak came to an end at the final regular-season Canadian Monster Energy Tour event of the season in Edmonton when Edgar Durazo rode him for 86.5 points in the championship round.
"He's one that I'm really proud of, he was underrated," Byrne continued. "Like I said he was small and he didn't have a bunch of weight on him, and he really matured over this winter. My dad did a really good job of feeding him up and getting him looking like an actual bucking bull. And it really showed this year, he really got that extra bit of power to him.
"He always had that intensity, but I think he got bigger, and matured, and got some  more power to him and you can see that in his bucking. "
In addition to his family having a large presence at the event, Byrne will be joined by countryman Dakota Buttar in the draw.
"Me and Dakota we grew up together really since we were little kids going to CCA rodeos with our parents, and Little Britches Rodeo together," Byrne detailed. "So it's pretty wild now for us both to be at the highest level of bull riding and getting to travel together on the weekends and making Canada proud, and Saskatchewan proud and it's awesome."
The 2018 PBR World Finals get underway with Round 1 on Wednesday, November 7 at 6:40 p.m. PT. Fans can watch all the action LIVE on CBS Sports Network, with the 30-minute pre-show starting at 9:30 p.m. ET, or via RidePass' listen LIVE stream, also beginning at  9:30 p.m. ET.