Byrne Converts with Baby on The Way Any Minute
By: Justin Felisko Thursday, November 8, 2018 @ 7:52 AM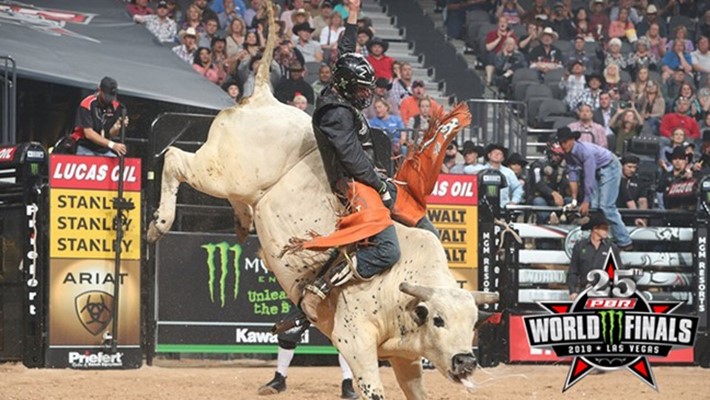 LAS VEGAS – Tanner Byrne's wife, Meghan, is over 1,500 miles away from T-Mobile Arena back home in Prince Albert, Saskatchewan.
Meghan can go into labor with the Byrnes' second daughter, who was due on Tuesday, at any minute.
Tanner had waited until the absolute last possible moment before leaving for the 2018 PBR World Finals on Tuesday evening.
Unfortunately, little baby Byrne has decided she isn't ready to come around just yet. 
"It is ridiculous hard," he said. "Everyone that knows me knows that I am 100 percent family first. No matter what, everything else is second to me. It took us sitting down as a family and making a decision.
"She said the best place for me was to be here, doing my job and winning a lot of money. So I better do my job."
Knowing he had his wife's blessing, Tanner got to work quickly in Round 1 on Wednesday night.
Byrne rode Concealed Carry for 86.25 points to tie with Joao Ricardo Vieira (86.25 points on Cool Customer) for ninth place in the round.
"Staying on one, now we can knock this next one out of the park," Byrne said. "Then it is going to keep going all great, and we will have that baby when I get home."
Byrne is slated to face After Midnight (20-1, PBR UTB) in Round 2.
Fans watch Round 2 on CBS Sports Network at 9:30 p.m. ET. RidePass will offer companion coverage at 9:30 p.m. ET.
Byrne understands there is always the possibility that Meghan gives birth without him home.
The four-time PBR World Finalist is holding out hope that the baby can wait a few days, but if not he said he will stay and finish out the World Finals.
No Canadian bull rider has ever won the PBR World Finals event title.
Byrne is ranked 30th in the world standings.
"This was our decision we made together," Tanner said. "If she wanted me there, I probably wouldn't be here. It was a group decision and she was alright with it.
"She is the toughest woman I know. She is obviously scared and nervous and all the other stuff, but it shows how much faith and trust that I have in her that I know she is going to get through it and do it."
Tanner nearly did not even make it to the World Finals this week after he decided he was coming.
The 26-year-old was traveling with his father-in-law, Rusty Clunie, when they learned that, because of flight delays, they were not going to be able to get out of Saskatoon on time.
Seeing as they were on the last flight, they were then going to subsequently miss their international connection in Calgary to Las Vegas.
That would have put Byrne in jeopardy of not making in time for Round 1.
"By the time I got to Saskatoon, our flights were all mixed up and there wasn't actually any flights that were going to get me in here until 4 p.m. this afternoon," Byrne said. "So my father-in-law was with me, made a plan, he phoned the guys at Kreos (Aviation) in Saskatoon and got us a private jet.
"They flew us to Calgary and then shuttled us to the international part. We made it by about five minutes and got on that international flight from Calgary to Vegas and we're here now."