Byrne Cherishes Victory Amidst Emotional 'Roller Coaster'
By: Justin Felisko Tuesday, February 20, 2018 @ 4:30 PM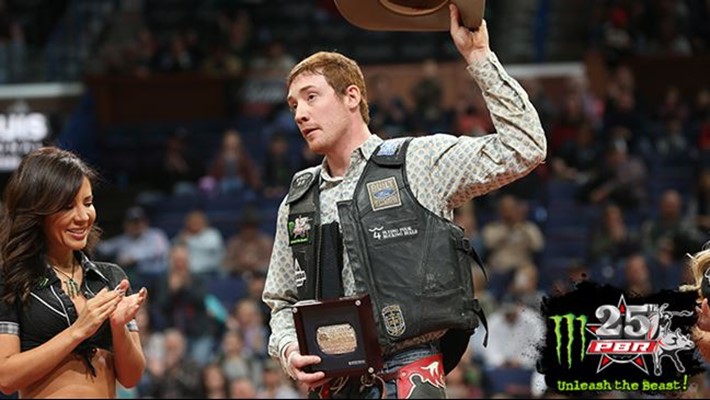 PUEBLO, Colo. – Tanner Byrne stood tall on the dirt inside Scottrade Center on Saturday night as the PBR's Celebrate America opening video began to play.
Byrne would often take a moment or two to think of his grandfather, Marvin, who served in the Royal Canadian Air Force during World War II, whenever he was competing on the premier series throughout the last year.
Even though the PBR is celebrating America and its armed forces, first-responders and fallen heroes, Byrne – a Prince Albert, Saskatchewan, native – takes those minutes on the dirt to think of all the sacrifices being done by those similar heroes north of the border in Canada.
He did the same thing on Saturday night, thinking about his grandfather as the PBR Celebrate America video played in St. Louis.
A few hours later, Byrne learned that Marvin had passed away at 97 years old.
"I know he was definitely with me today riding and we will miss him forever," Byrne said. "I always say my idol is my dad and my grandpa. There isn't a day that goes by that I don't think about my grandpa. Whenever we do the intros, and I hear all the patriotic stuff, it does hit home for me. I know as much as he made it out alive, many families didn't. If he wouldn't have made it out of there, none of us would be around today.
"We never know the full extent of what those guys are going through and went through. It gives you an idea now of what they did go through and what they had to fight through and battle. I always had the utmost respect for those guys. Those are the heroes of our world. Not the athletes and celebrities. Those are the people doing that stuff so the rest of us are able to do what we do today."
To say the least, bull riding has been an emotionally, draining task for Byrne in the last year since the passing of his best friend Ty Pozzobon and a slew of physical injuries derailed his 2017 season.
Saturday night's news of his grandfather passing was the latest mental obstacle that Byrne has tried to work his way through.
On Sunday, Byrne was able to channel his emotions and pick up his first premier series victory since March 12, 2016, in Duluth, Georgia, and dedicated the win to his grandfather and Pozzobon.
Byrne clinched the victory with them on his mind when he rode Bad Beaglefor 88.75 points – ending the bull's streak of 18 consecutive buckoffs – in the championship round. He began the weekend by riding Picking Up Pennies for 83 points in Round 1 and turning down a re-ride in Round 2 following his 77.25-point ride on Lil Moody.
Byrne's emotions came front and center once he had the St. Louis Invitational belt buckle in his hands.
The 25-year-old began to tear up as he went through multiple interviews about his grandfather and Pozzobon, who had committed suicide last year.
"I had to deal with a crazy amount of emotions," Byrne said. "I have overcome so many obstacles in my mind. When I first came back, I was just happy that I could actually do it again and be behind the chutes. I promise you, there are a lot of old friends here, but nobody like Ty. That was my guy. Hanging your rope in there to get rosined up and taking your stuff out of your bag. None of it feels the same. It never will.
"It has been a rollercoaster. It is good to get this and get back rolling. Luckily, I get to wear his legacy and run a foundation that has his name on it."
Byrne has credited his family, including his wife, Meghan, repeatedly for helping him go through the grieving process of losing Pozzobon and then helping him regain his confidence to ride again.
The five-year veteran admits that when he is getting ready in the chutes and sees another fellow bull rider get knocked out or injured that it rattles him differently than when he was a rookie.
"Definitely," Byrne said. "My whole mindset and life is totally different. You don't understand it until you go through something as personal as that. There are a lot of days that are scary. That is life. You have to deal with what is thrown out you. That is what I am trying to do. Stay calm, mentally and physically, and focused on the one thing I can, that is staying on my bulls."
Byrne gained some of that mental strength from his grandfather.
When Tanner's parents, Ryan and Kelley, were off rodeoing, Tanner would often stay on his grandparents' ranch in Canada.
Tanner learned many things from Marvin's time in the military and from owning a farm.
"Man the ropes of life," Tanner said. "To keep grinding and keep going. He was always put in situations that weren't ideal. It never got him down. He was a fighter."
Byrne, who took vacation to Maui, Hawaii, after getting "sored up" in Anaheim, California, was 4-for-10 heading into St. Louis before erupting for his first three-ride performance on the premier series since October 2016 in San Jose.
He earned 475 world points to assure himself a full-time spot on the Unleash The Beast as the No. 12 ranked rider heading into Iron Cowboy. Byrne had begun the weekend 36th in the world standings.
Byrne nearly won the PBR Major in 2015 before being eliminated in the final round by Boot Jack in 1.82 seconds.
Byrne's resurrection into the Top 15 this year is a long-time coming after finishing 2016 15th in the world standings. In 2015, Byrne posted the best-season for a Canadian-born rider by concluding the year No. 8 in the world standings.
It was also a moment that may have never happened again without the help of his family and friends.
Byrne could have walked away from the sport and many would have understood why. Instead, he has returned with a heart full of emotions and the goal of still becoming the first Canadian World Champion.
"I love this sport," Byrne concluded. "You can be at the bottom of the dumps and you could feel the worse you can feel and then you smash out on an unridden bull in front of a crowd that is going wild. Your friends are going crazy on the chutes. It is a crazy, crazy sport. I love the emotions that come with it and the people in it.
"It has been my lifelong goal to be a World Champion since I was 3 years old. I want to fulfill that passion before I am done."
Be sure to stay tuned to PBRCanada.com and follow the tour on Facebook (PBR Canada), Twitter (@PBRCanada), and Instagram (@PBRCanada) for the latest results.