Buttar Sets New Career-High in Oklahoma City
By: Justin Felisko Monday, January 22, 2018 @ 4:33 PM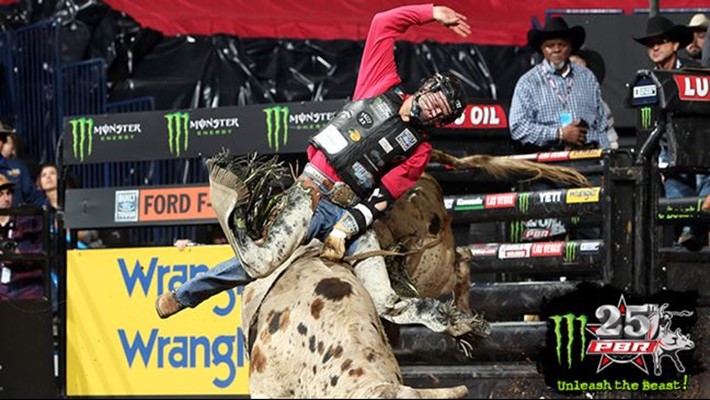 OKLAHOMA CITY – Dakota Buttar just shrugged his shoulders when asked about having to miss the championship round at the Chicago Invitational two weeks ago.
Buttar said he had no qualms with PBR sports medicine holding him out because of a concussion he sustained after riding Dream Catcher for 86 points in Round 2 of the Chicago Invitational.  At the time of the injury, Buttar was in position to have the top pick for the championship-round draft and make a run at his second career win.
Instead, Buttar was packing up his gear bag and getting ready to home. 
"I had been wanting the first pick for quite a while, and I finally had it and I couldn't use it," Buttar said in Oklahoma City. "I trust their opinions. I rather ride as long as I can rather than shorten my career. They are just looking out for us.
"It is frustrating any way you look at it," Buttar added. "It is kind of one that got away. You had the best pick you could want and had the lead going into it. That is bull riding."
Coincidentally, Buttar had the first pick for this past weekend's Express Employment Professionals Invitational after beginning the weekend with 85.25 points on Hy Test and 88.5 points on Bottoms Up.
"I love that bull," Buttar said following his Hy Test ride. "Hell, he was really slow and then he picks up good. He has so much timing. I just love that bull. I wish I could get him every time."
Two-time World Champion Justin McBride said during the CBS Sports Network broadcast that he was impressed by Buttar's patience as Hy Test left the chutes slowly before picking up steam.
"He didn't override him because he had been on him before and knew what to expect," McBride said. "He waited for the bull. That is what you have to do. Let the bull move and follow him around."
Buttar, though, is still in search of his second career victory as he was bucked off by More Big Bucks in 6.41 seconds during the championship round.
The 25-year-old had been hoping to earn the victory for his girlfriend, Caitlin, who was celebrating her birthday on Sunday.
The buckoff shouldn't take away from Buttar's strong start to 2018.
He finished fourth in Oklahoma City and is now 10th in the world standings courtesy of his 5-for-8 start to The 25th PBR: Unleash The Beast.
Buttar's 88.5 points on Bottoms Up was actually a new career-high. Bottoms Up was also the first bull he attempted on the premier series when he made his debut in Tulsa, Oklahoma.
"That was the first bull I ever got on," Buttar said with a smile. "He bucked me off (5.3 seconds). He is pretty rider friendly, but he can get you big scores too."
McBride said, "He is staying in the left-handed spin, but he is changing directions every time his front feet leave the ground. Buttar is in great shape the whole time."
Buttar wasn't able to compete at any Real Time Pain Relief Velocity Tour events after the 2017 season because of three small fractures in his left foot that he sustained at the PBR Global Cup in Edmonton.
It was a frustrating end for Buttar's year, especially seeing as he had ridden six of his final 10 bulls of the season before sustaining a concussion during Round 4 of the PBR World Finals.
Buttar had become only the second Canadian since 2003 to win a premier series event when he went 3-for-3 in Nampa, Idaho, a few weeks earlier too.
2017 was Buttar's first full-year on the PBR's top tour, going 21-for-60 (35 percent) with the victory and eight Top-10 finishes.
Buttar has been battling tendinitis in his left wrist (riding hand) since the 2017 World Finals, but he believes the problem is finally starting to go away and that he is ready to take another step forward in 2018.
"I never notice it when I ride," Buttar said. "It is right when I get off. It burns pretty bad. I feel healthy now. My wrist doesn't bother me now when I ride. It is just sore after. I feel like I am healthy."
Follow Justin Felisko on Twitter @jfelisko