Buttar Ready to Ride in Big Apple
By: Kacie Albert Thursday, January 4, 2018 @ 6:02 PM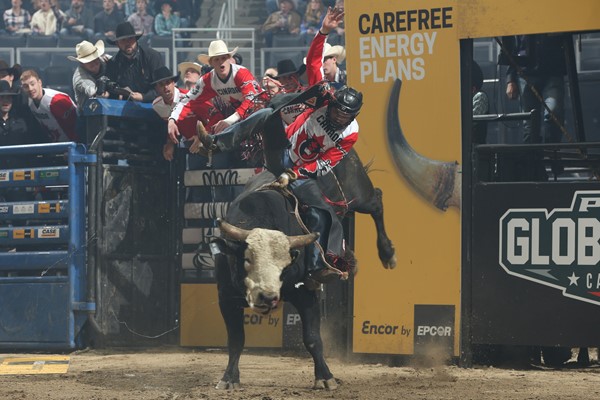 NEW YORK – After riding at just two elite tour events in 2016, including his first-ever World Finals, Dakota Buttar established himself as a tour regular in 2017.
With the 2018 elite tour season just days away, Buttar is eager to continue building upon his successes this season when the 25th Anniversary Tour launches Jan. 5-7 in New York City, New York.
"That was probably my favorite event last year," Buttar said.
"I'm pretty excited to go back. It's pretty cool riding at Madison Square Garden, and the city, there's so much to see."
Just his second regular season event on the elite tour, Buttar finished 17th in New York City in 2017 after going 2-for-4. The Kindersley, Saskatchewan native advanced to the first championship round of his career after covering Pneu-Darts Sarge for 83.5 points and Time Bomb for 83 points in the event's first two rounds.
And Buttar's successes only mounted as the tour traveled across the United States.
After recording six Top 10 finishes on the tour, he earned his first event title in October at the DeWalt Guaranteed Tough Invitational in Nampa, Idaho. In earning the win, Buttar joined fellow Canuck Tanner Byrne as the lone Canadians since 2003 to accomplish the feat on the PBR's premier tour.
RELATED: Buttar Wins in Nampa
The 2017 recipient of the Glen Keeley Award, Buttar's season, however, ended on an injured note.
After he was forced to the sidelines following Round 4 of World Finals due to injury, Buttar sustained three fractures in his left foot during his dismount from a successful ride on Big Shot in Round 1 at the inaugural Global Cup.
RELATED: Buttar Qualifies for Second World Finals
Seven weeks later, Buttar is ready to return to competition in New York City.
"My foot's feeling a lot better now," Buttar said.
"It's still kind of weak, but I can walk on it without hurting. So we'll keep going and see how it feels after New York." 
Back to near full health, including his elbow, which after battling a season long injury, the 25-year-old says feels, "good," Buttar has high goals for 2018.
"I want to get into the Top 10 for sure, and I'd like to be in the Top 5," he said. "And I'd like to be healthy all year. "
"I've been making some adjustments to my riding, trying to stay back more than forward, and just trying to be in better physical shape too," he added. 
"I haven't started yet, just with my foot I couldn't do a whole lot, but right away here I'm going to start going back to the gym."
And after the lone Canadian on tour for the majority of 2017, Buttar will once again be joined by Byrne when the season gets underway. 
"It makes a big difference when you get someone else from home down there with you. You know everyone down there, but it's a little better when you have someone else to go with, it gets pretty lonely going down by yourself."
While the main focus of his pending trip to the City That Never Sleeps will be primarily bull riding, Buttar is also planning to take some time for sightseeing.
"We're going to go up there the night before and explore," Buttar said.
"We went to the Empire State Building last year, Times Square, and we'll probably go see Central Park this year. "
The 2018 season for the 25th Anniversary Tour gets underway Jan. 5-7 at Madison Square Garden in New York City, New York with the Monster Energy Buck Off at the Garden.
Be sure to stay tuned to PBRCanada.com and follow the tour on Facebook (PBR Canada), Twitter (@PBRCanada), and Instagram (@PBRCanada) for the latest results.