Buttar Picks Up First 90-Point Ride; Eyes Last Cowboy Standing
By: Justin Felisko Tuesday, May 1, 2018 @ 11:35 AM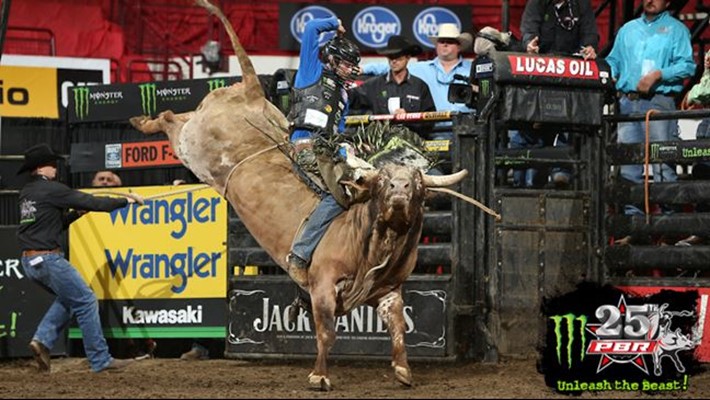 COLUMBUS, Ohio – Dakota Buttar has been able to laugh about all the talk over his missing riding equipment this season, or about the recent chatter involving his impressive mustache.
Despite all the good fun, though, Buttar would rather the conversation be focused around his riding more than anything else.
"I need to start riding to give people something better to talk about," Buttar said with a laugh and shrug in Glendale, Arizona, following a fourth-place finish at the Ak-Chin Invitational.
On Sunday, Buttar brought the attention back on his riding ability once again by riding Inferno for 90 points in the championship round of the Columbus Invitational, presented by Cooper Tires.
It was the first 90-point ride of the 25-year-old's career.
"I am pretty excited about that," Buttar said. "Tanner (Byrne) and Jordan Hansen got on him earlier this year. I had seen him a couple of times. He is around to the left, but he has a little bit of a hold to him. He pulled them both into the well, so I kind of new that was going to come, so I kicked loose to stay out of there."
The ride capped Buttar's 3-for-3 and season-best second-place finish at the Schottenstein Center. Buttar began his weekend with 84.5 points on Blue Crush and 81.75 points aboard Grey Goose.
Buttar's final ride impressed Team USA coach and CBS Sports Network commentator Justin McBride.
"This bull is always good, but I love the finish by Buttar," McBride said on CBS Sports Network. "Loosening up with the outside leg, taking control of the situation. That was a really big ride by Dakota Buttar."
Buttar will be riding for Team Canada at the upcoming PBR Global Cup in Sydney, Australia
Buttar admitted he was a little surprised to reach 90 points on Inferno. He selected the bull with the sixth pick of the championship round draft.
"Not really," Buttar said. "I think the only other time he has been rode they were like 86 on him. He looked like a good solid bull to have in the round, but I am happy with it. It worked out."
Valdiron de Oliveira rode the K-Bar-C Bucking Bull for 86.75 points last month in North Little Rock, Arkansas.
Buttar earned 295 world points in Columbus to move up to No. 13 in the world standings.
The Kindersley, Saskatchewan, native is the highest-ranking Canadian in the PBR world standings and is 15-for-43 (34.88 percent) with a career-best three Top-5 finishes, as well as seven Top-10 finishes.
Buttar set a career-high last year with 21 qualified rides on the premier series and he is likely going to surpass that mark this season. He also is on his way to finishing higher than his No. 26 ranking in 2017.
"Every level I have moved to since I was little it took me a year or two to adjust to things," the two-time Canadian Pro Rodeo champion said. "This wasn't any different. Coming to every building is different, and the atmosphere is a lot cooler having some buddies from Canada here. Having Brock (Radford) and Tanner here has made it a lot better."
All three Canadians, as well as Lonnie West, have mentioned that they would love to be the first Canadian-born rider to win the World Championship and/or the World Finals event title.
However, Buttar is also focusing in on a short-term goal.
No Canadian bull rider has won a PBR Major since the PBR launched the Majors in 2015.
This weekend's upcoming Last Cowboy Standing, presented by Ariat, at Helldorado Days is a minimum of two rounds and a maximum of five. At least 25 riders will advance to Round 2, with any draw spots being filled by the current world standings heading into Last Cowboy Standing if there are less than 25 rides in Round 1.
If all riders buck off in Rounds 2, 3 or 4, then all riders that attempted a bull advance to the next round.
If there is more than one ride in the final round (Round 5), then the Last Cowboy Standing will be the rider with the highest-ride score in Round 5. If there are no rides in Round 5, then the Last Cowboy Standing will be the rider with the most round points that had competed in Round 5.
The event winner of the third PBR Major of the season will earn a minimum of $100,000 and 625 points toward the world standings.
Each round winner earns 125 points toward the world standings, as well.
Buttar missed Last Cowboy Standing last year because of a torn ligament in his riding elbow.
"I was hurt last year," Buttar said. "I am excited. That would be pretty cool to win. That would be a good way to end the first half and it would be nice to take the summer off by winning that. Last year I missed it, and I have been looking forward to it since then. I am happy I am healthy going into it."
Follow Justin Felisko on Twitter @jfelisko