Buttar Looks Back on Third World Finals
By: Ted Stovin Friday, November 16, 2018 @ 10:13 AM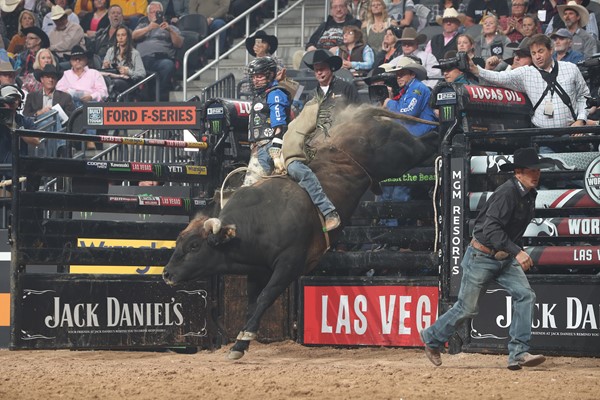 CALGARY, Alberta – Three 90-point rides.
$111,853 USD in season earnings.
No. 17 in the PBR World Standings.
All of these are new career-highs for Kindersley, Saskatchewan's Dakota Buttar.
However, despite the success, Buttar fell short of one of his main goals -- finishing inside the Top 10 in the world standings at season's end – after going 1-for-5 at his third PBR World Finals. 
"The first couple rounds I had some tough bulls," Buttar admitted. "That second one was a pretty ugly bull to draw. I had good rides on the last couple but just ended up short right at the whistle there.
"It was a shitty deal, but I feel like I rode the bulls still good anyway. It wasn't how I was hoping the finals would go. I finished 17th [in the world], but I'm still feeling good with my riding."
Buttar was disqualified at 7.99 seconds in Round 5 and called for a slap at 7.65 seconds in Round 4.
"It's kind of a shitty deal with it but overall I still feel good with how I rode there," Buttar said. "Even though I only got one I'm still counting them last two as rides."
Despite the less-than-ideal performance at the World Finals, Buttar was awarded the Glen Keeley Memorial Award for the second consecutive season.
"Honoured to win the Glen Keeley award for the second time," he said via social media.
With World Finals in the rear view mirror, Buttar will next compete on home soil at the Monster Energy PBR Canadian Finals in Saskatoon on November 23-24.
"It's pretty cool that it's the closest one for me all year and I get to finish there," Buttar said. "There's some friends from home here that'll be coming and watching. I'm excited for it."
Matching the 26-year-old's excitement to conclude the year competing in Canada, is his hopes for the 2019 season.
"Going into next year I'm feeling really good," he said. "Getting them 90-point scores this year and getting some rode in the short round. I'm feeling good and I'm feeling confident going into next year. Hopefully I can get in there into the Top 10.
"I feel like I had a lot of breakthroughs this year. A lot of things that gave me more confidence down there and I hope I can get some more firsts there next year."
Speaking to the breakthroughs, Buttar started with a highlight.
"Getting my first 90-point ride," he answered. "That was something that was really lingering. Like, I'm 26 now and haven't had a 90-point ride yet and then finally getting it and I rode a few in the short round this year. That made a big difference. The short round is really where you get all your points when you get higher in the average. That made a real big difference I think."
Looking forward, he knows he needs to improve and better himself to get to the next level.
"I need to get a higher riding percentage," Buttar said after going 21-for-70 (30%) in 2018. "That's another goal for next year, getting a higher riding percentage and getting in that Top 10."
On the cusp, ending the year 967.49 points behind No. 10 Eduardo Aparecido, Buttar has a plan of action.
"Kinda like the finals there I just let some slip away," Buttar reflected. "I feel like I need to convert more on them. Not letting them close ones slip away like I did at the finals.
 "I had to change a lot in my riding in the last year and a little bit. How I used to ride in Canada, it wasn't working down there. I changed to a Brazilian rope, where I set my rope on the bull's back. It's something I've been working at, trying to keep that hump out of my back. That's something that still plagues me often.
"When I am making a good ride and lose it at the end there it's usually cause I lose that arch in my back and that's something that I've been working at getting better at."
And the battle continues on a daily basis.
"Just practising keeping my chest out. That's pretty much all it is," Buttar detailed. "It's something so simple. It'll just happen out of nowhere that I'll just get that hump in my back and it's something so simple, but it's been a habit for so long it's been a tough one to break."
Practice can happen anywhere, it's why those who have been around bull riding have seen a few "air bull rides" where an imaginary bull is being ridden in the grocery store, gas station, restaurant and hotel lobby.
"Everywhere and anywhere," Buttar laughed, mentioning where he practices his form. "Walking around. Sitting down somewhere. Anywhere really."
The most important part of the ride is when the bull first leaves the chute. Without a good seat and foundation, the rides can be over before they even start.
"Once in a while it slips my mind and I go back to my old habit," Buttar explained. "In that first round that's what happened there. I kinda forgot about it. It's something I have to think about now. It's something I did for so long that I have to remember to do it before but I don't always remember."
But Buttar is determined he can overcome the obstacle. 
"Just repetition I guess. Just keep doing it all the time and hopefully it should break the habit. It's just like when you're starting to learn, you just keep practising until you remember it.
"Like when I went from two hands to one," Buttar told of Canadian steer riding where riders are allowed to use two hands until the age of 15 on heifers and steers. "It's stuff I had to keep practising religiously for it to stick. I hope eventually it'll just be habit again."
In his corner, and along for Buttar's journey, is a former Canadian Champion, NFR Qualifier and the 1978 George Paul Memorial Champion.
"I still talk to Don Johansen quite often," Buttar confessed. "Since I started riding steers, he's the guy I went to. I went to his schools and throughout even CPRA bull riding, he goes to so many rodeos and he's the chute boss at them, he would help me after every one.
"Regardless of if I rode or bucked off I would still talk to Donny. I still do today. If he sees a video or something he'll call me. Every now and then I'll call him. He's still my guy.
"I talk to Cody Custer a fair bit too. He goes to quite a few events and I talk to him quite often."
As with anything in our world, life-long-learning is key, even at the most elite level.
"That's how I feel with bull riding too," Buttar said. "There's new bulls coming up all the time, I feel like you're always learning. Even until the day you're done bull riding you're learning something new cause there's different bulls that have different trips. It's always a learning game I think."