Buttar and Byrne Ride with Heavy Hearts
By: Kacie Albert and Justin Felisko Tuesday, April 10, 2018 @ 10:29 AM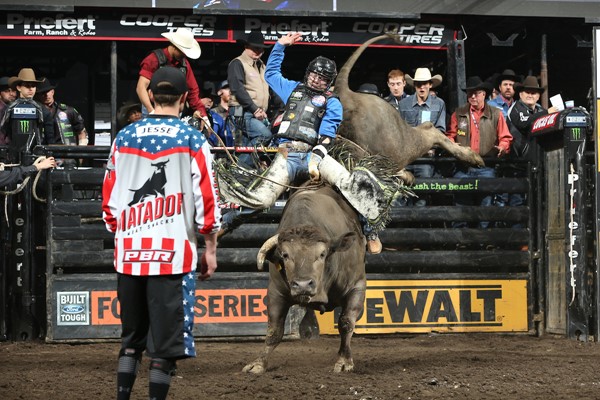 SIOUX FALLS, South Dakota – While Kindersley, Saskatchewan's Dakota Buttar finished fourth in Round 2 of the First PREMIER Bank/PREMIER Bankcard Invitational, back by his 87.5-point ride on Clover Mountain Beau, the 25-year-old's thoughts were with his native country north of the border.
Buttar lives only 3.5 hours from Tisdale, Saskatchewan, the sight of the tragic Humboldt Broncos junior hockey team bus crash on Friday night that has left 15 dead.
The hockey community, as well as all of Canada and most of the world, has been left saddened and in mourning after the bus carrying a team of 29 players, ranging in age from 16 to 21 years old, and coaches was struck by a semi-trailer as the team was on its way to nearby Nipawin for a playoff game. Fourteen people were also injured.
"It is pretty sad that many young kids have been killed," Buttar, who played minor hockey until he was 18, said. "It has been hard to go on social media and see that. Everyone is talking about it. So many young lives that had bright futures ahead of them."
Tanner Byrne, from Prince Albert, Saskatchewan, who was bucked off by Rebound in 5.97 seconds later that evening, posted his support on social media late on Friday night and on Saturday afternoon.
Byrne said before Round 2 that he didn't believe he knew anyone directly on the team, but that the crash certainly struck a chord with him as he grew up playing hockey in Saskatchewan and traveling to hockey games on similar buses.
"It is terrible man," Byrne said. "The accident was just outside of Tisdale, which is an hour-and-a-half from my house. Growing up being a hockey player, and playing developmental hockey, we were in those buses all the time. Anyone from Saskatchewan or Canada that is a hockey player knows most of your hours are spent on that bus."
The crash reminded him of the one that his friend and former NHL hockey player and PBR supporter Sheldon Kennedy was a part of on Dec. 30, 1986, that took the lives of four players from the Swift Current Broncos.
This weekend was also was another harsh reminder to Byrne how quickly a life can be taken away from someone.
"To hear news like that is an utter tragedy," Byrne said. "Those kids were 16 to 20 years old and had their whole futures ahead of them. It was cut down. It makes you realize anything can happen and to hold your loved ones close. You never know what can happen in life and that is evidence of it.
"I can't imagine what the families and everyone is going through up there. It is brutal. A brutal accident."
Holding its third Touring Pro Division event of the season this past weekend in Marwayne, Alberta, the entire PBR Canada community was saddened by the tragedy.
"All of PBR Canada is deeply saddened to hear of the terrible news involving the Humboldt Broncos," the league said Saturday afternoon. "We would like to offer our thoughts, prayers and sincere condolences to all those who are affected by this devastating tragedy."
Also from Saskatchewan, PBR Canada's Director of Operations Jason Davidson, who works closely with the hockey community as an agent, added, "How can you not think of the families, friends and the community of Humboldt.
"The magnitude of this tragic incident not only hits home in the hockey world but in every home around the world. Like hockey players our PBR athletes travel together; it's part of the brotherhood that make sports so special. You don't have to be a hockey player today to feel the void this has left us all. "
When the three-day event in Sioux Falls concluded, Buttar finished 11th, earning 50 world points, while Byrne did not make the 8, going 0-for-3.
Be sure to stay tuned to PBRCanada.com and follow the tour on Facebook (PBR Canada), Twitter (@PBRCanada), and Instagram (@PBRCanada) for the latest results.