Breaking - Aaron Roy to Return in Lethbridge
By: Ted Stovin Tuesday, February 27, 2018 @ 1:21 PM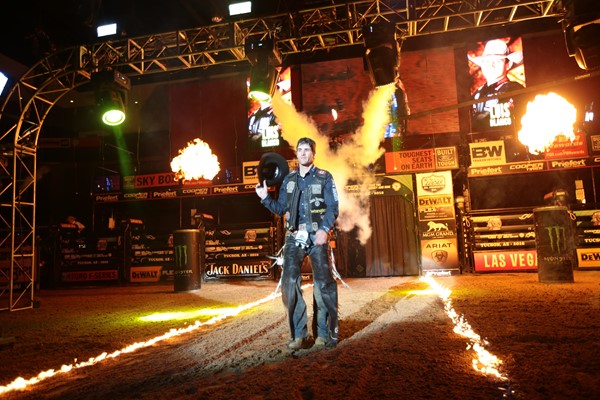 CALGARY – When Aaron Roy broke his back at the Calgary Stampede in July 2013 the question wasn't if he would ever ride again, it was whether or not he would ever walk again.
Not only was Roy up and walking the very next day, but just 16 months later he made a winning return to the PBR, victorious at the 2014 PBR Canada Finals.
RELATED: Roy Returns to Action with Victory at PBR Canada Finals
With a full season at the sport's elite level under his belt in 2015, the three-time PBR Canada Champion returned the PBR World Finals for the first time since 2012, finishing 27th.
In 2016, he qualified for his eighth World Finals, but during the event's first round but broke his right femur in Round 1 after bucking off Locked & Loaded at the 6.58-second mark.
 "I should be done now," Roy joked to PBR.com's Justin Felisko in November 2017. "I broke the two biggest bones in the body."
RELATED: Roy - "I Would Rather Break My Back Again"
Since, the five-time Glen Keeley Award winner has gone on to judge at numerous PBR Canada events and most recently coached Team Canada to a third-place finish at the inaugural PBR Global Cup in Edmonton, Alberta.
This weekend at the Enmax Centre in Lethbridge, Alberta, Roy will make his return to the PBR, riding at the Bridge City Chrysler/LA Towing PBR Challenge, set to begin at 7:30 p.m. MT on both Friday and Saturday.
 "(I) don't really have a plan, just entering, and see how it goes," Roy said. "I'm doing pretty good. The bone is 100% healed, but the (right) knee still needs surgery. But I can get that done whenever, I need reconstructive ACL surgery."
Knowing that the needed surgery for his knee comes with a six-month recovery time Roy added, "I can't wreck it anymore."
Despite being physically ready, the Yellow Grass, Saskatchewan bull rider chose to make his return in Canada rather than in the United States.
"The leg, I've been healed since like December or January," Roy said. "I could have, if I wanted to, start on the [25th PBR: Unleash The Beast] at the beginning of the year if I was ready."
Roy, instead, made his choice to begin riding again in Canada since he didn't attempt any bull at any level in 2017.  
"I probably won't go to any events all this year, like [Unleash the Beast's], unless I decide down the road to go to one of them or two here and there," Roy explained. "By the time I get ready, the year's half over and unless I've got 300, 400 points made in the Touring Pro's, there's no sense going to them."
Despite many potential outside expectations, Roy outlined his personal vision for the 2018 season.
"No goals, just kind of going to see how I feel," Roy said. "I don't really want to travel too much anymore. That's my plan right now is to stay in Canada and just kind of go to some that are closer to home."
"I've got eight events no matter what when I go on it if I decide to," Roy said.  
In his time away from competition Roy stayed very involved in the sport, between judging and some production work.
This past week PBR announced Roy would return as Canada's Coach for this June's Australian edition of the Global Cup.
RELATED: Roy Honored to Coach Team Canada at PBR Global Cup
"There's lots of guys in Canada that are younger and ride better than me anyways, so why would I go there and ride when I can go there and coach and share my knowledge," Roy said.
"There's lots of guys going right now that can ride and by the time Global Cup comes around I may not be riding very good anyways, so why wouldn't I let other guys that have been going steady be on the team that can ride better than me, being off a year, and I can just go there and coach."
Despite this decision to coach rather than compete, that doesn't rule out a possible return of Roy riding for Canada in future Global Cup events.
"I don't really think that far ahead," Roy said. "(I) just kind of want to go this year to just go and have fun doing it again instead of worrying about traveling and all of that pressure. Just go there and ride, instead of going and worrying about cut lines and making the finals and everything."
After two such major career, and life, altering injuries, it begs the question as to what is motivating Roy's latest return.
"I want to ride so injury didn't end my career," Roy answered.  "I have to know that I can still do it. And it's still a lot of fun for me to go and ride bulls. And to have a four-year-old kid that is in awe every time he sees bull riding, for him to see his dad ride, the last time he seen me ride I got hurt."
"If you let him he'd watch bull riding all day," Roy said of his son's fascination with the sport. "He knows how to search them all up and everything; he knows most of the bulls' names."
The Bridge City Chrysler/LA Towing PBR Challenge at the Enmax Centre in Lethbridge, Alberta on March 2-3 is the first event of the 2018 PBR Canada season and first Touring Pro Division event of the new year. Tickets can be purchased here. 
Roy's next event looks to be PBR Canada's first Monster Energy Tour event of the year on March 24 at the Agrium Western Events Centre on Stampede Park in Calgary, Alberta. Tickets are on sale now at Ticketmaster.com
Be sure to stay tuned to PBRCanada.com and follow the tour on Facebook (PBR Canada), Twitter (@PBRCanada), and Instagram (@PBRCanada) for the latest results.