25th PBR: Unleash The Beast Preview – Tacoma
By: Kacie Albert Saturday, April 14, 2018 @ 8:00 AM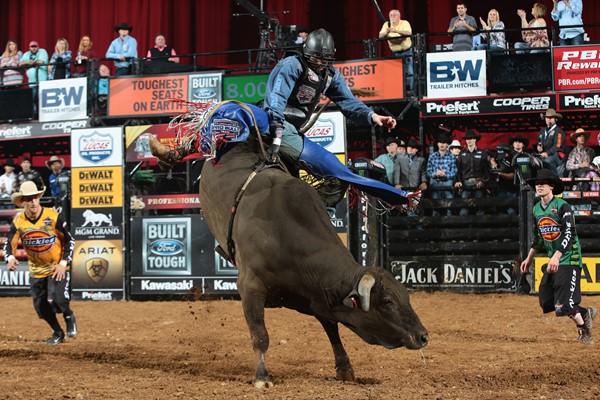 NEW YORK CITY – After more than ten Canadian riders and bulls competed at stateside PBR events last week, all eyes will be fixed on Tanner Byrne and Brock Radford this weekend as the two Canadians set to compete at the 25th PBR: Unleash The Beast event in Tacoma, Washington.
The veteran of the duo, Byrne will be looking to break his recent slump, 2-for-13 since winning February's St. Louis Invitational.
Unable to cover his past seven draws, in Sioux Falls, Byrne was bucked off in Round 1 by Little Acres Ranch's Top Hat in 2.95 seconds, Round 2 by Berger Bucking Bulls' Rebound in 5.97 seconds, and Round 3 by Owens/Wyatt's Mac's Barbeque in 4.22 seconds. 
Throughout the event, however, the Prince Albert native, along with fellow Saskatchewan rider Dakota Buttar, out this weekend with an illness, rode with the tragic Humboldt Broncos junior hockey team bus crash on their minds. 
RELATED: Buttar and Byrne Ride with Heavy Hearts in Sioux Falls
"It is terrible man," Byrne said in Sioux Falls. "The accident was just outside of Tisdale, which is an hour-and-a-half from my house. Growing up being a hockey player, and playing developmental hockey, we were in those buses all the time. Anyone from Saskatchewan or Canada that is a hockey player knows most of your hours are spent on that bus."
When action gets underway in the Evergreen State on Saturday, Byrne has drawn Dakota Rodeo/Julie Rosen/Clay Struve/Chad Berger's Cooper Tires Semper Fi in Round 1.
RELATED: Click here for the complete Saturday day sheet
Last bucking in St. Louis, the bovine athlete dispatched Chase Robbins at the 7.73-second mark to earn a bull score of 40.25. Prior, the bull was ridden in two consecutive outs, covered by Gage Gay for 86.75 points during Round 2 of the 2017 PBR World Finals and Cody Campbell for 80.25 points during Round 1 at this year's Chicago Invitational.
Byrne, ranked No. 20 in the world, trailing No. 1 Ramon de Lima by 1,112.5 points, will also ride in the fourth 15/15 Bucking Battle of the season.  He will face a new foe in Dakota Rodeo/Chad Berger/Clay Struve/Heald Pro Bulls' Rising Sun. While the bull most recently sent Claudio Montanha Jr. to the dirt in 3.28 seconds, marked 45 points, during the Championship Round in Sioux Falls, Brazilian Fabiano Vieira  used a 90.25-point trip aboard the bovine athlete to win the 15/15 Bucking Battle in Glendale, Arizona.
After a strong start to the 2018 season, recording Top 3 finishes at the first three Canadian events of the season, including a win at the Monster Energy Tour event in Calgary, Brock Radford will return to the sport's top tour this weekend after he cracked the Top 40 last weekend courtesy of his win at the Touring Pro Division event in Ivins, Utah.
RELATED: Stateside Victory Propels Radford to Elite Tour Return
Radford last rode on the Unleash The Beast in Oklahoma City, where he injured his PCL when he was bucked off by Bezerk in Round 2. The Tacoma Invitational, presented by Cooper Tires, will mark his sixth event on the top tour where he has gone a collective 2-for-11.
"It feels good, shuts some people up to," Radford said earlier this week after receiving the call about the event. "It's not a fluke I've made it there twice now. So this time I'm just going to do what I can, and ride bulls like I do and stay there.
"I'm still new to this, but I like it up there. I feel ready.
"This time I feel like I'm the healthiest I've been in a long time, I'm way healthier than I was before when I was on tour. I've just had a good break and rested everything up."
In Round 1, the 22-year-old has drawn Dakota Rodeo/Chad Berger/Clay Struve/Heald Pro Bulls' Crazy Days, covered last weekend in Round 3 by 2014 PBR Canada Champion Stetson Lawrence for 85.5 points. Lawrence snapped the bull's two out buckoff streak which included a 2.13-second trip with Rosendo Ramirez during Round 2 in Anaheim, marked 41.5 points, and 3.35-second trip with Claudio Montanha Jr. in Round 1 in Sioux Falls, marked 42.75 points.
Currently No. 40 in the world, Radford trails No. 35 Cody Heffernan, and a permanent spot on tour, by 52.5 points.
The Tacoma Invitational, presented by Cooper Tires begins with Round 1 on Saturday, April 14 at 6:45 p.m. PT, followed by Round 2 and the Championship Round on Sunday, April 15 at 1:45 p.m. PT.
CBS Sports Network will televise all the action from Championship Sunday, starting at 5:00 p.m. ET on Sunday, April 15.
Fans will be able to watch the action in its entirety, live, via PBR's new OTT platform RidePass. The stream for the two-day event will begin on Saturday, April 14 at 9:30 p.m. ET, and Sunday, April 15 at 4:45 p.m. ET. On-demand replays will be available at 8:00 a.m. ET the next day at www.ridepass.com. The service can be found at www.ridepass.com, and in the Apple App and Google Play stores under the listing of RidePass.
Be sure to stay tuned to PBRCanada.com and follow the tour on Facebook (PBR Canada), Twitter (@PBRCanada), and Instagram (@PBRCanada) for the latest results.