25th PBR: Unleash The Beast Preview – Sioux Falls
By: Kacie Albert Thursday, April 5, 2018 @ 8:30 AM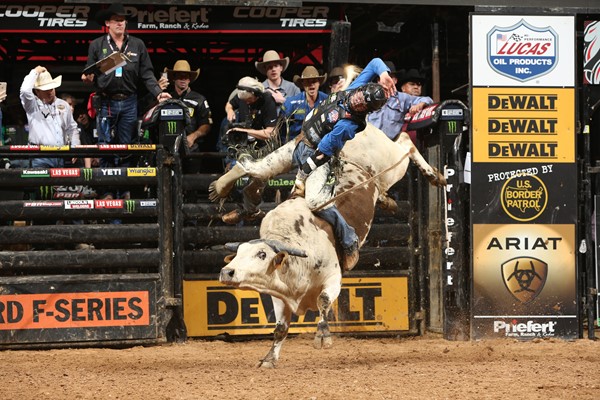 NEW YORK CITY – After breaking for a week in observance of the Easter holiday, Canadian athletes, will return in force this weekend, set to compete at four events both in Canada and United States.
Leading the contingent are Dakota Buttar and Tanner Byrne, once again the lone two riders set to represent the Maple Leaf at this weekend's 25th PBR: Unleash The Beast event in Sioux Falls, South Dakota.
Currently ranked No. 18 in the world, trailing world leader Ramon de Lima by 1,067.5 points, Buttar leads the duo into the First PREMIER Bank/Bankcard Invitational after finishing fourth at the elite tour's last stop in Glendale, Arizona.
"It's been a nice turnaround from being in the interviews about my stuff missing and not showing up," Kindersley, Saskatchewan's Buttar joked.
The 25-year-old began the event with his second round win of the season, covering PK Triplett Bucking Bulls' Sid's Wish for 87.5 points to be the top rider in Round 1 of the Ak-Chin Invitational, presented by Cooper Tires.
RELATED: Dakota Buttar Wins Round 1 in Glendale
While he bucked off West Coast Bucking Bulls' Passenger 57 at the 2.81-second mark in his next out, the surging Canadian rebounded in the Championship Round, making the 8 aboard Hangman for 89.25 points. That goes down as Buttar's highest scored ride so far in any level of competition.
"I was pretty happy when they left that bull," Buttar said of his pick. "I helped Brock [Radford] on him last year, I really liked him. He's around to the left, kicks hard, looks good. I didn't think, I was like eighth pick, I was pretty excited when I snatched him up."
The 2-for-3 effort earned Buttar 225 world points, in addition to $12,580, but, and possibly more importantly, it gave him a confidence boost heading into this weekend's event in Sioux Falls, South Dakota.
"It really helps as a confidence boost, to get better bulls covered," Buttar said. "Gives you a lot more confidence going in."
And Buttar is no stranger to success inside the Denny Sanford PREMIER Center, finishing ninth last season after going 2-for-4.
"That was a good weekend last year," he remarked, jokingly adding that he is, "looking forward to driving this time."
In Round 1, Buttar will face home state stock company Bieirema Rodeo Inc.'s Banjo, who has been ridden just once in 10 attempts. The lone rider to make the 8 aboard the bovine athlete was 2008 PBR World Champion Guilherme Marchi last year in Sioux Falls.
RELATED: Click here for the complete Friday day sheet.
Joining Buttar in Sioux Falls this weekend is 2015 PBR Canada Champion Byrne.
"It's been a lot more comfortable for me," Buttar said of Byrne's presence on tour this season after he was sidelined by injury the majority of 2017.
"Last year being the only one down there, it kind of sucked. You make new buddies and stuff, but it's not the same as having people from back home. It makes a guy feel better to have more guys down there from home. You've got guys to travel with and it feels a lot better for a guy. Knowing you're not alone down there, you've got other guys to come back with."
In Glendale, Byrne was blanked, going 0-for-2. He now heads to The Mount Rushmore State ranked No. 20 in the world, 1,112.5 points behind No. 1 Lima.
The 25-year-old has drawn Little Acres Ranch's Top Hat in Round 1. With just two outs to his name, the bovine athlete was ridden by two-time World Champion J.B. Mauney in his first out, most recently sending Kaique Pacheco to the ground in 6.6 seconds at the March event in Duluth.
Alongside the riders, six bulls with connections to Canada are set to buck.
"There's lots of Canadian bulls down there," Buttar said of the pen.
"Like Eduardo [Aparecido] won last weekend on Stunt Man Ray, [Nathan Burtenshaw] was 89 on Nailed. Canada's breeding program, for the amount of guys we've got breeding up here compared to down there, I'd say we're doing pretty dang good with the amount of short round bulls we're getting."
With both Stunt Man Ray and Nailed slated to both compete in Sioux Falls, they are joined by Black Rose, who also caught Buttar's eye in Glendale.
 "He was really good there," Buttar said of his 2.81-second buckoff of Mauney in the Championship Round in Glendale. "His last two or three trips he's been borderline bull of the event I think. Like a couple weeks ago he was freaking awesome with Ryan Dirteater."
Other Canadian-raised bulls in Sioux Falls are Cooper's Comet, Seven Dust and Moto Moto.
Also stateside this weekend is the Canadian quartet of Lonnie West, Radford, Jackson Scott and Logan Biever riding at both the Touring Pro Division (TPD) event in Ivins, Utah, and the Real Time Pain Relief Velocity Tour (RVT) stop in Casper, Wyoming.
The two-day PBR at Tuacahn Amphitheatre TPD event begins on Thursday, April 5 at 8:00 p.m. MT and concludes on Friday, April 6 at 8:00 p.m.MT.
The matchups in Round 1 for the four Canadians are:
West vs. Magic Konnection (Diamond G Rodeos, Inc)
Radford vs. Magic Me (Diamond G Rodeos, Inc)
Scott vs. Happy (L4 Livestock)
Biever vs. Hillbilly Rock (Julio Moreno/Dallas Schott)
RELATED: Click here for the complete Thursday day sheet.
Following the conclusion of the event, they will turn their attention to the Casper Classic, getting underway on Saturday, April 7 at 7:00 p.m. MT. The draws awaiting them are:
West – Powder Keg (Juma Rodeo Stock)
Radford – Talkin Terror (Juma Rodeo Stock)
Scott – John (High View Cattle Co./Wallgren Bull Co.)
Biever – Little Bit of Terror (Juma Rodeo Stock)
RELATED: Click here for the complete Saturday day sheet.
Paralleling the action stateside is the third PBR Canada Touring Pro Division event of the season in Marwayne, Alberta. Action for the Garnier Custom Silage Marwayne PBR at the Marwayne Multiplex begins on Saturday, April 7 at 7:00 p.m. MT.
Be sure to stay tuned to PBRCanada.com and follow the tour on Facebook (PBR Canada), Twitter (@PBRCanada), and Instagram (@PBRCanada) for the latest results.