25th PBR: Unleash The Beast Preview – Nampa
By: Kacie Albert Friday, October 19, 2018 @ 7:53 AM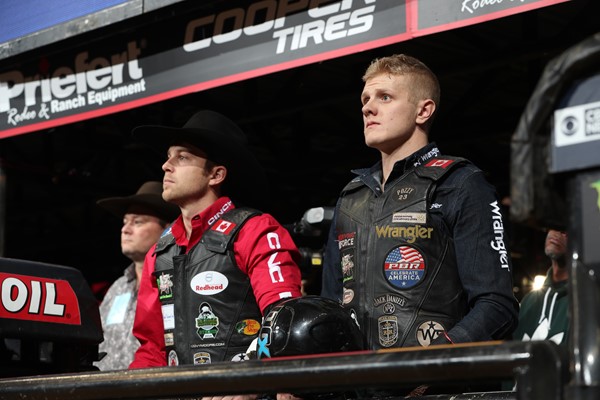 NEW YORK CITY – While 36 riders, including three Canadians, will make the journey to Nampa, Idaho for this weekend's final regular-season 25th PBR: Unleash The Beast event, only one will travel to the event as the reigning tour stop winner – Dakota Buttar.
RELATED: Buttar Takes Gorham's Advice to Heart, Wins First Event
Last year, on the cusp of being cut from the elite tour, Buttar went a perfect 3-for-3 to capture the first event title of his career. It was the first time Buttar turned in a flawless performance at a premier series event, and covered his championship round draw, and earned him a crucial 475 world points.
With the win, Buttar moved to No. 27 in the world standings, helping him to punch his ticket to his second career World Finals.
This season, Buttar has continued to reach new heights, and while he has yet to capture his second event win, he has recorded two 90-point rides and set a new season-high for earnings.
RELATED: Buttar Breaks Through Slump, Sets Career Highs in Milwaukee
He has also begun to have more success in the championship round, 3-for-8 thus far in 2018.
This weekend he will attempt Buck Owens in Round 1. While the bull bucked twice at this September's Touring Pro Division event in Pendleton, Oregon, bucking off Lachlan Slade (2.36 second – 42.5 points) and Trevor Easton (2.19 seconds – 42) he has yet to have an out on the elite tour.
Set to ride alongside Buttar in the Gem State are Tanner Byrne and Brock Radford, both in search of crucial world points after getting shutout in Greensboro, North Carolina last weekend.
For Byrne, currently ranked No. 28 in the world, last weekend was his first event competing since injuring his ankle earlier in the second half in Springfield, Missouri.
RELATED: Injury Notebook – Byrne Out a Few Weeks with Ankle Injury
The 26-year-old, however, was unable to restart his momentum from Nashville where he finished sixth, bucked off in Round 1 by Jug Head in 2.56 seconds, and by Big Show in Round 2 in 7.72 seconds.
Awaiting him in the first round in Nampa is Red Knection's Rampage.
Rounding out the trio of Canadian riders competing stateside is Radford, who remains No. 36 in the world and five points behind No. 35 Marcos Gloria who has elected to compete in Canada at this weekend's Monster Energy Tour event in Edmonton instead.
RELATED: Gloria Heads North in Hopes of Punching Ticket to World Finals
Much like Milwaukee, his first event back since tearing his ACL, Radford failed to make the 8 last weekend in Greensboro, sent to the dirt in 4.52 seconds by Dark Matter in Round 1, and in 4.38 seconds by Chute Boss in Round 2.
His first chance to reverse his buckoff slump will come against Wolverine, who in 18 outs across all levels of competition has been ridden nine times.
The Mann Creek Buckin Bulls' last out at the Real Time Pain Relief Velocity Tour event in Window Rock he got the best of Brady Oleson in 2.85 seconds to earn a bull score of 42.5 points. His lone elite tour out of the year was in Anaheim, California in February where Silvano Alves recorded a qualified ride for 84 points.
Set to compete alongside the Canadian riders are seven bovine athletes who hail from the nation.
The contingent of Canadian bull power is led by the Wild Hoggs set to bring four bulls: Double Major (Lachlan Richardson – Round 1), Colt .45 (Cannon Cravens – Round 1), Rebel Soul (Gage Gay – Round 1) and Tykro Pound Sand.
Eno Bucking Bulls will truck two bulls stateside, Gordy Blue (Joao Ricardo Vieira – Round 1) and Homegrown (Cody Jesus – Round 1), while Foley Bucking Bulls will round out the squad with Buck Nasty who will be attempted by world No. 1 Kaique Pacheco in Round 1.
The DEWALT Guaranteed Tough Invitational, presented by Cooper Tires, at the Ford Idaho Center will get underway on Saturday, October 20 at 6:45 p.m. MT and conclude Sunday, October 21 at 3:45 p.m. MT.
CBS Sports Network will televise all the action from Championship Sunday, including Round 2 and the championship round, starting at 6:00 p.m. ET on Sunday, October 21.
Fans will be able to watch the action in its entirety live via PBR's new streaming digital platform RidePass. The LIVE stream for the two-day event will begin on Saturday, October 20 at 8:30 p.m. ET, and conclude on Sunday, October 21 at 3:45 p.m. ET. On-demand replays will be available at 8:00 a.m. ET the next day at www.ridepass.com. The service can be found at www.ridepass.com, and in the Apple App and Google Play stores under the listing of RidePass.