25th PBR: Unleash The Beast Preview – Milwaukee
By: Kacie Albert Thursday, October 4, 2018 @ 9:51 AM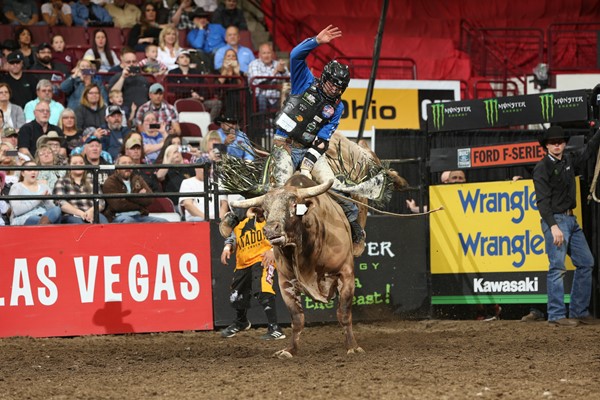 NEW YORK CITY – After mounting an impressive 21-for-45 effort during the summer break via his outs in Canada, Australia and the United States, Brock Radford had solidified his standing within the Top 35 as the elite 25th PBR: Unleash The Beast prepared to return from its annual summer break in Tulsa.
Then his season was put on pause, when just one day before the Oklahoma event he tore his left ACL at a Canadian Pro Rodeo Association (CPRA) event.
RELATED: Radford Tears His Left ACL, MCL in Jasper
While Radford has fallen in the standings, he travels to Milwaukee ranked No. 36 in the standings, just five points behind No. 35 Marcos Gloria.
"Yeah actually I am," Radford said when PBR.com's Justin Felisko asked if he was surprised how close he still is to the Top 35. "I thought I was going to have some serious ground to make up, but I'm right in the mix of things."
Including the Milwaukee event, Radford has just three regular season events left in order to qualify for his first-ever PBR World Finals. The De Winton, Alberta-native, however, isn't daunted by the task in front of him, but rather remains laser focused on achieving the goals he set at the beginning of the season.
RELATED: Radford Not Deterred by ACL Injury
"My end goal is still to win two Canadian titles this year and make the World Finals," Radford stated. "I had a minor speed bump but the game plan is still the same."
"Just ride everything, it hasn't changed for me," Radford explained further. "It just feels like I've had a little break and I feel fresh. Everything else has had time to heal too. I feel ready to go. I'm going to go do what I do, one bull at a time, one event at a time."
During his two months on the sideline Radford has been focused on his rehab, specifically improving his knee strength, opting not to attempt any practice bulls before he climbs aboard Tractor Tippin in Round 1.
RELATED: Click here for the complete Saturday day sheet.
"Feeling good as it can I guess," Radford said. "Just been on my drop barrel and trying to get my knee strong."
In his most recent outs, K-C Bucking Bulls' Tractor Tippin has been ridden in two consecutive trips, first by Jose Vitor Leme for 86 points at the U.S. Border Patrol Invitational in Fairfax, followed by Cannon Cravens event-winning 88.5-point ride on the bovine athlete during the championship round of the most recent Real Time Pain Relief Velocity Tour event in Huntington, West Virginia.
During Radford's last appearance on the elite tour, prior to his impressive summer run which netted the 23-year-old 422.5 world points, he was shutout at Last Cowboy Standing, going 0-for-1. His best finish on the elite tour this season came in Billings where he was 13th.
Dakota Buttar, the top-ranked Canadian in the world standings at No. 16, will join Radford in Milwaukee, where he is also slated to compete in his seventh career 15/15 Bucking Battle Saturday night.
Returning to action last weekend in Austin after a flu kept him at home for the Fairfax stop, Buttar was unable to gain ground in the standings, blanked by Biker Bob (5.19 seconds) and Livin' Large (3.24 seconds).
In Round 1 he'll attempt Inferno, who he covered earlier this season in Columbus to record his first-ever 90-point ride.
RELATED: Buttar Picks Up First 90-Point Ride; Eyes Last Cowboy Standing
"This bull is always good, but I love the finish by Buttar," Justin McBride said of the ride on the CBS Sports Network telecast. "Loosening up with the outside leg, taking control of the situation. That was a really big ride by Dakota Buttar."
Since the two athletes combined for the 90-point score, Inferno has had just one trip, bucking at the Music City Knockout in Nashville where he was covered by Ramon de Lima for 86 points.
With No. 10 Jess Lockwood still out with a groin injury, Buttar will also compete in the 15/15 Bucking Battle where he has drawn Honey Hush.
The out will mark the bulls first out on the elite tour this season, with his most recent trips at August's Touring Pro event in Allen, Texas, marked 43 points for his 2.8-second buckoff of Ricky Aguiar, and in April at the Velocity Tour's stop in Wichita, Kansas, dispatching Ueberson Duarte in 3.71 seconds to earn a 42.5-point bull score.
The 25th PBR: Unleash The Beast's Ariat Invitational, presented by Cooper Tires begins at 6:45 p.m. CT on Saturday, October 6 at Fiserv Forum, concluding on Sunday, October 7 at 1:45 p.m. CT.
CBS Sports will air the tenth, and final, 15/15 Bucking Battle of the season at 3:00 p.m. ET on Sunday, October 7. CBS Sports Network will televise all the action from Championship Sunday, including Round 2 and the championship round, starting at 6:00 p.m. ET on Sunday, October 7.
Fans will be able to watch the action in its entirety live via PBR's new streaming digital platform RidePass. The LIVE stream for the two-day event will begin on Saturday, October 6 at 7:30 p.m. ET, and conclude on Sunday, October 7 at 2:45 p.m. ET. On-demand replays will be available at 8:00 a.m. ET the next day at www.ridepass.com. The service can be found at www.ridepass.com, and in the Apple App and Google Play stores under the listing of RidePass.