25th PBR: Unleash The Beast Preview – Little Rock
By: Kacie Albert Friday, March 2, 2018 @ 10:07 AM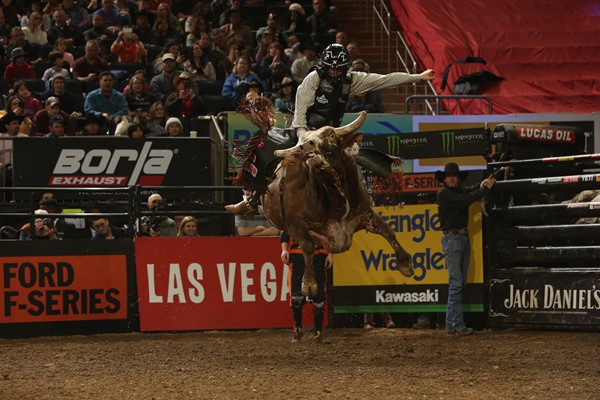 NEW YORK CITY – For the third consecutive year, and fifth time in league history, the elite 25th PBR: Unleash The Beast will travel to Little Rock, Arkansas with the Bad Boy Mowdown, the ninth event of the 2018 season.
Set to compete this weekend in the City of Roses, once again, is the Canadian contingent of Dakota Buttar and Tanner Byrne.
Last weekend, Buttar led the duo, delivering a sixth place finish at the WinStar World Casino and Resort Iron Cowboy, powered by Kawasaki, the second Major of the season, to earn 30 world points and $1,600.
Inside AT&T Stadium, the 2017 Glen Keeley Award winner was one of 13 riders to deliver a qualified ride in Round 1, covering Flying S Bucking Bulls' Foghat for 84.5 points to advance to the second round of the ride-to-advance style event.
The Kindersley, Saskatchewan-native, however, wasn't able to advance further, bucking off Julio Moreno/Dallas Schott's Spotted Demon in 5.14 seconds.
As he turns his attention to Little Rock, Buttar is ranked No. 23 in the world, 1,312.5 points behind No. 1 Ramon de Lima, and will face Jerry and Aaron Halpain's The King in Round 1.
RELATED: Click here for the complete Friday daysheet.
After making his debut at the 2017 Real Time Pain Relief Velocity Tour Finals, bucking off Cody Ford in 4.24 seconds to earn a 40.5-point bull score, the bovine athlete has since had two outs on the elite tour, sending Stetson Lawrence packing in 4.36 seconds, marked 44.25 points, during Round 1 in Oklahoma City, which he followed with a 4.1-second buckoff of Lima in Kansas City to be score 43.25 points.
Entering last weekend's event with the momentum of a win at his back, Byrne was unable continue his three-out rider streak, bucked off by Cornwell Bucking Bulls/Circle G/Coleman's Lab Rat in 2.83 seconds in Round 1.
RELATED: Tanner Byrne Wins St. Louis Invitational
Ranked No. 13 in the world, 1,057.5 points behind Lima, the 2015 PBR Canada Champion has drawn D&H Cattle/Buck Cattle/Tommy Julian's Money Talks in Round 1 of the Arkansas event.
In seven attempts across all levels of PBR events, no rider has yet to make the 8 atop the bovine athlete.
Money Talks has had two outs in 2018 on the 25th PBR: Unleash The Beast, marked 43 points for dispatching Cody Campbell in 3.6 seconds during Round 1 in Oklahoma City, and 42 points for a 3.92-second buckoff of Cody Nance during Round 1 in Kansas City.
The Bad Boy Mowdown in Little Rock, Arkansas at Verizon Arena gets underway with Round 1 on Friday, March 2 at 7:45 p.m. CT, and concludes on Saturday, March 3 at 6:45 p.m. CT with Round 2 and the Championship Round.
CBS Sports Network will televise all the action from this Round 2 and the Championship Round starting at 8:00 p.m. ET on Sunday, March 4. 
Fans will be able to watch the action in its entirety, live, via PBR's new OTT platform RidePass. The stream for the two-day event will begin on Friday, March 2 at 8:30 p.m. ET and Saturday, March 3 at 7:30 p.m. ET. On-demand replays will be available at 8:00 a.m. ET the next day at www.ridepass.com. The service can be found at www.ridepass.com, and in the Apple App and Google Play stores under the listing of RidePass.
Paralleling this weekend's elite tour event, is the first event of the PBR Canada season, the Touring Pro Division's Bridge City Chrysler/LA Towing PBR Challenge in Lethbridge, Alberta.
RELATED: PBR Canada Launches 2018 Season with this Weekend's Touring Pro Division Stop in Lethbridge
Among those competing are reigning and two-time PBR Canada Champion Zane Lambert, three-time PBR Canada Champion Aaron Roy, riding at his first event since breaking his femur during Round 1 of the 2016 PBR World Finals, and Brock Radford, who won a historic four consecutive events on the tour last year.
RELATED: Aaron Roy to Return in Lethbridge
Be sure to stay tuned to PBRCanada.com and follow the tour on Facebook (PBR Canada), Twitter (@PBRCanada), and Instagram (@PBRCanada) for the latest results.