25th PBR: Unleash The Beast Preview – Greensboro
By: Kacie Albert Friday, October 12, 2018 @ 5:18 AM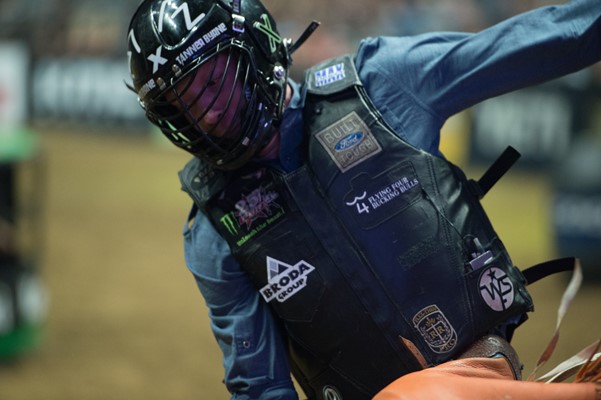 NEW YORK CITY – For the first time since injuring his left ankle during Round 3 of the elite tour event in Springfield, Tanner Byrne will return to this weekend's 25th PBR: Unleash The Beast draw, one of three Canadians set to ride at the Cooper Tires Take The Money and Ride.
The Prince Albert, Saskatchewan-native, currently ranked No. 25 in the world, will compete alongside Dakota Buttar and Brock Radford as No. 32 Lonnie West continues to recover from a shoulder injury sustained at the Touring Pro event in Eureka.
Byrne injured his right peroneal tendon when Wired Child bucked him off at 2.07 seconds, and also bruised his right thigh earlier in the event when The King kicked him during his 4.18-second buckoff in Round 1.
RELATED: Injury Notebook – Byrne Out a Few Weeks with Ankle Injury
"According to Tandy (Freeman), the tendon needs (to be) fixed, but I can do that later down the road," Byrne said days after sustaining the injury. "Plan of action is stay off it, ice it, get feeling better and walking on it normal. Then build a brace to get me rolling."
At the time of injury, Byrne was fresh off his second-best showing of the season following his 155-point effort at the Music City Knockout in Nashville.
Thus far this season the 26-year-old is 13-for-36 (28.26 percent) with a victory (St. Louis) and two sixth-place finishes on the 25th PBR: Unleash The Beast.
In Round 1 of the Greensboro event, Byrne will attempt Jug Head.
In the bull's last trip on the elite tour, Luciano De Castro made the 8 aboard him in Atlantic City for 86.5 points. In 21 outs across all levels of PBR competition, only two other riders have covered the Rickey West Bucking Bulls bovine athlete: Chase Outlaw for 86.5 points at the 2017 Raleigh elite tour event, and Cody Nance in Chattanooga in April for 87.5 points.
After returning to competition last weekend for the first time since tearing his right ACL, Brock Radford will look to put points on the board, after getting shutout in Milwaukee. The De Winton, Alberta native is currently No. 36 in the world, just five points outside the threshold to qualify for the 2018 PBR World Finals.
RELATED: Radford Not Deterred by ACL Injury
In Round 1 of the Cooper Tires Take The Money and Ride he will attempt Dark Matter.
The trip will mark the bull's PBR elite tour debut, with just one previous out on record, dispatching Austin Richardson in 3.75 seconds to earn a 43.5-point bull score at the September Touring Pro Division event in Belton, Texas.
Leading the Canadian contingent into the Tar Heel state, is top-ranked Dakota Buttar fresh off setting several new careers highs last weekend in Milwaukee where he went 3-for-3 to finish second.
RELATED: Buttar Second at PBR's Ariat Invitational, presented by Cooper Tires
After recording an 87.75-point effort on Handsome Jeff in Round 1, followed by an 84.25-point ride on Black Label in Round 2, Buttar recorded his third 90-point effort of the season, and his career, and second-ever on the elite tour when he made the 8 on Rising Sun for 90.5 points in the Championship Round, a new career-high.
The runner-up finish, his eighth Top-10 effort of the season, also netted Buttar a check for $19,373.33 allowing him to set a new season high for earnings, currently totaling $105,553.78 across all levels of competition, compared to the $87,055.31 he earned in 2017.
RELATED: Buttar Breaks Through Slump, Sets Career Highs in Milwaukee
The flawless effort was the first time since April's event in Columbus he was perfect during a weekend.
Buttar also collected 360 world points propelling him from No. 16 to No. 13 in the world standings. Ahead of this weekend's event he trails No. 10 Fabiano Vieira by 463.33 points, and No. 1 Kaique Pacheco by 3,314.16 points.
In Round 1 he will attempt Red Bull Rising, who in 10 outs across all levels of competition has yet to be ridden.
The bull has made three appearances on the elite tour bucking off Brennon Eldred twice, first in 2 seconds this February in Oklahoma City to earn a 42.75-point bull score, and then in 3.06 seconds later that month in Kansas City, Missouri to earn a 42.25-point bull score. In his most recent trip, Red Bull Rising dispatched Tye Chandler in 2.8 seconds to earn a 43-point bull score in Little Rock, Arkansas in March.
Action inside the Greensboro Coliseum for the Cooper Tires Take The Money and Ride will get underway on Saturday, October 13 at 6:45 p.m. ET, and conclude on Sunday, October 14 at 1:45 p.m. ET.
CBS Sports Network will televise all the action from Championship Sunday, including Round 2 and the championship round, starting at 6:00 p.m. ET on Sunday, October 14.
Fans will be able to watch the action in its entirety live via PBR's new streaming digital platform RidePass. The LIVE stream for the two-day event will begin on Saturday, October 13 at 6:30 p.m. ET, and conclude on Sunday, October 14 at 1:45 p.m. ET. On-demand replays will be available at 8:00 a.m. ET the next day at www.ridepass.com. The service can be found at www.ridepass.com, and in the Apple App and Google Play stores under the listing of RidePass.