25th PBR: Unleash The Beast Preview – Austin
By: Kacie Albert Thursday, September 27, 2018 @ 5:38 PM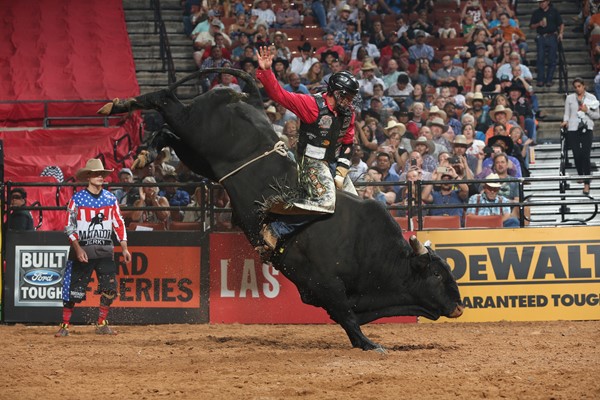 NEW YORK CITY – While last weekend's elite tour draw in Fairfax had an internationally diverse group of riders, one country wasn't represented – Canada.
With Tanner Byrne still sidelined with a peroneal tendon injury, Brock Radford out with a torn ACL/MCL and Lonnie West continuing to battle a shoulder injury, Dakota Buttar will be the lone Canuck returning to action this weekend, rebounding from a flu that left him out of competition for last weekend's U.S. Border Patrol Invitational.
Buttar will make his second trip to the Lone Star state ranked No. 16 in the world standings, 3,032.5 points behind No. 1 Kaique Pacheco.
When he last travelled to Texas in February, the 25-year-old went 1-for-2 to finish sixth at the 2018 WinStar World Casino and Resort Iron Cowboy, powered by Kawasaki.
The finish at the second PBR Major of the season is one of seven Top-10 efforts for the Kindersley, Saskatchewan native thus far in 2018.
Last season in Austin, Buttar went 2-for-3 to finish seventh. He narrowly missed a perfect weekend, dispatched by Red Bandana at the 6.53-second mark in the championship round.
This weekend he'll face Biker Bob in Round 1, a rematch from the championship round of the 2017 elite tour event in Springfield, Missouri which resulted in Buttar earning a re-ride due to a foul in the chutes.
RELATED: Click here for the complete Friday day sheet.
One of 23 bovine athletes bucking under seven-time Stock Contractor of the Year Chad Berger's banner, Biker Bob has been ridden just twice in 20 outs across all levels of competition.  
He has dispatched the last 14 riders who have attempted him, including Brennon Eldred (Round 1 – 3.13 seconds) and Cliff Richardson (Round 2 – 1.86 seconds) in his most recent trips at the Atlantic City Invitational. 
Dener Barbosa and Stetson Lawrence are the lone two riders to take the bull to 8 seconds, marked 88.25 points in Albuquerque in March 2017, and 87.5 points in Anaheim in February 2017, respectively.
The WinStar World Casino and Resort Invitational begins on Friday, September 28 at 7:45 p.m. CT at the Frank Erwin Center, and concludes on Saturday, September 29 at 6:45 p.m. CT.
CBS Sports Network will televise all the action from Championship Saturday, including Round 2 and the championship round, starting at 6:00 p.m. ET on Sunday, September 30.
Fans will be able to watch the action in its entirety live via PBR's new streaming digital platform RidePass. The LIVE stream for the two-day event will begin on Friday, September 28 at 8:30 p.m. ET, and conclude on Saturday, September 29 at 7:45 p.m. ET. On-demand replays will be available at 8:00 a.m. ET the next day at www.ridepass.com. The service can be found at www.ridepass.com, and in the Apple App and Google Play stores under the listing of RidePass.