25th PBR: Unleash The Beast Preview – Atlantic City
By: Kacie Albert Saturday, September 15, 2018 @ 9:20 AM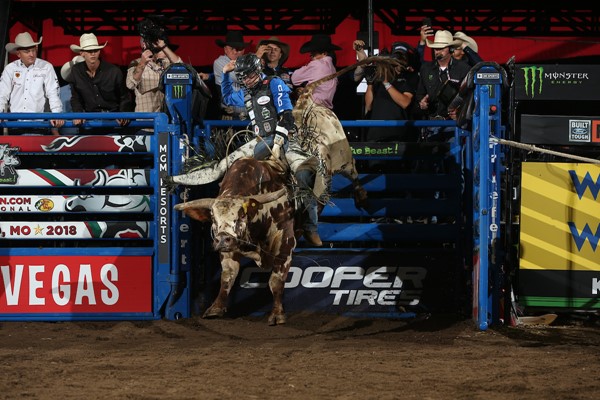 ATLANTIC CITY – For the first time in 15 years, PBR's premier 25th PBR: Unleash The Beast will travel to the Garden State's Boardwalk Hall for the Atlantic City Invitational. With Tanner Byrne falling victim to injury last weekend in Springfield, and Brock Radford and Lonnie West still sidelined, Dakota Buttar will anchor the Canadian contingent this weekend.
RELATED: Injury Update – Byrne Out a Few Weeks with Ankle Injury   
Currently ranked No. 14 in the world, Buttar will look to snap an eight-out buckoff streak when he attempts Kicked to da Curb in Round 1. The top ranked Canadian in the world standings, Buttar trails world No.1 Kaique Pacheco by 2,582.5 points.
RELATED: Click here for the complete Saturday Day Sheet
Last week, Buttar went 0-for-3 in the main event, failing to cover Black Cadillac (4.26 seconds), Smooth Wreck (2.77 seconds) or Big Kahuna (5.07 seconds), and was shutout in the 15/15 Bucking Battle, bested by M.A.G.A in 2.96 seconds.
In his first round matchup this weekend in Atlantic City, the Kindersley, Saskatchewan-native's draw will be making his elite tour debut.
Unridden in four attempts on the Touring Pro Division, Kick to da Curb has never been taken past the 3.91-second mark, dispatching the likes of Justin Edmonds, Laramie Craigen, Daniel Hollingsworth and Cody Campbell since bucking at his first PBR event in November 2016 in Goliad, Texas.
While Radford (knee) and West (shoulder) sidelined for yet another week, Byrne is the latest to fall victim to the injury bug, sustaining a peroneal tendon injury in his right ankle in Springfield when he bucked off Wired Child in Round 3.
The 26-year-old now plans to rest for a few weeks until some of the swelling in his right ankle goes down.
The Atlantic City Invitational gets underway at 6:45 p.m. ET on Saturday, September 15 and concludes on Sunday, September 16 at 1:45 p.m.
CBS Sports Network will televise all the action from Championship Sunday, including Round 2 and the Championship Round, starting at 6:00 p.m. ET on Sunday, September 16.
Fans will be able to watch the action in its entirety live via PBR's new streaming digital platform RidePass. The listen LIVE stream for the two-day event will begin on Saturday, September 15 at 7:30 p.m. ET, and conclude on Sunday, September 16 at 2:45 p.m. ET. On-demand replays will be available at 8:00 a.m. ET the next day at www.ridepass.com. The service can be found at www.ridepass.com, and in the Apple App and Google Play stores under the listing of RidePass.