25th PBR: Unleash The Beast Preview – Arlington
By: Kacie Albert Saturday, February 24, 2018 @ 9:34 AM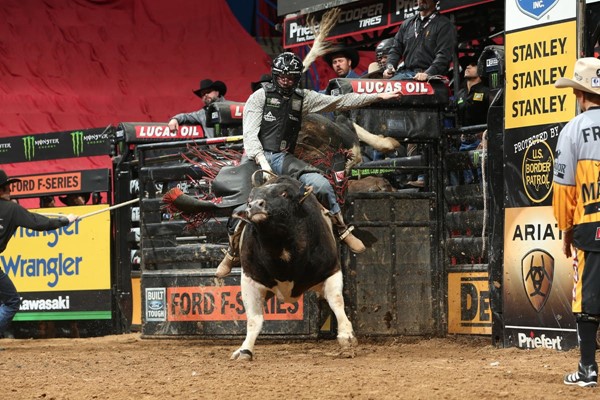 ARLINGTON, Texas – As the PBR's elite tour prepares to invade the largest stadium in the NFL, AT&T Stadium, for the ninth consecutive year, two Canucks have taken to Arlington all in an effort to be named Iron Cowboy.
For Tanner Byrne his trip to the Lone Star state comes fresh on the heels of his first event win since 2016, having won the title last weekend at the St. Louis Invitational.
The only rider to go perfect at the event, Byrne's flawless performance began with an 83-point trip aboard Picking Up Pennies in Round 1, followed by a 77.25-point effort atop Lil Moody in Round 2. The 3-for-3 showing was Byrne's first since October 2016 in San Jose on the premier tour.
The 2015 PBR Canada Champion sealed his victory when he covered Bad Beagle for 88.75 points, ending the bull's streak of 18 consecutive buckoffs, in the Championship Round.
RELATED: Tanner Byrne Wins St. Louis Invitational
He earned 475 world points to assure himself a full-time spot on the 25th PBR: Unleash The Beast as the No. 12 ranked rider heading into Iron Cowboy. Byrne had begun the weekend No. 36 in the world standings.
Byrne's resurrection into the Top 15 this year is a long-time coming after finishing 2016 No. 15 in the world standings. In 2015, Byrne posted the best-season ever for a Canadian-born rider by concluding the year No. 8 in the world standings.
The win was an emotional one for the Prince Albert, Saskatchewan-native, having lost his grandfather Marvin that Saturday night.
The 25-year-old began to tear up as he went through multiple interviews about his grandfather and Pozzobon, who had committed suicide last year.
"I had to deal with a crazy amount of emotions," Byrne said. "I have overcome so many obstacles in my mind. When I first came back, I was just happy that I could actually do it again and be behind the chutes. I promise you, there are a lot of old friends here, but nobody like Ty. That was my guy. Hanging your rope in there to get rosined up and taking your stuff out of your bag. None of it feels the same. It never will.
RELATED: Byrne Cherishes Victory Amidst Emotional 'Roller Coaster'
Byrne nearly won the PBR Major in 2015 in Arlington before being eliminated in the final round by Boot Jack in 1.82 seconds.
This weekend he will face Cornwell Bucking Bulls/Circle G/Coleman's Lab Rat in Round 1.
RELATED: Click here for the Saturday day sheet.
The bovine athlete has bucked three times this season on the elite tour, bucking off Fabiano Vieira (2.20 seconds – 43 points) and Dakota Buttar (2.96 seconds – 42.5 points) in New York City, before being covered by Derek Kolbaba for 86.25 points in Chicago.
He last bucked at last weekend's Knoxville, Tennessee Real Time Pain Relief Velocity Tour event, ridden by Lachlan Richardson for 86 points.
Unable to ride last weekend due to the flu, Buttar returns to the draw this weekend ranked No. 23 in the world ready to make his first appearance at the Iron Cowboy.
For the opening round, the 25-year-old has drawn Flying S Bucking Bulls' Foghat. The bovine athlete has bucked just once at a PBR event, dispatching Rubens Barbosa in 7.93 seconds to earn a bull score of 42 points earlier this year in Denver, Colorado. 
The WinStar World Casino and Resort Iron Cowboy, powered by Kawasaki, is a progressive-elimination format competition. Each of the Top 35 bull riders on the 25th PBR: Unleash The Beast as well as five Real Time Pain Relief Velocity Tour winners will ride one bull in Round 1, striving to make the 8-second buzzer. If a rider successfully covers his bull, he will advance to the next round. If he gets bucked off, he is finished. Through a minimum of two, and a maximum of five rounds, these athletes will continue to ride until one cowboy prevails and is declared the Iron Cowboy for a $100,000 payout.
The first round gets underway at 5:50 p.m. CT on Saturday, February 24.
CBS Sports Network will begin its coverage of the second Major event of the season at 10:00 p.m. ET on Saturday, February 24 with "Inside The PBR Majors," a 30-minute pre-show. The network with then televise the first two rounds starting at 10:30 p.m. ET. CBS Sports will air the Championship Round on Sunday, February 25 at 12:00 p.m. ET. 
Fans will be able to watch the action in its entirety, live, via PBR's new OTT platform RidePass. The stream for the one-day event will begin on Saturday, February 24 at 6:30 p.m. ET. The service can be found at www.ridepass.com, and in the Apple App and Google Play stores under the listing of RidePass.
Be sure to stay tuned to PBRCanada.com and follow the tour on Facebook (PBR Canada), Twitter (@PBRCanada), and Instagram (@PBRCanada) for the latest results.