West's Winning Ways Continue
By: Kacie Albert Monday, November 20, 2017 @ 7:33 PM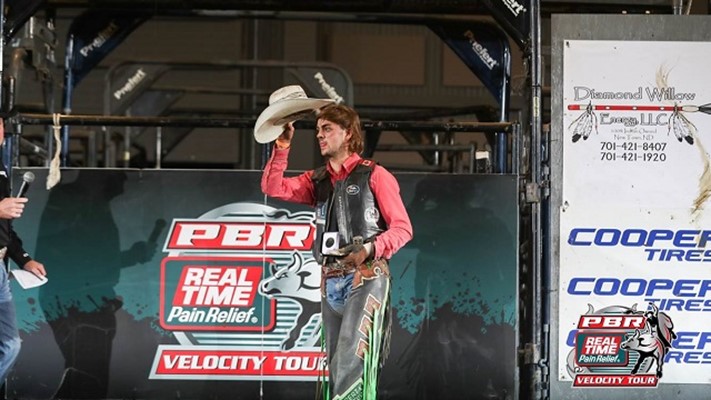 TORONTO – At the end of the 2017 season, one rider, Lonnie West, caught a hot streak that nearly propelled him to his first PBR Canada title and helped push Team Canada to a third place finish at the inaugural Global Cup.
RELATED: West Rides to Career First Velocity Tour Win in New Town
"It was pretty surreal when it happened," West said, while on a break from his work as a mechanic, on Monday morning.
"It was a rank pen of bulls. All those bulls that were there were all PBR World Finals bulls, and they were all Chad Berger's, so to be able to ride 3-out-of-4 and beat all them guys like [Derek] Kolbaba and J.W. Harris and what not, that was a pretty big highlight for me. "
A two-day event, West opened just the second RVT event of his career making the 8 aboard Undertaker for 87.5 points to tie for the win in Round 1.
With the qualified ride, the Cadogan, Alberta native became just the first rider since Feb. 2016 to cover the bovine athlete.
Having bucked off the last eight riders who attempted him, including 2016 World Champion Cooper Davis, Undertaker was last ridden by 2015 Rookie of the Year Kaique Pacheco for 83.5 in St. Louis, Missouri. 
"I hadn't heard much of him," West said.
"I saw he threw Cooper Davis off last year and a few other of them guys at the World Finals, and he looked like a big bucker."
"Stetson [Lawrence] was helping me that day, and right before I got on, he walked over and goes, 'oh sh-- this is a good one,' so I knew I just had to stick the screws to him and I'd get a good score."
Later that day, West bucked off for the first time, and what would prove to be the only time, at the North Dakota event.
Selecting Voo Doo Too, the 21-year-old lasted just 3.46 seconds aboard the Dakota Rodeo/Chad Berger/Clay Struve/Staci Wilks/N Bar Ranch/Chase Bass bull.
"I should have rode him," West reflected.
"He just ended up welling me, and he just got real empty and didn't help me at all much. "
When the action resumed on Saturday, West positioned himself for the top draw going into the final round after covering Like Mike for 85.5 points earlier in the day.
With the pick, West selected Machinery Auctioneer's Crazy Horse.
"I had seen him at the World Finals and Kaique [Pacheco] was 89 or something on him [in 2016], and he was good," West said of his pick.
In addition to earning the first pick, West was also the last man out in the round, allowing him to see with full clarity what he would need to accomplish with the out to secure the second PBR win of his career.
"I was the last guy out, and had went into the short round leading it, but then two other guys had rode, Jesse Tillman and Brady Oleson, so they were ahead of me, and I was like holy sh-- I can't let this slip, I've got to ride this one."
In the end, West's selection paid dividends, with the Canadian making the whistle and earning a score of 88 points.
"He just jumped out away from my hand, down to the right, and then got real frickin cool blowing up, facing the chutes, for like three big jumps and then came back around to the left," West said of the ride.
"I knew when I rode him I would be right up there with [Tillman and Oleson] to get the win so I was frickin pumped."
 "When I got off I was at a loss of words."
With the win not only did the fast-rising rider earn $9,009.89 USD, but he also netted 80 world points.
"It's a long season ahead, and it doesn't make a big difference right now, but hopefully I can get into everything," West said of the implications of the win on his 2018 season.
"I'm hoping I can go to Huntington, West Virginia, if they're not filled, and then hopefully I get into Biloxi, I'm an alternate there. But this should help me get into a bunch of stuff now. "
"We can probably hit a Velocity every weekend now or at least a Touring Pro."
And this latest win comes as West is amidst a winning streak that has seen him go 13-for-16 at the last six events he has ridden at, which included three wins and a runner-up finish for earnings of nearly $50,000.
RELATED: Lonnie West Rides Perfect in Abbotsford to Earn First PBR Victory
 "There's a bunch of events now too, so we're just going to try and hit everything, build as much points up as we can, so that's my goal."
"I want to make the World Finals, I want to win the world actually, that's my frickin goal," West elaborated.
Coinciding with West's winning ways is a stretch where he's been, "the healthiest," in his career.
"I'm finishing my bulls really good now," West said.
"Everything just flows more smoothly when you're riding good, you're not fighting at the end. The biggest thing is finishing them, if you can stay strong you're not going to get into those wrecks.  It all kind of goes together."
On hand to witness West's first win on the RVT were Global Cup teammates Tanner Byrne, Jackson Scott and Logan Biever. And West is quick to credit the inaugural five-nation, team bull riding event as the source for a change in the locker room dynamic.
RELATED: Team Canada Proud of Bronze Showing at PBR Global Cup
"Ever since the Global Cup the perspective of bull riding changed a little bit," West said.
"We were always gunning for our buddies and what not, but it seems like we're a lot closer and helping each other on now and rooting for everyone. "
"And now with Tanner [Byrne] who's on the map, we're walking into these events with a lot more confidence, we don't feel like the underdogs. So I've noticed a lot of change since the Global Cup, we're just a lot more comfortable in the bull riding."
And West's win may not have come without the call from fellow Team Canada rider Scott.
RELATED: West Wins Canadian Qualifier Ahead of Inaugural PBR Global Cup
"Jackson [Scott] called me too about that open spot, because I wasn't even going to go to New Town," West said.
"We didn't have our cards bought, so we weren't entered and we just got in through a couple of turnouts. So thank god for that. That worked out awesome."