Vegas on his mind
By: Kacie Albert Thursday, July 20, 2017 @ 7:20 PM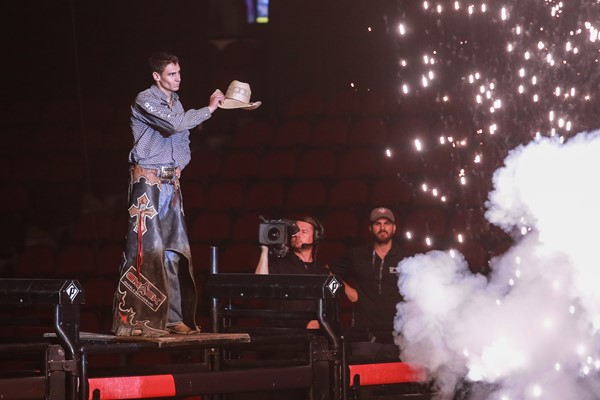 After the best regular season of his career, Cody Coverchuk's 2016 campaign ended in Canada, with the 23-year-old falling just short of competing at the prestigious World Finals in Las Vegas, Nevada.
The Meadow Lake, Saskatchewan rider finished his fourth season with the PBR ranked No.2 in the Canadian National Standings. His year concluded with a seventh place effort at the PBR Canada Finals after logging two event wins and 13 Top 5 finishes.
The proximity to his goal, however, only further ignited his drive.
"I was just outside last year," Coverchuk remarked. "That kind of lit the fire underneath me so I want to be in Vegas."
And Coverchuk has pushed hard through the first half of the 2017 season, gathering points at PBR Canada events both on the Monster Energy Tour and Touring Pro Division (TPD), in an effort to help punch his ticket to Vegas come November.
While Coverchuk says "it's been going pretty average this year," he is quick to qualify that "compared to other years it's starting to get going a little bit earlier than it has been for the last few years."
He began his season fourth at the TPD's PBR Challenge at Lethbridge, which he followed with a fifth place showing in Teepee Creek, Alberta and seventh place outing in Prince Albert, Saskatchewan.
Coverchuk logged an additional three Top 5 finishes before striking gold in Calgary, Alberta, winning the Ranchman's Bullbustin' and $11,081.81, the most money won by a rider at a TPD event so far this season.
"[It was] sweet," Coverchuk quipped. "My banker [likes] that."
An alternate for the event, Coverchuk's night began with an 86.5-point effort aboard Red Pheasant.
"He was really good," Coverchuk said. "He just spun into the door to the left."
In the short go, Coverchuk one-upped his second place effort in Round 1, taking the championship round with his 86.5-point ride on OLS Tubs Buckington, a bull he had long hoped to square off against.
"I've seen him for years, but I've never got to get on him. I've kind of been waiting to get on him for a long time, and he was good, just nice around to the right."
Only one other rider at the two-day event delivered a perfect 2-for-2 performance, but Coverchuk bested the current world No.7 Matt Triplett by six points in the aggregate to win the event.
After his victory Coverchuk rode at the famed Calgary Stampede. The event, however, "didn't go as planned," and he rode only one of his four bulls. 
Coverchuk though isn't letting his less than ideal result bog him down and is looking towards the two upcoming PBR TPD events on his schedule in Czar Lake, Alberta on July 21 and Manor, Saskatchewan on July 22. 
"I've usually had pretty good luck at in the past years, so I'm looking for big things."
In 2016, Coverchuk rode both of his bulls, highlighted by an 89-point ride aboard Cuckoo Kong in the championship round, to claim the event title in Manor, while he finished second at the Czar Lake event in 2015.
Looking to the second half of the season, Coverchuk, currently ranked No.71 in the world standings, just 222.5 points back from the Top 35 and a berth on the elite Built Ford Tough Series, is ready to travel south and compete on both the TPD and Real Time Pain Relief Velocity Tour in the United States.
"I want to start going to more on the US side if I can," Coverchuck said. "Going out of my comfort zone, I guess you could say, and try to go against the US guys and try to make the World Finals as the end goal."
While most guys are working to accomplish their goals alongside their traveling partners, Coverchuk is currently making his way through the competition circuit alone. 
"I'm just kind of going by myself as of yet. I go with Brock Radford sometimes and Lonnie West, but I think they're both hurt right now, so it's kind of just me going by myself."
However, his solo traveler status doesn't seem to bother the Canadian rider.
"But I like talking with whoever, and I get along with everybody so it doesn't much matter."
Action for the TPD's Czar Lake Bullarama gets underway at 7:00pm on July 21 at the Czar Lake Rodeo Arena.
Be sure to stay tuned to PBRCanada.com and follow the tour on Facebook (PBR Canada), Twitter (@PBRCanada), and Instagram(@PBRCanada) for the latest results.