The PBR world reflects on their fond memories of Ty Pozzobon
By: Justin Felisko Thursday, February 2, 2017 @ 10:30 AM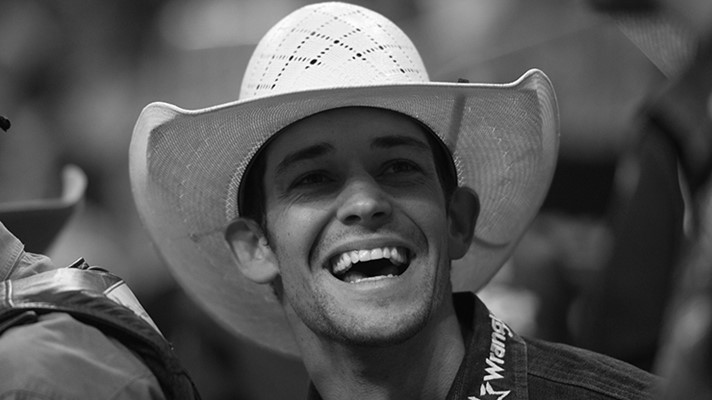 CHICAGO – Douglas Duncan sat in the corner of the locker room in a blue chair at the National Western Stock Show in Denver on Monday evening trying to process the news he had only come to learn a few hours earlier.
He looked down at the bull rope in his hands as a range of emotions overwhelmed him. Duncan, with tears in his eyes, had just talked to Ty Pozzobon a few days earlier, and he was preparing to give the Canadian's bull rope back to his longtime pal, who was nearing a return to PBR competition, in the coming weeks.
Pozzobon passed away on Monday afternoon in Merritt, British Columbia, at 25 years old. He will be eulogized during a public memorial service at Merritt Civic Centre Saturday at 1 p.m.
"Pozzy," as he was called by many of his close friends, was like family to the group of bull riders he went up and down the road with. 
On Friday night during Round 1 of the Chicago Invitational, PBR and its riders had a moment of silence to remember the fond memories of their friend and brother.
Riders, stock contractors and PBR personnel also wore black and white Pozzy 23 patches, referencing Pozzobon's riding vest number for the 2017 season, in remembrance of Pozzobon.
It was in Denver at the Real Time Pain Relief Velocity Tour event that Duncan and many of the PBR's top riders began to learn of Pozzobon's passing.
"It was a crazy feeling," Duncan said on Friday afternoon from Dallas-Fort Worth International Airport. "Those were emotions I never had before. I rosined his rope in that corner and there were tears all in my eyes. It didn't seem real."
Duncan rode Bad Grandma for 83 points on Monday night in Round 1 of the Velocity Tour event and finished 2-for-3 in Denver.
"Man, there is just so much emotion," Duncan said. "I felt like I could have gotten on King Kong. I have never been more confident. It was a crazy feeling. I don't know how to describe it. I found out about three hours before that. Just taking it out of my bag and having to rosin it was hard.
"Not only did I feel like he was with me, but I felt like I was doing it for him."
Duncan said he will always remember Pozzobon for how genuine he was.
"Ty was always genuine to people, even on the bad days," Duncan said. "He helped me out a whole lot. I told him the other day, especially after I broke my leg and I screwed up my ACL and MCL. I was sitting there and felt like I had two broken legs and the season pretty much had passed me by and he helped me out."
Then, of course, Duncan couldn't forget to mention Pozzobon's sarcastic and "bullshit" laugh.
"He always had that bullshit laugh," Duncan said before imitating the laugh. "We joked a lot. I always was picking on him and playing jokes. He took it the best out of everybody. I loved being around him."
Duncan is in Canada along with Chase Outlaw, Tanner Byrne, Dakota Buttar and others for Saturday's service. Pozzobon is survived by his parents, Luke and Leanne, his sister, Amy, and his wife, Jayd.
RELATED: Everything-Cowboy.com remembers Ty Pozzobon
Reese Cates got word of the news late Monday afternoon while in Denver with Duncan and a group of Pozzobon's friends.
"It is hard because the guys you compete with become closer to you than your own family really quick," Cates said. "They see you at your very best and your very worst. So many people only see you at your very best. So you get to know a lot about somebody. You get to love people like that. There was a lot that everybody loved about Ty."
Cates first met Pozzobon early on during his PBR Canada career. Pozzobon began riding at PBR Canada sanctioned events in 2010, but Cates eventually realized the two had even crossed paths earlier.
Both riders competed at the National High School Rodeo Finals in the United States.
"One day I was looking back at some old pictures from high school rodeoing and I said, 'Well, I'll be damned, there is Ty.' It was just crazy."
Cates continued, "Ty was always such a breath of fresh air. He was somebody that was always going to be in a good mood. He was always somebody that was going to help pick you up. It didn't matter what else was going on in the world or at that particular event or anything. He was always going to be joking around and maybe making fun of somebody."
Like Duncan, Cates, recalled plenty of times in which Pozzobon made him bend over in laughter.
Cates burst out laughing when thinking about when Pozzobon showed up in Pendleton, Oregon, last year and felt it was easier to just borrow everyone else's' riding equipment instead of bringing his own.
The 28-year-old then paused, "It almost doesn't seem real that he is gone. It hasn't really sunk in."
Matt Triplett said it was an emotional moment seeing Duncan ride with Pozzobon's rope in Denver.
"It was really hard," Triplett said. "There were a lot of tears going on. We lost one of us. A guy we traveled with us at these cups. A guy that has been there with us from the beginning. It is hard not having him anymore."
Triplett began his pro career in 2011 at PBR Canada events. He quickly became pals with Pozzobon – an emerging Canadian superstar.
Pozzobon went on to qualify for the Canadian Finals rodeo three times and won the 2016 PBR Canada title.
"I went to Canada and, well, Ty was the first guy I met," Triplett said. "We kind of started our careers on tour. He was always a positive guy. He was outstanding. It is hard to grasp this whole thing. Ty taught me a lot of good lessons. Being such a loyal friend, he was always there when a guy needed him. That was probably his best thing. If you were down and out, he would make you feel good and be halfway decent again."
Pozzobon was a seven-year PBR veteran with 71 qualified rides on the Built Ford Tough Series after first debuting on the BFTS in 2011.
Growing up in Canada, Pozzobon was a talented hockey player as well. He first laced up his skates at 4 years old and became a goalie. Pozzobon, who got on his first calf at 6 years old, eventually stashed away his hockey gear to focus in on a professional bull riding career after his junior year of high school.
Pozzobon qualified for the PBR World Finals four times and was set to return to PBR competition in 2017 following a career-best fourth-place finish at the 2016 PBR World Finals.
"It is one of the saddest deals I ever heard," said two-time World Champion Justin McBride said. "Not that I knew Ty really well, but my experiences with him were nothing but positive. He was always a positive, respectful guy when he was around with me. I can't imagine what his family is going through. My thoughts are definitely with his family."
McBride felt that 2017 was going to be a big year for Pozzobon, who made headlines at the 2016 World Finals by nearly winning the event with a broken hand.
"When I saw him at the Finals, I thought, 'Holy cow, where has this guy been?' because he rode so good," McBride said. "There at the Finals, he had a banged up wrist and hand. He was pretty much riding without a bull rope and he made some outstanding rides. You couldn't wait for him to come back from this hand/wrist issue and see how he rides. Just a tragic thing."
Pozzobon set a career-high with an 89.5-point ride on Big Cat during Round 2 of the World Finals this past November.
Although, his talented riding skills were always going to be second to his famous smile.
"It looked like the kid finally had it all figured out," Stock Contractor of the Year Chad Berger said. "It is pretty hard to talk about, really. I just can't believe it. He was such a happy and go-lucky kid.
"He would always come up and shake my hand with that $1 million smile."
Tyler Harr had gotten to know Pozzobon this summer at PBR Canada events and became good friends with Pozzobon and Outlaw.
At the Finals, the three took turns rotating out sports jackets to change things up.
"One of my favorite times being with Ty was in Vegas," Harr said. "We would loan each other the coats in our bag to wear and what not. That was one of the funniest times I ever had with him.
"If Ty Pozzobon couldn't make you smile, no one could make you smile."
Cates knows Pozzobon will still be on the back of the bucking chutes cheering on his pals every weekend.
"I know he is going to be with each and every one of us in spirit," Cates said. "I know he wants to see us do well. That is what we are here to do. To compete well and to let him see us trying hard and to let him know we are thinking about him."
Harr concluded, "We will all remember him forever."