The Morning Line: Winnipeg
By: Ted Stovin Friday, October 6, 2017 @ 6:00 AM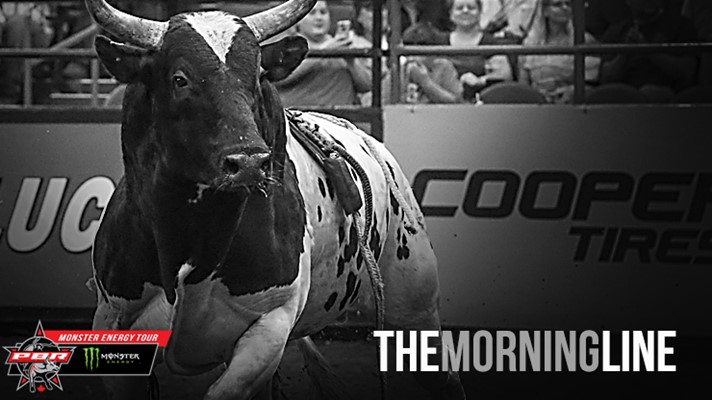 WINNIPEG, Manitoba – After a three-month break, PBR Canada's Monster Energy Tour returns to action this Friday in Winnipeg, Manitoba. As one of just two regular season events left before the finals in Saskatoon, Saskatchewan on Oct. 20-21, points won this weekend will be crucial in the race to become the 2017 PBR Canada Champion. 
A total of $20,000 is on the line in Winnipeg at Bell MTS Place Friday night. Even more important for the top bull riders in the standings are the 550 Canadian points available, with 100 points awarded to each round winner and 350 to the overall event winner.
While next weekend's event in Abbotsford will award similar points, 2,000 points will be on the line at the 2017 PBR Canada Monster Energy Tour Finals in Saskatoon, with round winners earning 250 points and the event champion 1,250.
To put it short, no one is out of the race at this point, but winning the next three events is paramount.
Standing between these riders and that elusive championship however are the bovine athletes they are set to face.
The championship round bull power in Winnipeg features two of the five Canadian bulls heading to the 2017 PBR Built Ford Tough World Finals -- Minion Stuart (Skori Bucking Bulls) and Johnny Ringo (Vold Rodeo / Rafter G Cattle Co.). A bull I haven't seen since the Calgary Stampede in July is Evil Genius from Flying Four Bucking Bulls. That day, Brennon Eldred put up 88.5 points on the bull and he's been resting up ever since. He's an electric, high flyer that I'm excited to see again.
RELATED: Click here for the complete Winnipeg daysheet.
Justin Lloyd vs. L2 Trippin' Out – At No.7 in the PBR Canada national standings, Lloyd sits 946.66 points behind No.1 Brock Radford. Trippin' Out, a black three-year-old bull with a white square on his forehead, will be making his PBR debut Friday night. Lane Skori believes Lloyd should ride this bull and I'm with him. After making his Built Ford Tough Series debut last week in Colorado Springs, Lloyd will be doing everything he can to earn enough world points to be back on the elite tour.
Zac Peterson vs. 020 Crooked Nose – This is one of the matchups that jumped off the paper at me. I like Crooked Nose but he doesn't look easy. Ridden five times in 22 outs for scores as high as 88 points, these two could match up for the Round 1 win. Crooked Nose has a lot of kick, if Peterson stays in the sweet spot. Watch out leaderboard.
Cody Coverchuk vs. 2 Double Major – Back in August these two met up in Coronation, Alberta, nearly earning a long round victory. Coverchuk got Double Major as a re-ride, but failed to make the 8, bucking off at the 7.9-second mark. Ridden five times in 17 outs, scores have been as high as 87 points. Coverchuk placed in the Top 5 at five of six of the 2016 Monster Energy Tour events, logging a seventh place finish for his other showing. Heading into Winnipeg, Coverchuk ranks No.2 in Canada, 691.66 points back from the top spot in the rankings. This guy likes the big stage and is riding with a purpose this season.  
RELATED: Coverchuk Dedicates Pursuit of Canadian Title to Late Father
Zane Lambert vs. 21 Uptown Funk – A big white, spotted bull, Uptown Funk has yet to be ridden according to the stats. The video I looked up showed the Rafter 8 bull fall out around to the left, putting Jackson Scott in the well, hung up to boot. Zane Lambert is No.3 in the PBR Canada national standings, just 2.5 points behind No.2 Coverchuk. As the 2013 PBR Canada Champion, Lambert will look to a winning performance in his home province to make a play for his second title. My money is always on Lambert, I'm going with 84 points here.
Brock Radford vs. S30 Milky Chance – Radford is the man everyone is chasing. At home for the past week getting healthy, he is ready to come back with a vengeance. Milky Chance comes from the Flying 4 crew of Prince Albert, Saskatchewan. When I asked Tanner Byrne about the bull he said he was 86 on him at this summer's Calgary Stampede. In four known outs the bull has been ridden three times. He looks a bit long in the last trip I watched. While this is something I've seen guys have trouble with before, it's nothing Brock can't handle.
Action for the PBR Monster Energy Tour presented by Macs and Circle K gets underway at 8:00 p.m. CT at Bell MTS Place. Tickets are available at Ticketmaster.ca.
Be sure to stay tuned to PBRCanada.com and follow the tour on Facebook (PBR Canada), Twitter (@PBRCanada), and Instagram (@PBRCanada) for the latest results.