The Morning Line – Toronto
By: Ted Stovin Saturday, June 24, 2017 @ 11:51 PM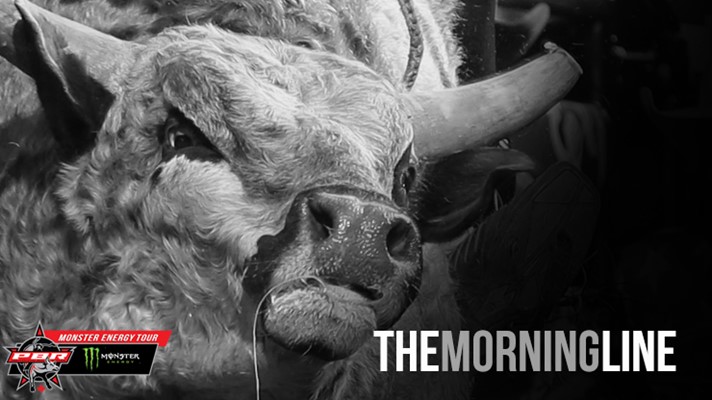 TORONTO, Ontario – After a week and a bit back out west and a trio of events in Calgary, Wanham and Ponoka, Alberta we are back out east and looking forward to our first ever event in Canada's largest centre.
Personally, I have wanted to see an event in Toronto for as long as I've known about the PBR and been involved in this sport. For a Canadian growing up in the west, I knew Toronto was big but I didn't realize it was the fourth most populated city in all of North America next to only Mexico City (1), New York City (2) and Los Angeles (3). 
As we've seen with the previous two events in Québec City and Ottawa, the bulls are all being brought in by Mike Miller Bucking Bulls of Jersey Shore, Pennsylvania; Cornwell Bucking Bulls of Lima, Ohio, and Bar D/Rawhide Rodeo out of Leicester, New York and Rafter P Rodeo of St. Tite, Québec.
At first I didn't know a thing about these bulls as could be expected since I hadn't ever seen them before but I'm starting to recognize some names now and get more familiar. I have to say these bulls have been outstanding in our first two events, in Ottawa only five matches were won by the riders. I don't see that being the same scenario on Saturday.
RELATED: Click here for the complete Toronto daysheet.
Justin Lloyd vs. 106-73 Otis – If you watched our TSN broadcast with Mark Lee, Scott Byrne and Jason Davidson from Québec City you would have watched Jordan Hansen tame this muley from Mike Miller for 85 points in Round 2. Book-ending that outs has been two trips with Cawl Braithwaite where the bull has won. Lloyd is coming off a second place showing in Ottawa and I look for him to keep the ball rolling here.
Dakota Buttar vs. 251 Slow Ride – A rodeo-looking brindle bull with horns, Slow Ride from Mike Miller has seen some time in the championship round. Scores have been as high as 89 on this bull already this year. It looks like he goes to the right but another video I saw he had some junk to him first. Buttar went to Bismarck last week and got a score on the board there. I expect a ride here from him but it won't likely be a day off. Both Eric Isabelle and Jackson Scott were bucked off Slow Ride in Québec City and Ottawa respectively.
Lachlan Richardson vs. WM Wild Mexican – When I talked about Justin Lloyd in Ottawa, this was the bull he won Round 1 on and went on to finish in the second spot overall. The score that day was 85 points but in Round 1 in Québec City it was 81.5 points for Lloyd. In London, ON last year Wild Mexican won the battle. Lachlan is a top-level rider and should have no trouble with this matchup, but this is bull riding we are talking about, nothing is a gimme.
Tanner Byrne vs. 757 State Trooper – Byrne took second place last week in Wanham on Friday after a buckoff in Calgary on Wednesday. State Trooper and the youngest Byrne brother have met before if I remember right. Even if they haven't been matched up before they should be familiar with each other. When Tanner and I talked on the phone the other day he asked if this was the same bull that we knew out west a few years ago. As it turns out it is. State Trooper could be called an elder statesman in the bull business as he turns 10 this year. He bucked off a first time PBR bull rider in Ottawa but that won't be the case on Saturday at Ricoh Coliseum. #pressurebull  
Zane Lambert vs. 3167 Mama's Bad Pet – This is one bull I didn't find a ton on besides that he bucked off Dakota Louis in the first round in Québec City and Lachlan Richardson in the long round in Ottawa. Lambert won first place and third place last Friday in Wanham and is coming to Toronto as we speak from his hometown bull riding in Ponoka last night. Depending how things go tonight, my guess is a qualified ride, we could have a new number one in the PBR Canada standings on Monday.
Matt Triplett vs. 24 Mud Duck – As the top ranked bull rider in the world in Toronto, (No.8) Triplett is easily the odds on favorite before the draw even comes out. Then match his name up with Mud Duck and it gets even better. I'm going out on a very sturdy limb saying this could easily be the Round 1 win. Mud Duck matched up with Fabiano Vieira for 86.5 points in Round 2 in Québec City. Look for that or more out of these two on Saturday.
The Monster Energy Tour's final Eastern stop kicks off at 7:30pm on Saturday, June 24, at Ricoh Coliseum in Toronto, Ontario. Tickets start at just $25 and can be purchased online at Ticketmaster.com.