The Morning Line: PBR Global Cup - Day 2
By: Slade Long Friday, November 10, 2017 @ 9:15 AM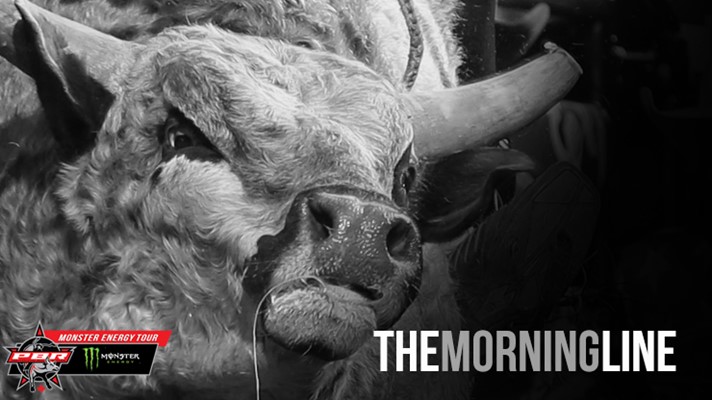 EDMONTON – The competition format here is quite different from any normal bull riding event, and it may be hard to understand, but the simple truth is that each team needs to rack up 14 qualified rides in two days of competition. The highest combined score on 14 rides is what determines the winning team, but the first task of the coaches is getting 14 rides on the board. That will be the hard part.
The coaches play a big role in this event. They control the matchups and decide which of their riders faces which bull in their draw position.
The Australian team faces the toughest challenge in this format because their odds of getting 14 rides are longer than the other teams, but they have an advantage in that they have arguably the best coach in Adriano Moraes. Moraes is charismatic and passionate about the sport, and just spending time around him will no doubt bring out the best in the Australian team.
Team Mexico will benefit from coach Michael Gaffney in the same way that Team USA will benefit from Justin McBride's leadership. Both coaches are smart and businesslike in their approach, and both teams will thrive when they look past their emotions and ego and do the work.
Team Canada's Aaron Roy and Brazil's Robson Palermo have the advantage of knowing their riders and the bulls better than the other coaches. Team Brazil doesn't need much help, but Palermo has already chosen the matchups well in the opening round. Roy has the home-field advantage, and with a lot of Canadian bulls on hand, he can put his riders in a position to win. He also gets to compete with seven additional riders on his squad as the host country.
Cody Coverchuk on 143 Bad Moon Rising:
This is a Canadian rider on an American bull. Bad Moon Rising is a little tougher than the average PBR Canada bull, but he goes to the left and has great timing. Left-handed riders have done well against him, and Roy made a good decision to put one of his strongest lefties in this spot.
Francisco Morales on X18 More Big Bucks:
Coach Gaffney needs some luck on his side, and he got some in drawing this bull. Team Mexico will be struggling for rides more than USA, Brazil and Canada, and they may get a huge one here. More Big Bucks was ridden twice at the World Finals for an average score of 90 points. He's 12-18 in his career against lefties, and Gaffney has a lefty going against him here.
Joao Ricardo Vieira on 342 Ulterra's Teal Steel:
Sage Kimzey rode this bull at the Velocity Finals two weeks ago, and Palermo was on hand to see it. Vieira is an obvious choice to face this bull, who goes to the left and has great timing. Brazil should get an easy score here.
Lonnie West on 390 Pop the Latch:
This was a no brainer for coach Roy. West rode this bull last night for 86.5 points – the high score in the qualifier. West had a pretty easy time with this bull, so putting the two together again is an obvious move.
Cody Teel on 02 Beaver Creek Beau:
Coach McBride had two guys he could have put on this bull. Teel and Cooper Davis have both ridden him before. Beau is the toughest bull team USA will face in the opening round. McBride probably put Teel here instead of Davis because this is a big bull and Teel is a bigger rider, and that is a good choice. McBride has put together a great set of matchups for his team tonight.
Lachlan Richardson on 497 Darkness:
This may be Team Australia's best hope for a big score. Richardson can handle bulls that go into his hand pretty well, and this bull should do that. Darkness is one of the stronger Canadian bulls we'll see Friday night.
Eduardo Aparecido on 005 Liquid Fire:
Liquid Fire is very similar to Darkness – the bull Lachlan Richardson has – except he should go to the right, and Aparecido should dominate this matchup. This bull isn't ridden very often in his native Canada, but he doesn't often face riders this strong.
Cole Melancon on 757 Hand Burner:
McBride isn't shooting for the highest score with this matchup, but he is putting Melancon in the best position to get a score. Hand Burner should be among the easier bulls to ride in this round. He will probably go away from Melancon's hand, but that shouldn't be an issue on a bull with great timing.
Brennon Eldred on 58A Finning Lil' Shorty:
This should be another easy score for Team USA. Shorty was ridden in the qualifier Thursday night. He should spin into Eldred's hand. He can have a lot of action, but he's not particularly strong, and Eldred should be able to handle him easily.
Jose Vitor Leme on 12 I Always Stand:
This is one of the most difficult bulls in the round. He's been around for a long time, usually spins to the right, and the riders usually don't get along with him. Palermo put Leme on him either because this is the most difficult bull his team will have to face so why not pair him with the one guy who never bucks off, or he may just be curious to see whether any bull can buck Leme off. In either case, it's smart matchmaking.
Cooper Davis on S30 Milky Chance:
Davis is automatic on bulls that go into his hand, and this bull is a great fit for him. Milky Chance can have some forward movement when he goes into a spin, but right-handed Canadian riders have had a lot of success on him. Davis should be an easy winner in this matchup.