The Morning Line: Abbotsford
By: Ted Stovin Saturday, October 14, 2017 @ 7:41 AM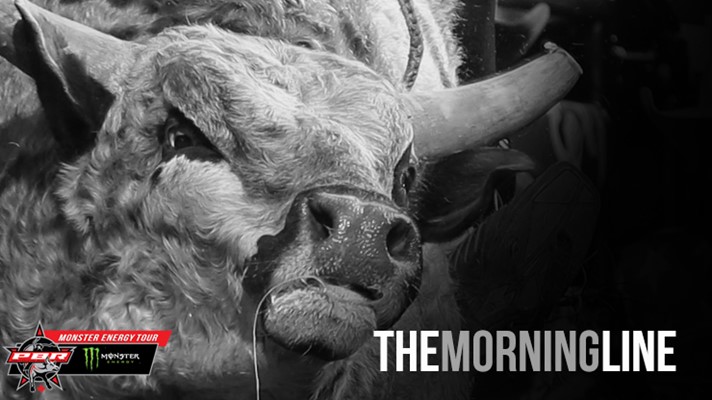 ABBOTSFORD, British Columbia – After a quick stop in Winnipeg last Friday, PBR Canada's Monster Energy Tour, presented by Mac's and Circle K returns to action this Saturday in Abbotsford, British Columbia. 
As the final regular season event remaining before the Canadian finals in Saskatoon, Saskatchewan on Oct. 20-21 points won this weekend will be crucial in the race to become the 2017 PBR Canada Champion.
A total of $20,000 is on the line at the Abbotsford Center Saturday night, but even more important for the top bull riders in the standings are the 550 Canadian points available. Each round winner will earn 100 points, while the overall event winner will walk away with 350 points.
No.1 Brock Radford enters the event leading No.2 Zane Lambert by 529.16 points, meaning a sweep by Lambert could usher in a changing of the guard prior to finals in Saskatoon where 2,000 points will be on the line. The season's final event will award 250 points to each round winner and 1,250 to the event champion.
The closest race for the title to have unfolded in recent memory, considering aggregate only, Thor Hoefer, currently ranked No.12 in the Canadian standings, is within striking distance 1,207.5 points back from the No.1 spot. 
In the bull pen, six contractors are represented: Two Bit Bucking Bulls (Magrath, Alberta); Vold/Prescott (Ponoka, Alberta); Big Chief/Armstrong (Fort Macleod, Alberta); S&E Bucking Bulls (Kamloops, British Columbia); Dynamite Buckers (Turner Valley, Alberta) and Wilson Rodeo (Gleichen, Alberta).
PBR World Finals Bucking Bull 465 Happy Camper highlights the Championship Round. The three-year-old bull has yet to be ridden so far in 2017.
RELATED: Click here for the complete Abbotsford daysheet.
Jordan Hansen vs. 436 Devour – Just 48.75 points removed from the Top 35 in the PBR world standings, No.38 Jordan Hansen is looking to become the first Canadian bull rider since Robert Bowers in 1999 to qualify for the PBR World Finals, National Finals Rodeo and Canadian Finals Rodeo in the same year. Devour has yet to be ridden according to the stats but bet on Hansen breaking that streak tonight.
RELATED: Hansen in Search of Historic Trifecta
Zane Lambert vs. 294 Boom Beach – I don't know the story on this bull but I do know about Lambert. In the previous three PBR Canada events Lambert split the win in Stavely, took second in Magrath and split third last weekend in Winnipeg. He also placed third and fifth here in Abbotsford at last year's stop on the Monster Energy Tour. Look for a ride out of Lambert to close the 529.16-point gap between him and the No.1 spot in Canada.
Cody Coverchuk vs. 450 Red Pheasant – At No.3 in the PBR Canada national standings, Coverchuk hasn't done as well as of late. He hasn't looked good in the previous two matchups I've seen him in and that's understandable for the circumstances. I'm a big fan of Coverchuk's though and want to see him do well. This is a bull he's had success with before. This summer in Calgary at the Ranchman's the two danced for 86 points. Red Pheasant, a red horned bull from the Big Chief crew, fits right into Cody's wheelhouse as a left spinner with lots of timing.
RELATED: Coverchuk Dedicates Pursuit of Canadian Title to Late Father
Brock Radford vs. 495 Meat – There are only two recorded outs for this bull, but in one of those Cody Coverchuk put up a score in Magrath worth 82 points. While Brock still has a firm grasp on the No.1 spot in the Canadian standings, he hasn't stayed on a bull in PBR Canada competition since Stavely on Sept. 2. While Radford's presently in the lead, he has to stay on a few more bulls this year in his home country if he expects to win his first Canadian Championship and a spot at the PBR World Finals.
Dakota Louis vs. 108 Over Cooked – Winnipeg's event winner has drawn one of the best and most well-known bulls in Round 1. Ridden six times in 17 outs on record, this is a re-match from Lethbridge in 2016 where the two teamed up for 86 points. Scores on the black-horned Vold/Prescott bull have reached a high of 87 points. Overcooked is likely going to go right, away from Dakota's hand, but that sure wasn't an issue last Friday in Winnipeg against Minion Stuart. Look for the same on Saturday.
Action for the PBR Monster Energy Tour, presented by Mac's and Circle K gets underway at 7:30 p.m. PT at the Abbotsford Centre. Tickets are available at Ticketmaster.ca.
Be sure to stay tuned to PBRCanada.com and follow the tour on Facebook (PBR Canada), Twitter (@PBRCanada), and Instagram (@PBRCanada) for the latest results.