Team Canada Confident Despite Injury Setbacks
By: Ted Stovin Saturday, November 11, 2017 @ 12:06 AM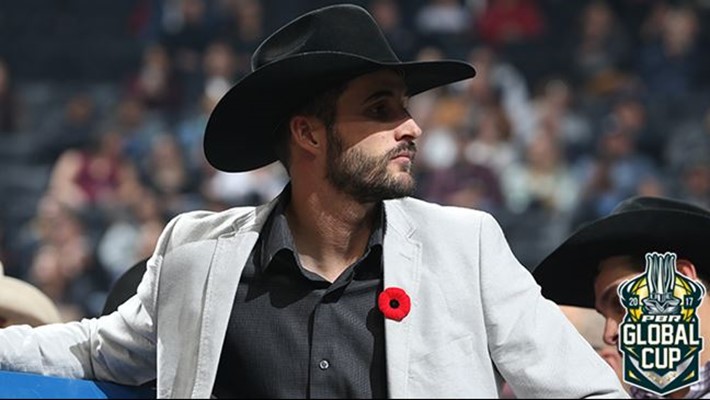 EDMONTON – Two members of Team Canada are out of competition for Day 2 of the PBR Global Cup, presented by Encor by EPCOR, at Rogers Place on Saturday night.
Dakota Buttar sustained three fractures in his left foot during his dismount from a successful ride on Big Shot in Round 1. The injury ends Buttar's 2017 season despite earning $1,000 in the round for a split of seventh overall at 84.25 points.
2017 PBR Canada Rookie of the Year Coy Robbins put up one of the best rides in Round 1 at 85.25 points to earn $1,000 for fifth place. The huge effort seen on Plenty Kool made Robbins an easy pick for the Bonus Round where the Camrose, Alberta, talent would face Whiskey Hand. Unfortunately for Robbins, he would be knocked unconscious in the out and end his stint at the PBR Global Cup.
RELATED: Robbins joins Team Canada
Even with the setbacks, Team Canada coach Aaron Roy remains confident.
"We are just here to win," Roy said. "These guys are just amped up, that's all they are thinking about is just riding bulls and winning this thing."
Despite the injuries, Team Canada held down the event lead with 501.5 points on six qualified rides.
"It's great being in the lead right now," Roy said. "We've got a really good pen of bulls and they are all happy with their picks. I let them do most of the picks. I just gave my thoughts."
Heading into Day 2, Canada has 16 opportunities for more rides while the remaining four countries each have eight.
"We're rolling," Roy said. "They're jacked up to be here and lots of guys said that Team Canada didn't have a chance to come here and they are proving everybody wrong. We've got the best bull riders in Canada riding here."
With critics coming into competition, Team Canada has proved the nay-sayers wrong.
"These guys will step up," Roy said. "Our alternates will step in and make a big wave and Tanner Byrne is stepping up and getting on two tomorrow. Everybody knows Tanner is capable of it, and he's going to come through for us."
The game plan for the Canadians is to match riders with bulls they know they can stay on. 
"They pick the ones that they are confident with so I'm not forcing them to get on any bulls they aren't confident with," Roy said. "They did that the first night and it showed so we are in the lead."
For most, this is the largest crowd they have ever rode in front of.
"These guys are pulling through," Roy said. "This is the biggest stage 90 percent of the guys have been on. They are showing everybody why Canada is where we are."
Part of the leading effort on Day 1 was 2017 PBR Canada champion Zane Lambert, making his first appearance for his country on a global stage.
"I wasn't allowed to be on the team at the time at the other World Cups. I wasn't apparently good enough, even though I was second and third in Canada those years," Lambert said of 2007 to 2009. "The coach didn't take me. It didn't work in my favor then. I would have loved to have been there, but this one was kind of a qualifier. I qualified fair and square."
Lambert lives for the biggest stages in the sport.  
"This is my first time on a Global Team or on a Canadian team so it's pretty special," Lambert said. "Guys are really coming together and rooting for each other really good and there is lots of confidence running around the dressing room."
Residing in Ponoka, Alberta, Lambert is also an Oiler's fan and was inspired by the pre-game pep talk from Oilers Entertainment Group (OEG) CEO Bob Nicholson in the Oilers locker room pre-show.
"I'm a Bob Nicholson fan," Lambert added. "That guy is so successful, we'll take in anything he's got to tell us. Boy he can talk. He can fire guys up.
"It was pretty cool have him sit us down and talk to us about this moment and try to embrace it. It was pretty cool to have him on our team too, and the whole Oilers Entertainment Group and all of Canada."
Something most hockey fans would be jealous of happened on Friday night at Rogers Place. Nicholson, along with Kevin Lowe, Vice Chairman of OEG invited Team Canada to the Oilers Clubhouse to have a beer, tour the facility and pick bulls for Day 2.
"I never thought we would ever get to do something like this. It's an honor, and these guys are behind us 100 percent cheering Team Canada on," Roy said. "This building is built for champions. The Oilers are an outstanding hockey team and Canada is proving to be an outstanding bull riding team in the Global Cup.
"We're proving to them that we can keep up with everybody."
TEAM CANADA
Tanner Byrne (1) vs.  RebuildTexas.Org
Cody Coverchuk vs. Modified Clyde
Jackson Scott vs. Kool Aid
Zane Lambert vs. Darkness
Wyatt Laughlin vs. Voodoo Too
Logan Biever vs. Swashbuckler
Ty Patten vs. Centrifugal
Justin Lloyd vs. Liberty Tower
Brock Radford vs. Gangster Can Do
Cole Young vs. Talking Smack
Lonnie West vs. Pound The Alarm
Tanner Byrne (2) vs. Herf
Dayton Johnston vs. Muddy Water
Jake Gardner vs. Deplorable Me