Rookie Run
By: Kacie Albert Tuesday, August 8, 2017 @ 2:20 PM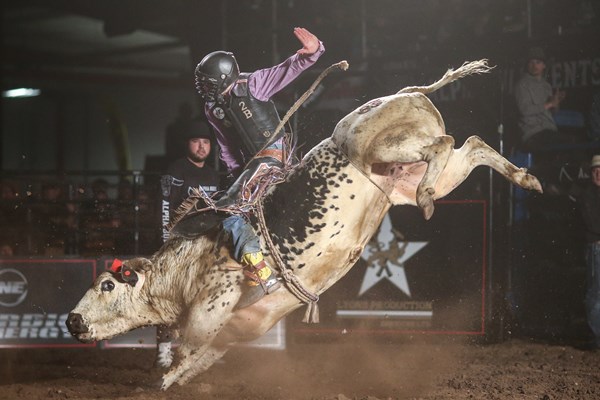 TORONTO –  For 18-year old Dayton Johnson, the first eight days of his rookie year with PBR Canada were much akin to night and day.
Just an hour's drive from his hometown, the Milk River, Alberta teen made his debut on the Touring Pro Division (TPD) on March 3 at the season-opening Bridge City Chrysler/LA Towing PBR Challenge in Lethrbridge.
The hometown hopeful's night, however, ended just as soon as it began, with Johnston bucking off CS Bucking Bulls' Booster Juice in 7.66 seconds, giving him a stark welcome to the PBR.
"It's definitely a step up, like with caliber of bull wise," said Johnston. "In amateur associations every stock contractor has one good bull, but when you go to PBR everybody brings their best stock so you're consistently getting on the best."
Eight days later, the tides turned, and Johnston found himself in the winner's circle at the Teepee Creek PBR Classic, presented by Lyons Production Services.
"I knew I had a good long round bull," Johnston reflected. "But I didn't really have the trip that I wanted and I wasn't sure if I'd even get to the short round."
His 81-point effort in Round 1 aboard Wild Hoggs' Marshal's Law was enough however to qualify him for the short go, where he would next face Village Idiot.
"I had heard about him, but I really didn't know what he was like," said Johnston.  "Everyone kind of beat around the bush, telling me no one likes him and this and that. "
The Outlaw Buckers Rodeo Corp. bull though proved to be Johnston's golden ticket.
He rode the bovine athlete for 87.50 points, winning both the championship round and event title.
"I found out why no one likes him," remarked Johnston. "But it worked out and I ended up winning it, and it was just an awesome feeling, that's for sure."
Since claiming his first PBR victory, Johnston has gone on to ride at five PBR Canada TPD events, in addition to travelling to the United States for the April Real Time Pain Relief Velocity Tour stop in Yakima, Washington, but has been unable to continue his winning ways.
Per Probullstats.com since his event-winning ride aboard Village Idiot, Johnston has gone 1-for-9, unable to log qualified rides in either of his additional short go appearances.
"It's been pretty cold for me since [Teepee Creek]," said Johnston. " I've had a couple long round rides, but I haven't really been able to capitalize on short round bulls. I definitely want to start stepping that up, and picking away and getting some more points."
Set to ride in Elnora, Alberta for the TPD's 19th Annual Elnora Brahma Rama on Saturday, Johnson will have his next opportunity to begin to reverse his fortunes.
Accompanying Johnston, providing that extra motivation, will be his dad, not only his greatest role model growing up, but also his inspiration to begin a career in the sport.
"He has done everything in his power to get me down the road," said Johnston of his dad. "[He] picks apart every ride to see what was right and what was wrong."
Johnston's dad, a former bull rider, began his career in college after a spur of the moment decision to take up the sport. While his career was short lived, his passion pushed him to involve his son in the sport.
"[My dad] just got me into it when I was real young," recalled Johnston.
"At that age you don't really want to do it, he kind of forced me into it, and then I started getting interested in getting on calves and stuff. Then in 2008 I got my Chinook Rodeo Association card and started riding steers and have loved it ever since."
Adding to his schedule of TPD events, Johnston also plans to begin competing at the Monster Energy Tour events when they resume in the fall.
"I'm hoping to get to some, it will be less busy than the summer, so hopefully I will have more time to get away and start riding bulls again."
And all of his efforts are directed at one common goal, making the October trip to Saskatoon, Saskatchewan.
"I definitely want to make the finals."
Action for the 19th Annual Elnora Brahma Rama on August 12th gets underway at 7:30 p.m. MT.
Be sure to stay tuned to PBRCanada.com and follow the tour on Facebook (PBR Canada), Twitter (@PBRCanada), and Instagram (@PBRCanada) for the latest results.