Radford Poised to Win First Canadian Title
By: Kacie Albert Saturday, October 21, 2017 @ 4:16 PM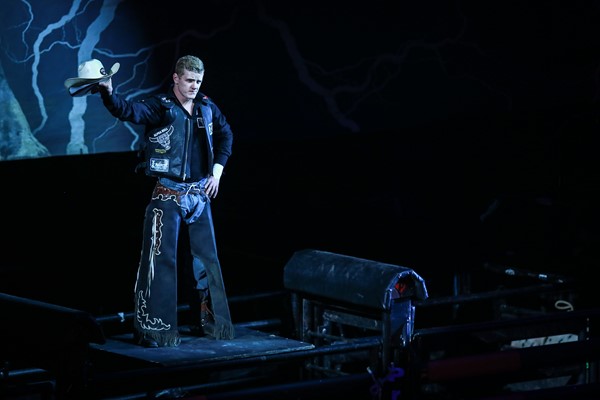 SASKATOON, Saskatchewan – Brock Radford's fourth season riding on the PBR Canada tour has been nothing short of electric. 
With five event wins, 10 Top-5 and 16 Top-10 finishes, the De Winton, Alberta-native has had a career-defining year, and sits poised to capture his first PBR Canada national title.
"It's something I've wanted since I was little," Radford said.
"I've put a lot of work into it, and it's the point I want to be at. I want to be the best, and I want to represent Canada down south on the [Built Ford Tough Series], so winning this is a big check mark off on my goal list."
Matching his historic season is the overall competitiveness experienced in the PBR Canada standings.
Tonight, when the 2017 PBR Canada Champion is crowned at the SaskTel Centre, it will mark the culmination of the most fiercely contended title races in PBR Canada history.
"It comes down to the one," Radford said of the Canadian Finals.
"Everybody's riding at the top of their games so it should be really good."
And while everybody is riding at the top of their games, according to Radford, every rider also has one other shared characteristic – they're all chasing him as the rider who holds the No.1 position in the Canadian standings.
"I worked all year, positioned myself in the Top 5, and then I rode my bulls and ended up coming into Saskatoon first," Radford reflected.
"So I'm just going to keep doing what I'm doing, and ride my bulls. The guy who rides all his bulls will be the guy that gets [the title]."
With 2,381.66 total national points, Radford leads No.2 Zane Lambert by 504.16 points, No.3 Cody Coverchuk by 961.66 points and No.4 Lonnie West by 979.16 points.
But with the Canadian Finals offering an augmented 2,000 points across the two-days of action this year, adding yet another layer of competitiveness to the already hotly contested event, Radford doesn't have the title on lock.
"When they said there were 2,000 points at Saskatoon I knew that if you were in the Top 5 you were going to have a shot at it," he commented.
Atop the standings since Aug.12, Radford's march to the top was one for the history books.
RELATED: Red Hot Radford
While the 22-year-old logged his first event win of 2017 and second of his career at the May 27 Touring Pro Division event in Swift Current, Saskatchewan, his historic march to the top of the Canadian standings began two months later.
On July 27 Radford went 1-for-2 to take the title at the 4th Annual Gold Eagle Casino PBR Classic presented by McDonald's in North Battleford, Saskatchewan.
He followed that eight days later with a victory at the inaugural TPD event in Kelowna, British Columbia.
Then came back-to-back wins in his home province in Elnora and Coronation, cementing Radford's name in history as the first rider to win four consecutive events in PBR Canada history.
Before his streak began, Radford was ranked No. 11 in the PBR Canada national standings, hundreds of points removed from the top position.
However his four event titles earned him 1,340 Canadian points, propelling him to the top of the PBR Canada standings.
But after the historic streak of victories, Radford weathered a bit of a slump following his win in Coronation, going 2-for-9 prior to the first night of action at the Canadian Finals.
During a portion of that dry-period, Radford fell sick, sidelined for several events including the final round of the Built Ford Tough Series stop in Uniondale, New York and the elite tour's subsequent event in Colorado Springs, Colorado and Nampa, Idaho.
"I don't know if I caught a bug riding at Magrath, or whatever, but I kind of had a cold before it and travelling will wear on a guy," he said.
"I went to Uniondale and I rode two bulls, then I turned out of the short round there and went home. It kind of took me a few weeks to gather my chickens and get some energy and get going. But I feel good now finally."
At the Monster Energy Tour's final regular season event of 2017 last weekend in Abbotsford, British Columbia, Radford began to return to his championship contending form, finishing ninth.
"Even in Abbotsford I didn't feel good, but it was a big confidence booster for me," Radford said.
"I was at home, sitting on the couch, trying to get better and I couldn't really do much, but then I went to Abbotsford and got one rode and it reminded me I could stay on something."
As he prepared to make the journey to Saskatoon for the Canadian finals, he had no set game plan beyond continuing his momentum as he seeks his first title.
"I don't really have a game plan, I'm just rolling," he quipped.
"I'll ride what they put underneath me and let the rest take care of itself. That's pretty much everyone's game plan. All we can do is all put our cards down and see if you have the winning hand."
And if any questions remained whether Radford was still battling the lingering effects of his illness, he erased them last night during Round 1 of the 2017 PBR Canada Finals.
Riding Minion Stuart for 87.5 points Friday Night, Radford took the win in the opening round of the twelfth annual, season-ending event, earning 250 Canadian points to further expand his lead atop the standings.
RELATED: Radford Wins Round 1 of 2017 PBR Canada Finals
Tonight, Radford will face Oklahoma Blues in Round 2.
While the title is something he has dreamed of since a child, two factors will add to the sentimentality of the win should he continue the thunderous performance he opened the finals with.
"It's pretty cool when you're racing for the championship and it's with a bunch of your friends," Radford said.
RELATED: Click here for the complete Saturday day sheet
"And it would mean a lot winning the year after [Ty Pozzobon] did to so that would be pretty cool. That guy helped everybody out, he helped me get to another level to, he was a really good mentor to a lot of guys. "
The 2017 PBR Canada Finals conclude Saturday, Oct. 21 at 7:30 p.m. CT at the SaskTel Centre where the 2017 PBR Canada Champion will be crowned. The champion will earn a trip to the Real Time Pain Relief Velocity Tour Finals in Las Vegas, Nevada Oct. 28-30 where they will then have the opportunity to qualify for the Built Ford Tough World Finals on Nov. 1-5.
Be sure to stay tuned to PBRCanada.com and follow the tour on Facebook (PBR Canada), Twitter (@PBRCanada), and Instagram (@PBRCanada) for the latest results.