Morning Line: Quebec City - Day 2
By: Ted Stovin Saturday, June 3, 2017 @ 9:23 AM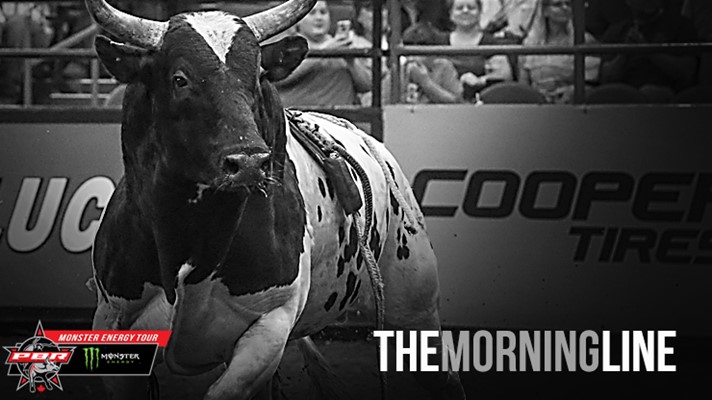 QUEBEC CITY -- Saturday marks a bit of history in Canada as the richest regular season event of the 2017 PBR Monster Energy Tour concludes from the Videotron Centre in Quebec City. 
Prize money totalling $100,000 and a first place set of points tallying 300 can be a game changer for some of the top bull riders in the world. If Derek Kolbaba were to win Round 2 and the championship round he would walk away with $35,100, the biggest single event check to be handed out in PBR Canada this season. 
RELATED: Click here for the complete Saturday daysheet. 
Derek Kolbaba vs. 177 Time Bomb - In 27 recorded outs, Time Bomb has only been ridden five times. Out of those times, scores have been anywhere from 82 to 90 points. Another bull originally from Kelly Armstrong and now owned and hauled by Ken McElroy of K - C Bucking Bulls, Kolbaba has the advantage. The Round 1 winner after an exciting 89.5 point effort, Kolbaba has drawn a red, white faced horn bull he can ride to go 2-for-2 heading into the championship round.
Zane Lambert vs. 07 Sarge - BJ Prince and Mike Miller were driving back to the bull housing last night and BJ said he thought this one could be the round. Sarge has been ridden twice in eight outs on the Real Time Pain Relief Velocity Tour and Built Ford Tough Series. Once was an 83.5 by Dakota Buttar in New York City this winter and the other was an 88 by Keyshawn Whitehorse in Trenton, NJ last fall. Lambert was 83.5 in Round 1 for sixth place and has a shot to get a high spot in the championship round. Look for Lambert, the 2013 PBR Canada Champion, to do just that.
Matt Triplett vs. 2 Devil Dog - Devil Dog is the bull that Lambert rode in Round 1 for 83.5 points but Miller said that this bull usually has a better trip the second time out. Triplett was 81.5 points on Friday and looks to get a top spot on Saturday in the championship round.
Brennon Eldred vs. 26 True Grit - Last night was the first trip for True Grit in PBR competition and the victory went to the rider in Thor Hoefer for 83 points and a tie for seventh. This is about as close to a sure thing there is in bull riding even though nothing is for sure in this sport. A yellow, tan colored bull with big horns, look for Eldred to add to his third-best 86 points from Round 1. 
Fabiano Vieira vs. 24 Mud Duck - A Cornwell bull of Ohio, Mud Duck is a bull that Vieira could be in the high 80's on. Ridden once in seven outs for 83 points, he hasn't been tamed yet in 2017. Coming in with 83 points, if Vieira can tame Mud Duck on Saturday night, the Cooper Tires cowboy is going to be tough to beat in the aggregate which pays $23,000 for first. Mud Duck is a black bull with some white on his face, the tracks on him say he's going to be out of the left and out one and around to the left, right into Vieira's wheelhouse. 
Jordan Hansen vs. 106-73 Ottis - Being the top man in the PBR Canada Standings coming in, Hansen lost some ground to Jared Parsonage after he put up a fourth-best score in Round 1. Ottis has only been ridden once in eight recorded outs. That was by Robson Aragao in Roanoke, VA this winter for 81 points. Bull scores range from 40.5 to 43 points but Hansen has what it takes to ride any bull in the business.
Tickets are still available for Saturday night in Quebec City at the Videotron Centre and can be purchased here.