Morning Line: Quebec City - Day 1
By: Ted Stovin Friday, June 2, 2017 @ 8:15 AM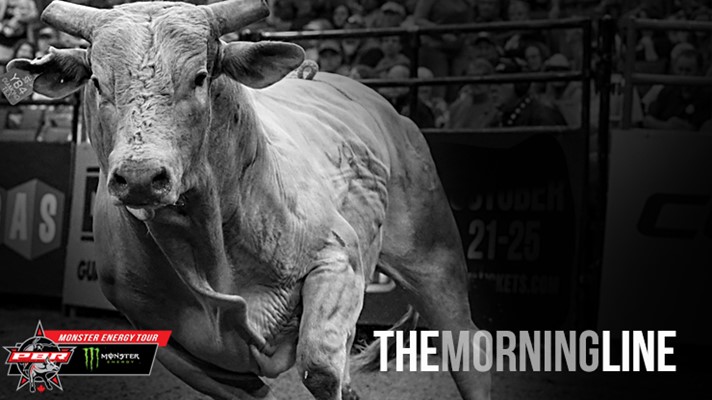 With 300 world points up for grabs along with $100,000 in prize money, Quebec City's kick off to the 2017 Monster Energy Tour at the Videotron Centre has jumped to the top of the regular-season bull riding events in all of Canada. Next to the PBR Global Cup in November and the Calgary Stampede, this is the best lineup of bull riders you'll see anywhere across the nation this year.
RELATED: Click here for the complete Friday daysheet. 
Quebec's format allows for exciting competition with two rounds between Friday and Saturday, including a final round of 10 on Saturday night. A total of 35 riders will compete in the first two rounds for their shot at a spot in the championship round, which is based on the highest total score between the first two rounds.
Bull wise, this is a completely different pen than we would usually see out west. It's actually incredibly similar to what we might see at a Built Ford Tough Series or Real Time Pain Relief Velocity Tour event out this way. For those who don't know where Quebec City is geographically, it's only 834 kms (581 miles) northeast of New York City. Comparatively, Quebec City is 3,843 kms (2,388 miles) southeast of Calgary.
The bull housing this weekend is in Saint-Tite, Quebec, which is an hour and 15 minutes away. Bringing the bulls to Quebec City are:  K-C Bucking Bulls from Mount Orab, Ohio; Mike Miller Bucking Bulls of Jersey Shore, Pennsylvania; Cornwell Bucking Bulls of Lima, Ohio, and Bar D/Rawhide Rodeo out of Leicester, New York.
Friday's first round features bulls we will see out again on Saturday for the championship round, three of which have been to the PBR Built Ford Tough World Finals in Handsome Jeff, Slinger Jr and Who Dey.  
Fabiano Vieira vs. 185 I'm Trouble - Originally Canadian, I'm Trouble came from Kelly Armstrong and now resides with Ken McElroy of K-C Bucking Bulls in Ohio. A white-horned bull that usually goes left should work out well for Fabiano. This bull isn't easy, though, but a guy of this calibre doesn't stub his toe very often. At six years old, I'm Trouble has been ridden seven times in 28 recorded outs on ProBullStats.com. Currently 21st in the World Standings, Vieira has an opportunity to make a lot of money and points on Friday and Saturday. I don't think he could have picked a better one to kick things off.
Jared Parsonage vs. 313 Jaw Breaker - Talking to McElroy yesterday he told me this bull was a bucking dude they raised at home. Parsonage is second in the PBR Canada Standings coming into Quebec and could make a big career move this weekend. Parsonage has yet to make his way to the BFTS but he sure has the ability to. Look for him to take advantage on a bull that hasn't been ridden yet in two recorded outs.
Chase Outlaw vs. 404 Second Hand Chance -  This is a three year-old bull that's really good according to McElroy, good enough that he won a derby event in North Carolina at Jerome Davis' house. A big yellow and white horned bucker topping the scales at 1,650 lbs, Second Hand Chance could help Outlaw to the Round 1 win on Friday night. Outlaw has an impressive winning rate in Canada, going back a few years to 2014 when he won nearly everything he went to up here. Ranked fifth in the world standings, he can make a big move with success Quebec.
Derek Kolbaba vs. 1148 Funky Junk - Mike Miller said that Funky Junk is a new bull to him that's been pretty outstanding and looks to be added to his championship round list in the near future. This is a big trip away from home for the black and white paint bull from the Jersey Shore, but if things go right Kolbaba could be 87 or 88.
Zane Lambert vs. 2 Devil Dog - A good sized black bull out of New Mexico, Devil Dog's bloodlines go back to the Page's. Miller said this bull should be right there in the gate and either way and give Lambert a chance at 86 or 87 points. Lambert is sixth in the PBR Canada Standings and eager to get back to the BFTS, this bull could help him there.
Jess Lockwood vs. 7898 One Cool Dude - Miller said Lockwood's matchup on Friday is One Cool Dude's first out back in a year. This is a bull that the guys like, and usually ride for about 85 points. He's a left-spinner that could get Lockwood bumped up a few more spots in that world title race.
Matt Triplett vs. 3399 Last One Standing - Speaking of success in Canada, Triplett talked to Justin Felisko this week about his first career PBR victory, where was it? Halifax, Nova Scotia, in 2011 which is another 1,022 kms (635 miles) east of Quebec City. At just four years old, this Cornwell Bucking Bull is a nice little brindle that jumps out and turns to the left real fast. Bursting out of the chute and going away from a bull riders hand is one of the tougher moves to get by but it's nothing Montana Matt can't handle.
Tickets are still available for both nights in Quebec City at the Videotron Centre and can be purchased here.