Lockwood tops Pool A at Calgary Stampede
By: Ted Stovin Monday, July 10, 2017 @ 7:08 PM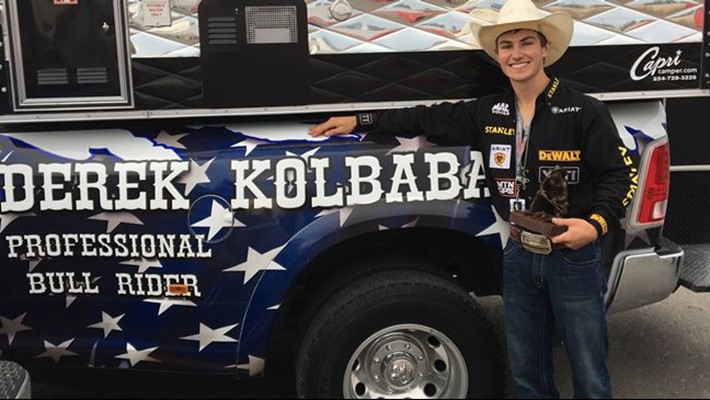 CALGARY – Jess Lockwood used three round victories at the 2017 Calgary Stampede to win Pool A through the first four days of competition. 
The No. 4 ranked rider in the PBR world standings capped off Pool A with a 90.5-point ride on Blue Stone Monday afternoon to win the final round of Pool A play.
Lockwood won the opening rounds over the weekend with scores of 87.5 points on Goose Bumps Friday and 89 points on Chrome on Saturday.
"Calgary, this place is unreal. You'll hear all about it and step out onto those chutes and see it for the first time, and it's just the Calgary Stampede, one and only of its kind," Lockwood said. "To be able to come out and win the first round at my first Stampede was pretty awesome, and the second round it was just even better. I got on two great bulls and couldn't ask for any better bulls to help me out there."
Lockwood went 3-for-4 and earned $16,500.
The Volborg, Montana, bull rider had to grit through his ride on Monday after bruising his arm the day before when he was bucked off by Gambler.
"My first round bull was really great, and today's he was a little wild," Lockwood said after his Sunday buckoff. "He finally turned back, but he had me loosened up and kind of sat me back a little there and I tried holding on and my hand popped out of my rope, and hand stayed on his tail, and he dragged me right underneath him. He stepped on me pretty good, but it's just a little swelling. It's pretty movable and everything so it's going to be fine."
The 19-year-old is enjoying Calgary so far.
"Just kind of the rodeo atmosphere," Lockwood said. "Compared to PBR, where it's just bull riding all the time, and you don't get to see all of these other events. I love outdoor rodeos and this is about the biggest one you'll ever be at, so it's just icing on the cake."
PRCA champion tie-down roper Shane Hanchey even helped Lockwood pull his rope over the weekend.
"I just got to know him pretty well, and he's a cool guy," Lockwood said. "I like him helping me out. He's just cool. That's the difference between rodeo and PBR, you meet a lot more people in rodeo and it's kind of cool to get to go help those guys, and they help you and it's just an even bigger family than PBR."
Lockwood will not ride again until Showdown Sunday, where over $1,000,000 is paid out within an hour. 
The bull riding champion will take home $100,000. 
"This is one of a kind. It would be a heck of a lot different than winning anything else I've ever won," Lockwood said. "It would be pretty prestigious."
Lockwood will be joined on Sunday by 2016 World Finals event winner Ryan Dirteater. Dirteater was the only rider to go a perfect 4-for-4 in Pool A.
Dirteater earned $14,000 over the weekend thanks to a third-place finish (85 points on Lone Butte) on Friday, a fourth-place finish (85.5 points on Controlled Burn) on Saturday, a second-place finish (86 points on Kill Switch) on Sunday and a third- place finish (81 points on Big Red) on Monday.
Also moving on to Showdown Sunday is Joao Ricardo Vieira, the current No. 9 rider in the world standings, and Garrett Smith.
2004 World Champion Mike Lee joins four other bull riders from Pool A on Wild Card Saturday. They are: Fabiano Vieira, Jordan Hansen, Tim Lipsett and Joe Frost. 
Dakota Buttar was sidelined from competition after puncturing his lung on Friday when he was bucked off by Wyoming Storm. Buttar still plans to return to Built Ford Tough Series competition when the second half kicks off in Tulsa, Oklahoma, August 12-13.
Pool B competition begins on Tuesday. The 10 riders competing in Pool B are Tanner Byrne, Cody Coverchuk, Brennon Eldred, three-time PRCA champion Sage Kimzey, Derek Kolbaba, two-time World Champion J.B. Mauney, Chase Outlaw, Tyler Pankewitz, Brock Radford and 2012 PRCA champion Cody Teel.
Fans in the United States can watch the 2017 Calgary Stampede on the Wrangler Network.