Lloyd Makes U.S. Push Before Returning to Canada for Season's Final Events
By: Kacie Albert Wednesday, September 27, 2017 @ 3:35 PM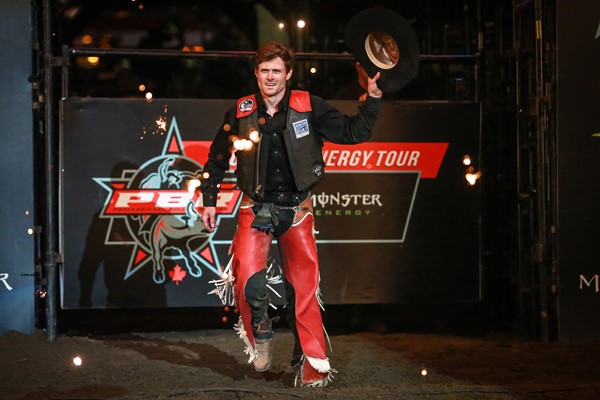 Toronto – During the three months since Justin Lloyd won the final eastern event on this year's PBR Canada Monster Energy Tour (MET) schedule, the 30-year-old has travelled to 17 cities, spanning two countries for events across all levels of PBR competition.
The road-trip across both Canada and the United States began after Lloyd became the first Canadian to win a MET event title this season. 
RELATED: Justin Lloyd is Back on Top After Win in Toronto
"The fact that I was the first Canadian, that's awesome," Lloyd said.
"We want to see a lot more though than just one. A lot of guys can win them, since a lot of guys are riding really good right now. So I hope in the back half here Canadians win all those deals. That's why they're there. They're there for us to use as stepping stones."
Not only did the victory come in PBR's first visit to the city, but Lloyd's win in Toronto also marked the second victory of his career.
"Yeah that was an awesome one to win," Lloyd remarked.
"Being the first event we've had in Toronto, it's the big city, so it's kind of cool to get that buckle with that name on it and have the first one from there."
Since the win Lloyd has entered countless Touring Pro Division (TPD) and Real Time Pain Relief Velocity Tour (RVT) events as he looks to rise in both the Canadian national standings and world rankings.
Currently ranked No.52 in the world standings, Lloyd is 167.49 world points removed from a berth onto the elite Built Ford Tough Series (BFTS), and within striking distance of being considered an alternate for a tour stop. 
"When I talked to the office I realized I was just one spot away from getting to Austin and it was cool," Lloyd reflected.
"It was a good time for me to feel that, because you feel so close. I had a lot of driving, so I had that time, and it makes you really focus on what your goals are and regardless of how you get there, you just have to keep focusing on those goals."
The driving referenced by Lloyd is the more than 3,000 miles he has covered as the Saskatchewan-native has travelled stateside for a four-event push on the RVT in an effort to gain ground in the standings and reach the Top 35.
"When I made the decision to come out to the East here for these events, that was essentially the purpose was to come out after these three weeks out here and potentially have a spot on tour."
"That's the goal and now it's just about staying focused and letting it happen. Hopefully I draw good bulls and it goes good for me."
His three-week trip to the United States began on September 11 in Pendleton, Oregon.
At the Banner Bank Pendleton PBR Classic, Lloyd finished 18th, riding Nine for 81 points in the first round.
Lloyd's next event took him to the opposite side of the country where he rode in the September 16 event in Allentown, Pennsylvania, bucking off What's App in 3.56 seconds.
Most recently, Lloyd notched another 18th place effort in Portland, Maine after covering Leonidas for 81 points.
The final event on the rising Canadian's schedule before he returns to his home nation in time for the MET's first event back from break in Winnipeg, Manitoba on October 6, is this weekend's Frontier Communications Battle in Hartford, Connecticut. 
Much like his position when he first began the event spree in the United States, Lloyd still finds himself ranked No.52 in the world.
"I was in this spot a few years ago when I was up to 50th a one point," Lloyd said.
"And I've been in this spot all year, bouncing anywhere between 55th and 45th just bouncing around that area."
But he remains optimistic.
"If you put in the work you'll get it, you just have to keep cool, keep calm, and relax. That's what I really realized. At this time of the year if you look at the last few events, there's not a lot of bull rides. People are getting tired and it's time to capitalize on that, so this is the time to go. "
Coincidentally Lloyd has noticed that the need to capitalize comes at a time of the year he has been known to hit a hot streak, the fall.
"It's funny because I was thinking on the drive that for some reason for me the fall it just seems like I get into another mode," he said.
"I don't know what it is, but I kind of liken it to harvest time. I grew up in a farming community and right now until the end of October, when the crops had to come off, you did whatever it took to get the job done. It didn't matter what had to happen, whether you were up until three or four in the morning, if you were running combines or if you were working on equipment. Whatever you had to do to get the job done, it just happens."
And Lloyd plans to extend that mentality to his bull riding.  
"Whatever has to happen, I have to do it and make it happen," he said.
"That's the way I feel right now in this event run out east and that's the way I'm going to approach it and just stay focused on it. "
Amidst Lloyd's busy schedule, this summer season also included him being named to Team Canada for the PBR's inaugural Global Cup.
RELATED: PBR Global Cup Riders Announced for Edmonton Event
"He's the type of guy that is always wanting to learn, and ride better," Team Canada Coach and three-time PBR Canada Champion Aaron Roy said of Lloyd.
"I've seen him a couple times at events that he's been down on himself and it's just a couple words and it brings him back up and gets him riding that much better. That kid can ride anything when he puts his mind to it, or just goes out there and has fun and quits thinking about things too seriously."
This weekend's Real Time Pain Relief Velocity Tour event in Hartford, Connecticut at the XL Center gets underway at 7:00 p.m. ET.
After more than three months away from competition, PBR Canada's Monster Energy Tour (MET) will resume its schedule October 6 when the cross-Canada series bucks into Winnipeg, Manitoba for the second consecutive year.
Action for the PBR Monster Energy Tour presented by Macs and Circle K gets underway at 8:00 p.m. CT at Bell MTS Place and tickets are available at Ticketmaster.ca.
Be sure to stay tuned to PBRCanada.com and follow the tour on Facebook (PBR Canada), Twitter (@PBRCanada), and Instagram (@PBRCanada) for the latest results.