Lambert ready to make statement in Ottawa
By: Kacie Albert Friday, June 9, 2017 @ 1:38 PM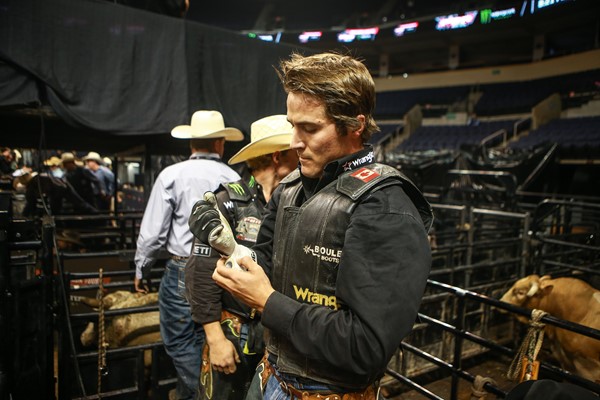 OTTAWA, Ontario – At last weekend's Monster Energy Tour season opener in Québec City, Québec, 2013 PBR Canada Champion Zane Lambert went 1-for-3 to finish 11th, just outside of the money. Double-entered in Ottawa, Lambert is ready to make a statement at the tour's second event of the season, hoping to win and rise up the PBR Canada National Standings.
"I'm getting ready for a big night," said Lambert. "It should be four bulls and that's a lot."
Among the 30 rider field set to storm into The Arena at TD Place for tonight's event, Lambert is the highest finishing rider from Québec City entered.
In Round 1, Lambert rode Devil Dog (Mike Miller Bucking Bulls) for 83.5 points, but bucked off Sarge (Mike Miller Bucking Bulls) in 3.44 seconds in Round 2 who the Ponoka, Alberta rider called tricky.
Lambert's Round 1 score earned him a place in the Championship Round, but wasn't able to last the full eight seconds aboard his re-ride bull Buckeye Bill (K-C / Josie McElroy Bucking Bulls).
"He was really good," said Lambert about Buckeye Bill. "He's probably one of the better bulls I've seen all year."
With Québec City and Ottawa just one week apart, Lambert had a quick turnaround between stops, especially after hitting an additional event the Sunday following the international Major in Québec City.
On his preparation for the event Lambert said he went back to the basics, looking to make a restart this week.
"Just slow things down, not get too excited and get back to riding bulls" said Lambert. "I watched tape of what I did throughout the weekend and of all my rides. I critiqued them and saw things I could change, putting those things in the back of my mind and I'll work on that throughout the season and this next weekend."
Heading into tonight, Lambert sits 11th in the PBR Canada National Standings, just 555 points back from No.1 Derek Kolbaba (Walla Walla, Washington).
In Round 1 Lambert will first get on Pneu-Dart's Southern Style (Mike Miller Bucking Bulls), who he watched Riley Blankenship (Killdeer, North Dakota) ride for 86 points in Round 2 at Québec City. He will then face Kill Switch (Rafter P), a bull he has seen for a few years.
"I saw him last weekend when Brock Radford got on him," said Lambert. "He looks like a good draw and I hope for good things, maybe even a win."
Action for this weekend's event gets underway in Ottawa at The Arena at TD Place at 7:30pm and tickets can be purchased online at pbrcanada.com or tdplace.ca, at the arena box office or via phone at (613) 232-6767.