Lambert named to Team Canada for Inaugural Global Cup
By: Kacie Albert Thursday, September 28, 2017 @ 9:14 AM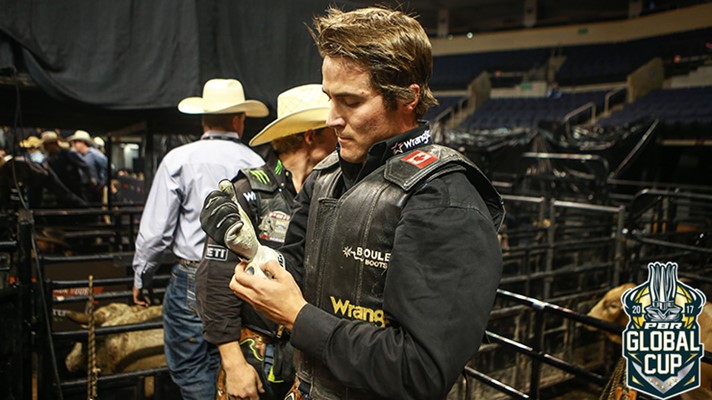 TORONTO – With the inaugural Global Cup less than two months away, Team Canada will now include 2013 PBR Canada Champion Zane Lambert when five nations go head-to-head for international glory from Nov. 9-11 at Rogers Place in Edmonton, Alberta.     
Lambert will replace Jordan Hansen on the Team Canada roster after Hansen opted out of competing at the 2017 event in Canada due to a prior engagement.
 "To be able to put the Canadian flag behind us and ride for our country, it puts a different spin on bull riding," Lambert said.
"Bringing a quality event like this to Canada for the first time is going to be really cool for our fans to see, for our families to see. It's cool to be Canadian and this is going to be a good event to show that. We've got some really talented bull riders and the world needs to see. To bring that up here to Edmonton is pretty cool." 
Lambert joins the already-announced roster of Dakota Buttar, Brock Radford, Justin Lloyd and Cody Coverchuk. The group will be led by three-time PBR Canada Champion and Team Canada head coach Aaron Roy.
RELATED: PBR Global Cup Riders Announced for Edmonton Event
For the Canadian team, the event comes with added significance as the host team for the inaugural event, which is slated to become a staple on PBR's annual schedule of more than 300 events held globally.
"It's going to be very comfortable for us guys here riding in Canada," said the 13-year veteran. "We're going to be in our backyard."
Now residing in Ponoka, Alberta, the event will not only be held in his home country, but is set to take place approximately one hour from Lambert's home.
"This year's going to be really close with Edmonton hosting," Lambert remarked.  "So that will be pretty exciting to have it that close to the backdoor."
RELATED: Confident Roy Ready to Lead Team Canada
Before he represents Team Canada, Lambert is focused on ending his Canadian season strong with a second national title and hopefully a spot to compete at the World Finals in Las Vegas from Nov. 1-5.
"That's definitely the goal at the beginning of the year is to win the title, and I'm in striking distance even with having to sit out a couple of events," Lambert commented.
RELATED: Contending Again – Lambert Returns from Broken Foot
Lambert broke his foot in July at the Ranchman's Renegades Charity Bullbustin', a PBR Canada Touring Pro Division stop after collecting an event win, as well as four Top-5 and seven Top-10 finishes, during the first six months of the season.
The 31-year-old returned to competition on following a month of rehab on Aug. 12 in Elnora, Alberta. He was back in the winner's circle three events later in Stavely, Alberta at the annual Glen Keeley Memorial Bull Riding.
RELATED: Lambert and Parsonage Split Event Win in Stavely
Lambert heads into next weekend's Monster Energy Tour event in Winnipeg, Manitoba ranked No.3 in the national standings, 694.16 points behind No.1 Radford.
There are only three more PBR Canada events remaining for riders to earn points towards the national standings.
 "It seems to be harder to stay healthy, but I seem to be doing better at the one's I do go to," Lambert commented.
"I've just got to do my thing and ride my bulls and not really worry about what points are up and just take care of business. Just make sure I'm riding my bulls and staying in shape and having fun doing it. So just picking away and trying to have a good strong finish here the last three events."
But Lambert hopes that before he heads to Edmonton he will make his sixth trip to Las Vegas for the World Finals.
"It's a reach to get to the World Finals right now, but there's a definite chance," Lambert said. "When you have a fighting chance you go for it, so that's what we're doing. It would be pretty cool to get there again. It's the best event all year to go to.
"I definitely want to make as many World Finals as I can. I've put in this much effort already through the year, I mine as well finish it off."
Tickets for the highly anticipated Global Cup are on sale now and can be purchased at RogersPlace.com.
Be sure to stay tuned to PBRCanada.com and follow the tour on Facebook (PBR Canada), Twitter (@PBRCanada), and Instagram (@PBRCanada) for the latest results.