Lambert Makes History with Second National Title
By: Ted Stovin Thursday, October 26, 2017 @ 3:56 PM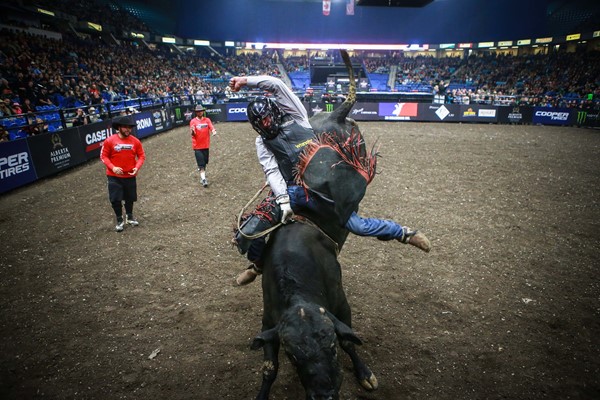 TORONTO, Ontario – When the dust settled inside the SaskTel Centre after the final ride of the 2017 PBR Canada Finals, Zane Lambert found himself standing at arena's centre for a second consecutive year.
However, this season Lambert wasn't just being handed a buckle for winning the event title, a victory he recorded in 2016, but was also being delivered the season's most coveted buckle – the one given to the 2017 PBR Canada Champion.  
"It feels really cool," Lambert said moments after winning the title.
In one of the tightest races in PBR Canada history, Lambert edged No.2 Brock Radford for the title by 645.84 points, becoming just the second rider to earn multiple national titles in the league's tenure in the country.
"It was pretty special and just trying that much harder makes it that much sweeter to win. It feels great and I'm super excited."
Having never led the standings season long, the 31-year-old veteran entered the final event of 2017 No.2 in the national standings, 379.16 points behind No.1 Brock Radford.
Lambert, however, was one of the top riders expected to challenge for the title, entering the Canadian Finals amidst a 9-for-12 hot streak at the four past events, having ridden his past three consecutive bulls.
"I was able to do something I wasn't able to do in the past years and that's ride bulls away from my hand," he said.
"I got that figured out a little bit this year and it shows. My riding percentage in this last little bit really went up. I think I really perfected my riding style and just really did everything proper here in the last little bit and stayed in really good shape. "
"It makes me feel a lot stronger in the bull pen and with the bulls I'm getting on I feel I'm riding better away from my hand, and good into my hand still, so I think I credit that to bringing up my average and being able to ride a lot of these short round bulls."
RELATED: Lambert Looks for Second Canadian Title
In Round 1 in Saskatoon, Lambert continued his ride-streak making the 8 aboard Flying 4 Bucking Bulls' Finning Lil Shorty for 86 points.
However, Radford's 87.5-point ride on Skori Bucking Bulls' Minion Stuart allowed him to take the round win and expand his lead over Lambert to 504.16 points.
While Radford's ride had the crowd on their feet, the moment that has since become iconic came earlier in the night during Lambert's post-ride interview following his first round ride.
In talking with PBR Canada's sideline reporter Jason Davidson, Lambert predicted the outcome of his Round 2 draw, a rare occurrence in the sport of bull riding.
Having seen Crooked Nose numerous times this season, Lambert declared he would ride the Vold Rodeo/Prescott bull for 88 points.
"I had seen that bull a lot, we've seen a lot of bull riding, and I know how to mark bulls," he said.
"So if you mark that bull the way he does, he kicks and he's strong, I don't know where you wouldn't get an 88 there," Lambert elaborated of his declaration.
"He's a 22 all day, and so when you add up his bull score and if I match him I kind of had that number in my head."
While close, when the scores were tallied on Saturday night, Lambert was awarded 87.5 points on Crooked Nose to win Round 2.
"The judges know that bull, he's been around, kind of rider friendly, so when I had the chance I made sure I spurred to get a couple extra points to make sure I got that 88, but I don't know what the judges were looking at, it felt like an 88, but it was close."
Adding to the significance of the ride, beyond Lambert's near perfect prediction of his score, was that it would be what propelled him to his second title.
"I just had that confidence coming in," he said.
"I had been on that bull earlier this summer and kind of knew his deal, and I knew I was going to ride, so I just made sure I didn't stub my toe."
Prior to his out, Brock Radford had bucked off Girletz Rodeo Stock's Oklahoma Blues, which allowed Lambert to gain ground on the 22-year-old young gun.
"It wasn't over at that point, he still had another short round bull," Lambert said.
"You don't buck Brock Radford off two times in a row very often, so I expected him to put another score on the board. I wasn't letting up and even though he bucked off, I wasn't thinking about that, I was just focused on Crooked Nose at that time and making sure I didn't stub my toe on that bull, and making sure I rode him."
RELATED: Lambert Wins 2017 PBR Canada Championship
And Radford wasn't the only challenger Lambert had to keep tabs on, with surging Lonnie West, ranked No. 4 in the standings heading into the final round, still within striking distance.
In the final round, both Radford and West rode ahead of Lambert, who led the event heading into the championship round.
Radford took Foley Bucking Bulls' Buck Nasty to 7.81 seconds, falling disappointingly close of the whistle in an effort that could have made the difference, while West bucked off Rafter 8's First Buckle.
While Lambert would also buck off his draw, Flying 4 Bucking Bulls' Evil Genius, his standing in the event, in tandem with Radford and West's buckoffs, propelled Lambert to the title, unbeknownst to him.
"The race was tight, I was behind even today and then in the short round I was the last guy," Lambert said.
"I knew I was leading the event but I still didn't know until they announced it that I was going to get it. It came down to the wire. With bucking off that last bull, it made me feel defeated but shoot I still got the win and it was a pretty good run I had at the end here so it feels pretty cool."
Lambert, who took his first title in 2013, not only made history as the second rider to hold multiple national championships, joining Aaron Roy (2008, 2010 and 2012), but also became the first to win the finals event multiple times and in consecutive years.
With the win not only comes the title but also a number of more opened doors for 2017 and beyond.
 "I'll be going to the Calgary Stampede next year and I'll be at the Velocity Tour Finals here next week," Lambert, who is now in the No.47 in the PBR World Standings.
Four ways remain for Lambert to earn a spot at his sixth PBR Built Ford Tough World Finals from Nov 1-5 at T-Mobile Arena in Las Vegas, Nevada.
The top two riders at the Real Time Pain Relief Velocity Tour Finals will earn a spot, in addition to the top two in the Velocity Tour standings and the top finishing International contestant.
Lambert can also ride his way into the finals by edging into the Top 35, currently 160 points back from No.35 Aaron Kleier, a feat Dakota Buttar accomplished in 2016.
RELATED: Buttar Qualifies for Finals; Four Canadians Set to Compete in Las Vegas
"There's good opportunity once I get there, I just had to get there. This is where it was really tight," Lambert said.
A total of 520 world points are available at the Velocity Tour Finals, with 80 awarded to each round winner and 200 for the event victor.
"Those are going to be rank bulls," Lambert said. "We are just going to be focusing on getting back to the drawing board and focusing on my riding style and making sure I'm doing things right. Even though I rode my bulls here this weekend I'll watch the tapes and find things I can improve on and check up on."
This season Lambert has fought through injury, including a broken foot that sidelined him for a month this summer, adding to his thankfulness for the help he's had along the way
"I don't think I would have got this title without our Canadian Pro Rodeo Sports Medicine Team," Lambert said. "This year at all of our events having Brandon Thome and the whole crew here with us day in and day out just seeing what we are dealing with. I buggered my knee up at an event and they knew what was going on with me right away when I showed up at the next event. That kind of stuff helps me ride better. It came down to one bull, even if they just helped me get on one bull, they helped me win the title."
The Real Time Pain Relief Velocity Tour Finals in Las Vegas, Nevada at the South Point Hotel, Casino & Spa run from Oct. 28-30 and the 2017 PBR season concludes with the Built Ford Tough World Finals on Nov. 1-5 at the T-Mobile Arena. 
Stay tuned to PBRCanada.com and on Facebook (PBR Canada), Twitter (@PBRCanada), and Instagram (@PBRCanada) for the latest results.