Hansen Looks Forward to 2018 on Heels of Historic Season
By: Kacie Albert Sunday, December 31, 2017 @ 11:13 AM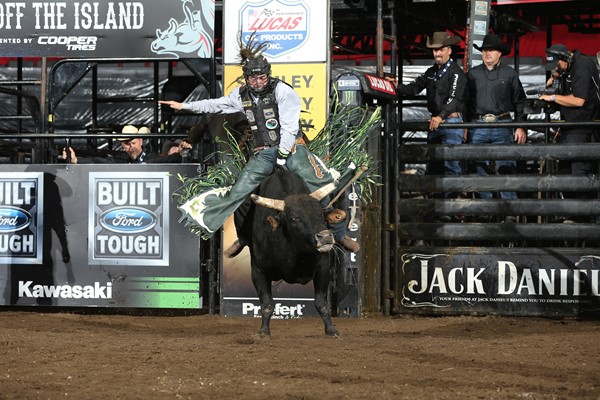 NEW YORK – For Okotoks, Alberta's Jordan Hansen his 2017 season was nothing short of historic.
In his second PBR event of the season, Hansen finished a commanding first and second place in Lethbridge, Alberta.
Just a few months later, the 24-year-old was the highest finishing Canadian at the first-ever international Major in Quebec City, finishing fourth, before riding in his first-ever premier series event in September in Austin, Texas.
RELATED: Hansen Makes Elite Tour Debut in Austin
After competing in three elite tour events, and 11 PBR Canada tour stops, Hansen's success propelled him to conclude the 2017 PBR season ranked No. 7 in the Canadian standings and No. 41 in the world standings.
And his success wasn't just limited to PBR events.
Qualifying for the 2017 National Finals Rodeo (NFR), Hansen became the first Canadian since 2001 to accomplish the feat.
"I never did think too much on that per say, I more just kind of did everything for myself," Hansen said of his historic accolade.
"But to be the first one in that long, it's kind of crazy."
"There's been a lot of other guys that I thought rode better than me that I thought could have made it, but for some reason never did. But it's definitely kind of cool, and I hope I inspired some other guys to not just hang out in Canada, go out there and try to make it across the border.
"It's damn doable to make it to the NFR so hopefully they can start seeing a lot more Canadians down there as well."
In Las Vegas, Hansen finished sixth, earning $84,038, to conclude the season ranked No. 8 in the Professional Rodeo Cowboys Association (PRCA) standings.
"I guess I wanted to do a little bit better, but it certainly didn't go all that bad," Hansen said of his performance. 
"It's a pretty cool event, definitely a lot going on, so I think first round that kind of got to me a little bit. But after I got settled in it seemed like things started to go a little bit better for me. "
Hansen went 4-for-10, earning his first qualified ride in the second round when he covered High Roller for 84.5 points.
The highlight moment of his first NFR, however, came several days later, when Hansen rode his third consecutive bull and won Round 8 when he covered Tequila for 86 points.
Adding to the significance of the moment was that the round win came on Canadian night.
"I don't think I could have picked a better round, that's for sure," Hansen said of his win.
"Even just starting it off, we were singing the national anthem for Canada, it was pretty neat."
"It being Canada night makes you just want to step up that much more, not just for yourself, obviously, but you're representing a whole country. So to be on top that night, I don't think I could have picked a better night that's for sure. "
Looking to 2018, Hansen says what his competitive plans are seems to be the, "million dollar question."
"It's one I get asked non-stop, and I'm not even 100% sure yet," Hansen said.
"I'm going to go to all these rodeos for sure. I did enter the Denver PBR, but you know, right now I'm not on tour. I'm close and with the injuries I might get a phone call, but that's all stuff I'm not really sure about."
"But one thing I know for sure is I'm going to get into every rodeo I enter so I figure I might as well go to all of those and put my focus on those, and if I get a phone call to go to these elite tour events, I'll do that as well."
In 2017, one thing fans were watching closely was whether Hansen could complete the historic trifecta of qualifying for the PBR World Finals, NFR and Canadian Finals Rodeo, which he fell just short of in missing the PBR World Finals.   
Only three Canadian bull riders have ever accomplished the feat: Daryl Mills (1994), Wayde Joyal (1997) and Robert Bowers (1999).
RELATED: Hansen in Search of Historic Trifecta
And with the 2018 season already underway, albeit in its first few months, it's a feat Hansen may be able to accomplish this year.
"Definitely be a pretty cool thing to happen, but shoot that's a long ways from now," Hansen said.
Be sure to stay tuned to PBRCanada.com and follow the tour on Facebook (PBR Canada), Twitter (@PBRCanada), and Instagram (@PBRCanada) for the latest results.