Hansen in Search of Historic Trifecta
By: Justin Felisko Saturday, October 7, 2017 @ 2:54 PM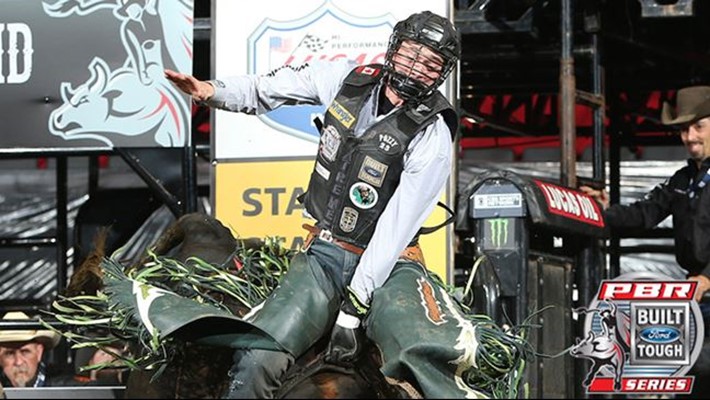 NAMPA, Idaho – Jordan Hansen still may be the new kid on the block when it comes to the Built Ford Tough Series, but the 24-year-old from Okotoks, Alberta, is quickly making a name for himself this year throughout the Western world.
Hansen has the chance to become only the fourth bull rider to qualify for the National Finals Rodeo, Canadian Finals Rodeo and PBR Finals in the same year, according to PBR Canada's Ted Stovin, if he can finish the regular season within the Top 35 of the PBR world standings.
The only Canadian bull riders to accomplish that feat thus far are Daryl Mills (1994), Wayde Joyal (1997) and Robert Bowers (1999).
"Since I am making a little bit of a last minute run, some people have started to bring that up," Hansen said. "It would be pretty neat. There are only a few people that have done it and not in the last 18 years. It would be pretty cool. I don't even know. That is ways away for me now. I need to just stay on my bulls and let that play out at the end of the year."
With two of the three accomplishments locked up, the No. 34 rider in the PBR world standings can focus on making a last-second push at qualifying for the 2017 PBR Built Ford Tough World Finals on Nov. 1-5 in Las Vegas.
"That is the $1 million question," Hansen said. "I have been thinking about that the last few days. If I can get some more points, then that is two trips to Vegas. I have NFR locked up so it is kind of hard not to go to these."
Hansen, who is the first Canadian bull rider since 2001 to qualify for the NFR, begins this weekend's DeWALT Guaranteed Tough Invitational, presented by Ariat, in a thick battle in the race to qualify for the PBR World Finals.
The 2016 Canadian Pro Rodeo Association champion heads into his Round 1 meeting against Springer Mountain (7-5, BFTS) Saturday night only 18.35 points ahead of No. 36 Cody Campbell in the world standings.
Hansen had missed last weekend's Rumble in the Rockies after an old hip injury flared up on him during the week.
"It should be alright, I think," Hansen said Saturday morning. "I've been dealing with it for quite a while and it just flared up again."
There is no time left for Hansen to rest if he hopes to pull off the historic trifecta and qualify for his first World Finals.
Nampa is one of three remaining Built Ford Tough Series regular-season events before the World Finals.
Riders can earn world points at the Real Time Pain Relief Velocity Tour Finals on Oct. 28-30 as well, but Hansen currently has no points in the Velocity standings.
The good news for Hansen is that he has performed relatively well in his first two BFTS events of his career.
Prior to missing Colorado Springs, Hansen had gone 3-for-6 with a fifth- and ninth-place finish in Uniondale, New York, and Austin, Texas, for 160 world points.
Those two events pushed him up 13 spots in the world standings.
In 14 PBR sanctioned events at all levels of competition, Hansen is 16-for-29 (55.17 percent) with two victories and seven Top-5 finishes.
Hansen originally was an alternate for Thackerville, Oklahoma, in September, but he had to turn down the invite because of his pursuit of locking up a spot for the NFR.
When Matt Triplett informed the PBR he couldn't compete in Austin, Texas, later that month, Hansen knew he couldn't say no twice.
"I was like, 'Geez, there must be a lot of guys hurt,'" Hansen recalled thinking. "I didn't even look at the standings because I hadn't gone in so long.
"Now sitting in the position I am, I better take this opportunity and make the most of it."
One opportunity Hansen did turn down was a chance to represent Team Canada at the PBR Global Cup in Edmonton on Nov. 9-11.
Hansen was originally named to the Team Canada Global Cup roster in August, but he had to eventually turn down the invitation as he is slated to defend his bull riding championship at the CPRA Canadian National Finals Rodeo that same weekend.
Zane Lambert has replaced Hansen on the Global Cup squad.
It wasn't a decision Hansen took lightly, but he knew this may be one of his last chances to repeat as the CPRA bull riding champion.
"I was on the fence about it for a while," Hansen said. "That is the thing. I have a title up there to repeat. At first, I was like, 'Ah, I will just rodeo.' Then you start hearing how prestigious of an event there with the PBR too.  I had to take a step back and make a decision."
Hansen has already said he hopes to ride for Team Canada in future Global Cup competitions in 2018.
"Absolutely" Hansen said. "This is just a bad luck year with both of these going on at the same time. If I wasn't defending a title, I probably would have gone to Global Cup." 
Follow Justin Felisko on Twitter @jfelisko