Game Notes - Toronto
By: Kacie Albert Saturday, June 24, 2017 @ 4:09 PM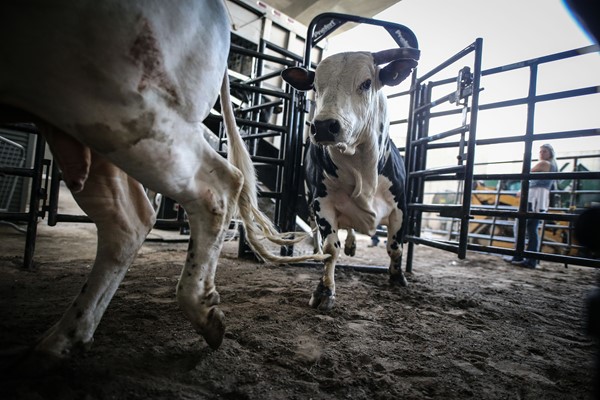 THE SIX GETS RANK – This weekend PBR Canada's Monster Energy Tour stops in Toronto, Ontario at Ricoh Coliseum, for the third event of the nationally-televised, cross-nation tour. The event marks the first-time PBR has visited The Six, and is the final event before the tour breaks before the summer and begins the western portion of its schedule.
THIS WEEKEND'S FORMAT – The Monster Energy Tour will feature two rounds of bull riding. Each of the 25 competing riders will get on one bull in Round 1 on Saturday. The Top 10 ranking bull riders will then advance to the Championship Round later that evening. Riders will be competing for valuable points towards the PBR Canada National Standings and PBR World Standings, in addition to $20,000 in prize money.
SO FAR THIS SEASON – The 2017 Monster Energy Tour opened in Quebec City, Quebec with PBR's first-ever international Major event. With four riders from the Top 10 on hand to compete, Derek Kolbaba won the event, $34,100 CAD and 300, elevating him to No.3 in the world. Jordan Hansen was the event's highest finishing Canadian in fourth. The next weekend, the tour visited Ottawa, Ontario for the second time in its history. Cody Casper earned his first-ever PBR victory in Canada's capital and used his 88-point rider on Captain (Mike Miller/Torres Bros) in the championship round, the high-marked ride of his career, to secure the win. Justin Lloyd was the event's highest finishing Canadian, placing second, after riding Wild Mexican (Rafter P) for 85 points and the Round 1 win.
INTERNATIONAL FLARE – For the second time this season, riders representing five countries, Australia, Brazil, Canada, New Zealand, and the United States, are set to compete on the Monster Energy Tour. After hosting an equally diverse field for the season launch event in Quebec City, this weekend's event in Toronto will include three Brazilians, 11 Canadians, nine Americans, an Australian and a New Zealander.
TOP TALENT IN TORONTO – Lead by world No.8 Matt Triplett, numerous Built Ford Tough and Real Time Pain Relief Velocity Tour riders have travelled north to compete in Toronto. Other notables include No.28 Dakota Buttar, No.36 Reese Cates, No.53 Fraser Babbington and No.56 Josh Faircloth. 
CANADIAN CONTINGENT – This weekend's Canadian contingent is led by 2013 PBR Canada Champion Zane Lambert, currently ranked No.2 in the Canadian National Standings and No.58 in the World Standings. Lambert earned his first win of the season at the Wanham, Alberta Touring Pro Division event on June 16 riding Overcooked (Vold Rodeo / Prescott) for 85 points. Lambert was double-entered in the event, also taking third for his 82.5-point ride on Nifty (Vold Rodeo / Prescott). So far in 2017, Lambert has logged five Top 5 finishes and nine Top 10 finishes.
Other notable Canadians in the field include world No.28 Dakota Buttar, who earned his best finish of the year when he was fourth on June 14 in Calgary, Alberta at the PBR Touring Pro Division event, 2015 PBR Canada Champion Tanner Byrne, Brock Radford, who won the TPD stop in Swift Current and has six Top 10 finishes so far this year to his name, Cody Coverchuk, also with six Top 10 finishes so far in 2017, and Justin Lloyd, currently ranked No.60 in the world with four Top 5 and eight Top 10 finishes so far in 2017.
HOME-PROVINCE FAVORITES – Two Ontario-based riders will be competing this weekend in Toronto – Dusty McMullen (Aylmer, Ontario) and Nick Goncalves (Oakville, Ontario). McMullen has competed at both Monster Energy Tour events so far this season, with Goncalves just riding in Ottawa, however both riders are still in search of their first qualified ride.
BYRNE IS BACK – After sidelined for the majority of the first half of the season due to a groin injury, Tanner Byrne will be competing in just his fourth event back in Toronto. After a nearly four month rehab stint, Byrne first rode on June 14 in Calgary, Alberta at the PBR Touring Pro Division event at the Global Petroleum show, but bucked off Bondara (Outlaw Buckers Rodeo Corp). Two days later in Wanham, Alberta, Byrne finished second after riding I Work Out (Vold Rodeo / Prescott) for 83 points in Round 1.
BULL PEN – U.S.-based stock contractors Mike Miller (Mike Miller Bucking Bulls) and Justin Cornwell (Cornwell Bucking Bulls) will team up to supply 35 of the event's 45 bulls. Miller's pen of 18 is led by Captain, a regular on the elite Built Ford Tough Series, who so far this season has bucked off the likes of 2016 World Champion Cooper Davis and J.W. Harris. Miller's pen also includes Sarge, another bull who has seen time on the Built Ford Tough Series, having been ridden at the season-launch event at Madison Square Garden by Dakota Buttar for 83.50 points. Other notables in his pen include Pitch Black, Blue Duck and Ottis. 
For Cornwell his rank pen of 17 is highlighted by Fire Bender and Lab Rat, both who have seen outs this season on the Built Ford Tough Series. Both bulls were on hand in Chicago in January, where Fire Bender was ridden by Matt Triplett for 84.75 points and Kaique Pacheco for 86.25 points, and Lab Rat bucked off both Cody Heffernan and Tyler Harr. Cornwell's pen also includes Showdown and Air Bender. 
Also providing bulls for tonight's event are Rafter P and Bar D/Rawhide Rodeo. Rafter P, from Saint Tite, Quebec, is the only Canadian-based stock contractor on hand in Toronto, whose standouts include Wild Mexican, State Trooper and Kill Switch.
NEXT UP – PBR Canada's Monster Energy tour will break until September 23, when the tour begins the western portion of its schedule in Calgary, Alberta at the Agrium Western Events Centre.
PROVIDING PROTECTION – The bull fighters on hand for this weekend's event in Toronto are Dominic Roy, Ty Prescott and Greg Loring Jr.


MONSTER ENERGY TOUR - TORONTO COMPETITORS BY COUNTRY
Australia (1) – Lachlan Richardson
Brazil (3) – Edin Alves Carvalho, Marcos Antonio da Gloria and Juliano Antonio Da Silva
Canada (11) – Dakota Buttar, Tanner Byrne, Cody Coverchuk, Jake Gardner, Nick Goncalves, Zane Lambert, Justin Lloyd, Dusty McMullen, Brock Radford, Jackson Scott and Cole Young
New Zealand (1) – Fraser Babbington
United States (9) – Shawn Best II, Eli Byler, Cody Casper, Reese Cates, Josh Faircloth, Tyler Harr, Thor Hoefer II, Michael Lane and Matt Triplett
BREAKDOWN BY PROVINCE – Alberta – Zane Lambert, Brock Radford & Cole Young; British Columbia – Jake Gardner & Jackson Scott; Ontario – Nick Goncalves & Dusty McMullen; Saskatchewan – Dakota Buttar, Tanner Byrne, Cody Coverchuk & Justin Lloyd.
2017 MONSTER ENERGY TOUR WINS - Here are the total individual wins for the Monster Energy Tour in 2017:

1- Derek Kolbaba (Quebec City)
     Cody Casper (Ottawa)
2017 REGULAR-SEASON ROUND WINS – Here is a list of the riders that had the most round wins in 2017:
2 - Derek Kolbaba (Quebec City (2)
1 – Fabiano Vieira (Quebec City)
      Justin Lloyd (Ottawa)
      Cody Casper (Ottawa)