Forecasting Another Championship Run
By: Kacie Albert Thursday, December 7, 2017 @ 8:57 AM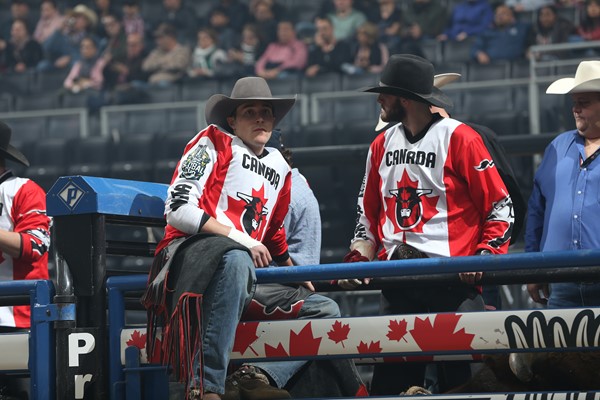 NEW YORK – In 2017, Canadian powerhouse Zane Lambert further cemented his name in PBR Canada history when he became just the second rider to win multiple national titles, and first to win the finals event in multiple years, a feat he accomplished in back-to-back seasons. 
Further illustrating his success in the nation is the statistic that he is just one of two riders, alongside Scott Schiffner, to qualify for all 12 PBR Canada Finals.
RELATED: Lambert Makes History with Second National Title
But Lambert's record season didn't end in Saskatoon. After making the journey to Las Vegas, Nevada for the Real Time Pain Relief Velocity Tour (RVT) Finals, a berth earned courtesy of his 2017 PBR Canada Championship, Lambert competed for Team Canada at the inaugural Global Cup.
After leading the event at the conclusion of the first night, the host nation entered the final round of action on Nov. 11 two qualified rides behind Team USA, a gap bonus round riders Lambert and Lonnie West would need to erase.
RELATED: Team Canada Defends Home Soil, Leads PBR Global Cup After First Night
Fully aware the point gap the duo was tasked with erasing, Lambert knew just who he needed to select when it came Team Canada's turn in the draw to keep the nation in viable contention for the win at the inaugural event.
"I wanted to get on Pearl Harbor," Lambert said. "I'd seen him the day before, I've seen him lots, he's around to the right every time, and we needed a big score."
On the opening night, the 2017 World Champion Bull contender sent 2015 Rookie of the Year Kaique Pacheco to the dirt at the 5.06-second mark, earning a 45.75-point bull score.
Throughout the past season on the elite tour, the Chad Berger bovine athlete was ridden just twice across 14 outs, holding a 45.95-point season average bull score.
"Even though we were two bulls behind, if we could ride our two bulls, we needed a 90 to match the Americans. So all or nothing really - you rode him, you'd win the round - so that was the idea behind it."
"We knew he was in favor of me for right hand down and of the bulls in that round. The two I wanted went, Catfish John and that bull of Nansen's [Whiskey Hand], and he was there so I said that would be the one I'd want to get on."
While Lambert "thought [he] would ride him," the 31-year-old bucked off at the 4.47-second mark.
Despite the less-than-desired outcome, the Canadians finished third, behind Team USA and Brazil at the event.
Now just shy of a month following the Global Cup, Lambert is ready to pick-up the 2018 season right where he left off in 2017, planning a three-city, seven-day sprint stateside in the hopes of gaining fast world points and ground in the standings.
"I'm looking at going to Denver, Oakland and Portland," Lambert said of the RVT events in January. "It's just a good run to go on."
"That's the idea, go that week, hit three events in a row in one week in January. There's a few more, and we'll see how it goes from there, enter the ones that make sense."
For Lambert it will mark a return to PBR competition after taking nearly a month off.
"Looking back I probably should have maybe gone to a couple of these December ones, but I was kind of also healing up. Not too sure on what the body was feeling like yet, so I took December off."
Despite the injuries he's currently nursing, knee and elbow, Lambert is confident he is in top physical shape ahead of the looming season.
"I think physically we're in good shape and riding good," Lambert said.
"We finished off the year good last year and we're in good physical shape coming in here, a couple of injuries, but they'll heal, so I'm feeling pretty good about the New Year."
And when the New Year hits in less than 30 days' time, Lambert is planning to do nothing but etch his name even deeper into the record books.
While Lambert said he wants to, "definitely win another PBR Canada title," as it would, "be nice to be par with Aaron Roy," he has sights set on another milestone, what he's dubbed the Triple Crown of Canadian bull riding.
Composed of a win at the Calgary Stampede, and the Canadian Pro Rodeo Association (CPRA) and PBR Canada national titles, no rider has ever won the Triple Crown in one season, with Schiffner being the lone athlete to win all three titles throughout his career (Calgary Stampede – 2001 & 2004; Canadian Pro Rodeo Assocation Champion – 2002 & 2012; PBR Canada Champion – 2006).
Lambert's first hurtle to accomplish the feat will be the Calgary Stampede, an event he qualified for compliments of his 2017 PBR Canada Championship. Last competing at the legendary event in 2016, Lambert has now qualified for the Calgary Stampede four times in his career.
"Looking forward to competing in Calgary, that's a big highlight of my season next year. I always like it when I get to qualify for those events."
Be sure to stay tuned to PBRCanada.com for all the latest news and follow the tour on Facebook (PBR Canada), Twitter (@PBRCanada), and Instagram (@PBRCanada) for the latest results.