Fighting on home dirt
By: Kacie Albert Wednesday, June 7, 2017 @ 8:14 PM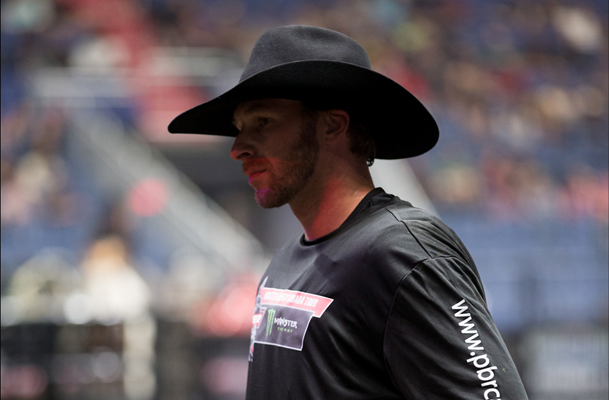 For bullfighter Dominic Roy, last weekend's event in Québec City, Québec held immense significance for him beyond it being the PBR's first international Major event and season launch for the 2017 Monster Energy Tour.
For two days, in front of a crowd of thousands, Roy, a Québec-native, had the opportunity to display his skills to his family, friends and townsmen.
"To be able to work in Québec City at the Videotron Centre with all the people that we know and our fans from our hometown, we were really, really excited to have been there," said Roy.
Roy hails from Montreal, but now calls Saint-Paul home, both less than a three hour drive away from the Videotron Centre.
As a child Roy used to help his uncle with his plow horses on the family's farm, then moving on to a larger farm in the province where he found himself drawn to the local rodeo events. Every Saturday night, Roy would travel to the local amateur rodeos, where he always found himself attracted to the work of the bullfighters.
Despite his fascination, Roy's career began as a bull rider, but that was short lived. Crediting his appreciation for the bulls' athleticism, Roy said it was the ability to control the 2,000-pound animal athlete and prevent chaos that intrigued him most.
"You're able to control and save those cowboys," said Roy. "It's a feeling that's really, really hard to compare with other extreme sports. It's dealing with something where you never know what's going to happen and it's the best work in the world."
Roy went on to take several schools and now two decades later has established himself as one of the savviest professionals in the industry.
While PBR has competed in Canada since 1996, and Roy has been a frequent face down on the dirt. The tours haven't made regular stops in the Eastern provinces so when the Monster Energy Tour announced it would open the 2017 season in Quebec Roy jumped at the opportunity to work, with his mother, father and brother in the stands watching on.
Re-live all the action from Quebec City with our two-part TSN broadcast. The first night's telecast begins June 7th with the second night's action hitting the airwaves June 8th. Check your local listings for specific dates and times.
Up next, the PBR's Monster Energy Tour travels to Ottawa, Ontario and The Arena at TD Place on Friday June 9th. Action gets underway 7:30pm and tickets can be purchased online at pbrcanada.com or tdplace.ca, at the arena box office or via phone at (613) 232-6767.