Fatherhood Propels Louis to Victory in Winnipeg
By: Ted Stovin Wednesday, October 11, 2017 @ 12:34 PM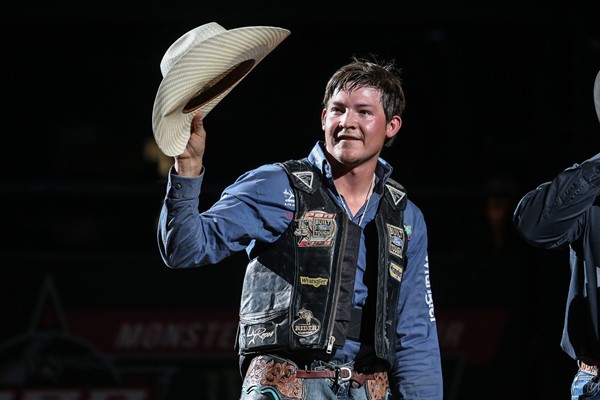 TORONTO – One month after becoming a new father, Browning, Montana's Dakota Louis made his first trip back to the winner's circle since 2016, riding to the title at last weekend's Monster Energy Tour event in Winnipeg, Manitoba. 
Louis welcomed son Hayze Tyrell Louis on Sept. 2, 2017.
"Tyrell is after my middle name, so I call him Junior," Louis said.
"He definitely put a lot of motivation underneath me. I want him to grow up and think that his daddy was a bad ass."
His first step to cementing himself as a "bad ass" came last weekend at Bell MTS Place when Louis swept both rounds on his way to his first event title since June 4, 2016 when he won the Touring Pro Division's Dusty Gliko Bull Riding Challenge in Belt, Montana.
"I couldn't have asked for a better event, a lot of people came to ride," Louis said.
At the fourth stop on the Monster Energy Tour, presented by Mac's and Circle K, 40% of all outs were qualified rides, with the 27 contestants going 16-for-40.
RELATED: Dakota Louis Sweeps Both Rounds to Win in Winnipeg
Louis began the Friday night event with an 85.5-point trip aboard Skori Bucking Bulls' Smash.
"I talked to Lane [Skori] right before the event and he said he was a good bull that I should win the long round on," Louis said.
"[Skori] said he would go either way and be really fast, but would just be good. I thought he might go left right out of there and then he just swapped it up around to the right, making rounds."
"It felt good the whole way."
In the Championship Round, the 25 year-old matched up against Minion Stuart, a bull that has made three trips to Las Vegas, Nevada for the PBR World Finals.
"That's the kind of bull a guy wants to get on every time in the short round," Louis said.
The draw was a familiar one for Louis, having bucked off the Skori Bucking Bulls bovine at the 2016 Touring Pro Division event in Lethbridge, Alberta at the 4.06-second mark.
"I had to get a little revenge back on him," Louis remarked.
However, the out in Manitoba's capital ended much differently, with Louis lasting the full 8, earning an 87.5-point score for his work to split the round win with Lonnie West.
Louis earned $5,192.51 and 530 Canadian points to improve to No.14 in the national standings, ensuring his spot at the PBR Canada Monster Energy Tour Finals on Oct. 20-21 in Saskatoon, Saskatchewan at the SaskTel Centre.
The win also allowed him to inch ever closer to his newly set goal of winning the PBR Canada Finals.
"I've made the Canadian PBR Finals in the past, and this year I'm going there to win it," Louis said firmly.
"My goal was to go to these [Monster] events and win each one. I'll just take them week-by-week, one bull at a time. I have a little bit more experience and knowledge of the know-how of going about it, which really upped my game."
For Louis, however, the push represents a renewed focus on the PBR events after making a mid-season switch to compete in Pro Rodeo events.
"At the beginning of the year I went to the [PBR events] and I had tough luck," Louis said of the start to the 2017 season.
"I was riding a lot of the long round bulls, but the short round bulls kept getting me. Then I started entering some rodeos that were close to me and having a lot of luck at them." 
"I was trying to enter all the big rodeos and gradually started getting in and placing at them, getting my qualifications up, so I did that all year."
The end of the PRCA season on Sept. 30, however, ushered in the change in Louis' focus.
"The rodeos are over now and I saw they have all these good Monster events coming up and there's still a chance for me to make the Finals if I do good in Canada," Louis explained.
"The Monster Tour events, they're such good bull ridings, it's pretty hard to not go to them. "
And for Louis it is "hard" not to go to the two remaining PBR Canada events for more than just the points and money offered. 
For Louis and his northwest traveling partners Cody Casper, from Pacific, Washington, Thor Hoefer II, of Priest River, Idaho, the Canadian events are all within driving distance as opposed to those events happening stateside.
"We drive to most of the events up there," Louis said.
"There might be an event going on at the same time down in the states but the ones in Canada are way closer for us. Abbotsford is about eight hours from here, and I think Saskatoon is about ten, so all within driving range."
RELATED: PBR Canada's Rankest Return to Abbotsford
Looking forward to 2018 and beyond, the Montana man has set his sights high.
"This year my main goal was to do the rodeos and make the National Finals Rodeo. I got up there in the top 50, but I just wish I had a little more time," Louis said.
"Growing up everyone always wanted to make the National Finals in Las Vegas. I want to be able to walk out of there with the gold buckle and move on to the PBR full time on the Built Ford Tough [Series] and go for a gold buckle there as well."
Before looking ahead, however, Louis looks back to his roots noting the achievements of his father, a former bull rider and two-time Indian National Finals Rodeo champion Greg Louis.
Much like he hopes Hayze takes inspiration from him, Louis aspired to follow in his father's footsteps.
"He won the INFR twice before I won any," Louis said.
"That was my goal, to beat my Dad, and then once I had reached three, the next level up was to get a world buckle in the professional ranks."
While Louis has surpassed his dad, currently holding three titles, the milestone also ties him for the most titles won by a bull rider at the INFR.
"Hopefully I can change that this year," Louis remarked. 
"It was kind of a long shot making it, but it ended up working out. For me it's kind of like a stepping stone. You get to see the bright lights of Vegas and stuff before the PBR World Finals. "
To compete at INFR tour rodeos a rider must be a proven member of a recognized Native American tribe. Louis is a member of the Northern Cheyenne and Blackfeet tribes.
"It's family oriented," Louis said of the events.
Including Louis' new son, three generations will be present this year in Las Vegas at the INFR.
"I get to compete against my younger brother Preston so that's always cool, and my dad Greg will be there pulling us down," Louis said.
Regardless of the event Louis is competing at, he knows he always has the large support network of the Native American community at every step of the way along his competitive journey. 
"For all of Native America, when there is someone out there that's making it in the professional ranks, we all step behind them and wish them the best," Louis said.
"It's like I said for the INFR Rodeo, we are all just one big family."
Next up for Louis is this weekend's final regular season Monster Energy Tour event in Abbotsford, British Columbia at the Abbotsford Centre.
Action gets underway Saturday, October 14th with Round 1 at 7:30 p.m. PT.
Tickets for the one-day event are on sale now. They range in price from $25 to $75 and can be purchased through PBRCanada.com or Ticketmaster.ca.
Be sure to stay tuned to PBRCanada.com and follow the tour on Facebook (PBR Canada), Twitter (@PBRCanada), and Instagram (@PBRCanada) for the latest results.