Familiar faces fuel first win
By: Kacie Albert Tuesday, July 18, 2017 @ 3:20 PM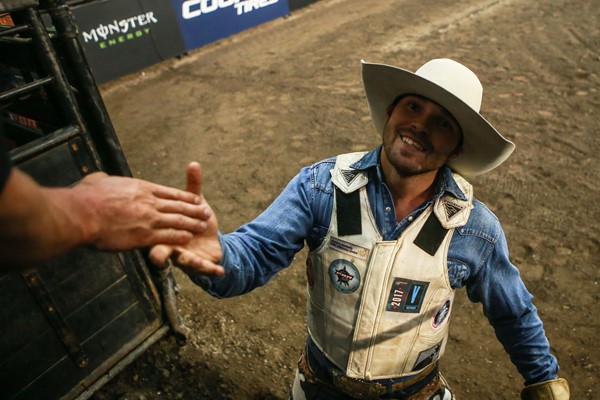 For Cole Young, his trip to Edgerton, Alberta for the Touring Pro Division's (TPD) Edgerton PBR Bullarama was another day at the office; however, once the final chute gate had flung open, the stop proved to be one that would not only give him his first buckle with the PBR, but would see him conquer two bulls that had bested him numerous times in the past.
The Fairview, Alberta cowboy's night began with Thompson Rodeo's Heaven Sent, a bull he had seen just three months prior when the TPD visited nearby Marwayne.
Young, however, was hoping for a different result this time around, having been bucked off at the 6.90-second mark.
The ride, on all fronts, would prove to be nothing like the duo's first meeting.
"I knew him," Young said. "But he ended up going a different direction, but I still got him."
And Young "got him" to the tune of 84 points, a score that tied him for second in Round 1, just half a point behind event leader Edgar Durazo.
Much like the long round, Young again saw himself paired with an old nemesis, Skori Bucking Bulls' Minion Stuart, one of Canada's most prominent bulls, in the short go.
Heading into the ride Young knew he was set to face-off against a bull that had bucked at the PBR World Finals multiple years, and was the 2015 PBR Canada Bull of the Year.
While most are familiar with the cliché, the third time's the charm, for 25-year-old it proved nothing but true.
After bucking off Minion Stuart at 4.40 seconds in Saskatoon in 2014 and 2.21 seconds in Edgerton in 2016, Young finally made the whistle aboard one of Canada's rankest, riding the bovine for 88.5 points.
While Young celebrated his accomplishment, one out stood between him and another career-first, his first win at the PBR level.
Young knew Durazo's draw, Gran Torino, and sat poised with a silent confidence.
"I didn't know what was going to happen," Young said. "But I knew the bull score on a regular trip wouldn't beat me."
While Durazo made the 8 aboard the Outlaw Buckers' bull, his 84.5-point effort wasn't enough to catch Young.
"I was really excited to win, but I was more happy to have ridden the bull," remarked Young.
"To ride him to the win was the best of both worlds."
The celebration however was short for Young, hitting the road shortly after, to meet fellow riders Brant Atwood, Dustin Ratchford, and Cody Rodeo Tyler in Sioux Falls, South Dakota for a TPD stop in Thief River Falls, Minnesota.
And Young hasn't let off the gas. Next up on his whirlwind summer slate of events is a TPD stop in his home-province at Czar Lake, Alberta on July 21 and another the next night in Manor, SK. 
Be sure to stay tuned to PBRCanada.com and follow the tour on Facebook (PBR Canada), Twitter (@PBRCanada), and Instagram(@PBRCanada) for the latest results.