Down But Not Out
By: Kacie Albert Tuesday, December 5, 2017 @ 1:14 PM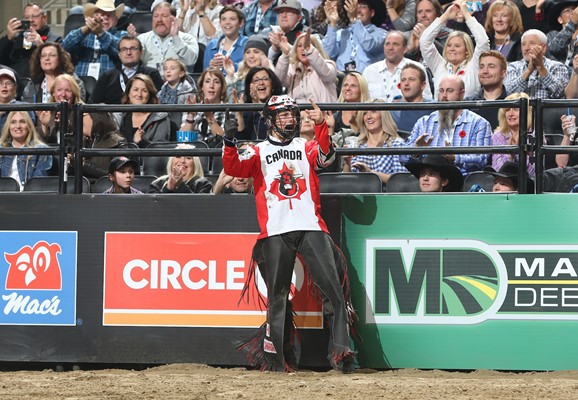 NEW YORK – On the first night of the inaugural Global Cup, host nation Team Canada's desire to win was on full display.
Going 6-for-16, and leading the two-day international showdown heading into the final night of competition, Team Canada's efforts inside the state-of-the-art Rogers Place were highlighted in part by 18-year-old Coy Robbins.
RELATED: Team Canada Defends Home Soil, Leads PBR Global Cup After First Night
The Camrose, Alberta native was one of the team's leading riders in the opening round on Night 1, making the 8 aboard Plenty Cool for 85.25 points.
The ride earned him a nod from coach Aaron Roy to ride in the bonus round, where his event came to an abrupt end, knocked unconscious when he bucked off Whiskey Hand.  
RELATED: Team Canada Confident Despite Injury Setbacks
"I did nothing, like literally nothing," Robbins said of the initial days following his injury.
"I drank water and laid on the couch, I didn't even watch TV really for that week after the Global Cup."
Despite being sidelined from actively competing for Team Canada just halfway through the five-nation, international showdown, the fast-rising Canuck was still left in awe by the caliber of the event.
"Well I'll tell you, it's one of the coolest events I think I'll ever compete at as a bull rider," Robbins said. "And probably one of the coolest for like my parents and brother to watch as spectators too."
"For a first time show, it was unbelievable. Like behind the bucking chutes, the atmosphere, it just felt like the roof was going to be blown off that place the whole time, and to be riding against guys that you've watched on TV for quite a while."
And the grandeur of the Global Cup sparked a competitive fire within the fast-rising Canuck.
"I had big plans right after Global Cup to start heading South with Lonnie [West] and Jackson Scott and some other fellas," Robbins stated. "But that come to a halt in a hurry."
"I phoned to enter West Virginia and I never got in, but I was put on the alternate list, and I ended up getting into Biloxi. Then I was going to enter Kearney, Nebraska and Peoria, Illinois," Robbins elaborated of his now derailed competitive plan.
"I can't now with this injury, but I planned on going hard down south. But that's part of rodeo, and that's part of life, so I'll just have to deal with it how it is, and be better when I come back."
While he rehabs according to doctor's orders, Robbins will take on the role of rancher, tending to the heifers he bought after the Global Cup. 
"I won't get on right away," Robbins said of his plans once he is cleared for competition.
"I'll just start working out again, getting back into it, and probably go to the practice pen a few times, just to make sure I don't spend all that money, and go South, and not be good.
"If that all goes good, I'm hoping in January we'll drive down to California and then go from California to Denver and then Portland and then kind of just stay on the East side there, like South Carolina and what have you."
And while Robbins is the most eager to return to competition, bull riding fans also patiently await his return after the rookie caught the eyes of many at the end of the 2017 season.
While the Global Cup was one of the first opportunities of his career to show his skill to the international bull riding community at large, the first-year rider, who had just turned 18 in June, began to catch the eye of many at the eight PBR Canada events he entered in 2017.
RELATED: Robbins Prepared to Represent Canada at Global Cup
At his PBR debut, the Touring Pro Division (TPD) event in Kinsella, Alberta, Robbins tied for sixth, after going 1-for-3, making his first qualified ride aboard Regulator for 81.5 points.
Collectively, Robbins went 8-for-17 during the PBR Canada season, including a 2-for-3 showing in Saskatoon, Saskatchewan for the PBR Canada Finals where he finished fifth, propelling him to the 2017 PBR Canada Rookie of the Year title.
He initially caught the eye of Roy at the PBR Canada ABBI event in Lloydminster, Saskatchewan in July.
"He was there and that is when he first cranked out," Roy recalled. "He got on by far the rankest bull there and he tried him pretty good and come off. He came up to me and asked for help right after. I helped him out and since then he has taken off. I keep seeing him improve. I saw him ride at the PBR Canada Finals and he rode outstanding.
"He just has all the try in the world. He wants to go somewhere and he wants to win first every time. Pretty much I have had in my head he is on the team since I had seen him."
And once in Edmonton, Robbins quickly caught the attention of Team Australia head coach Adriano Moraes on the back of the bucking chutes as he tried to fight to the 8-second mark on Pound The Alarm during the Monster Energy Team Canada Qualifier.
RELATED: West Wins Canadian Qualifier Ahead of Inaugural PBR Global Cup
Moraes was left grinning as Robbins got swung off the top of the Wild Hoggs bull.
"That kid has heart," Moraes said. "How old is he? That kid is going to be really good."
Moraes then paused and hollered at Team Canada head coach Roy.
"Aaron! Is that kid on your team?"
Roy responded with a quick, 'Yes,' and Moraes flipped him a thumbs up.
For Robbins, the remarks were received with great admiration.
"It's humbling for sure. A guy that, well I wasn't even born yet and my mom was watching him, and he says that about me, I don't really have any words for it, it's just crazy. Crazy, frickin', cool."
Furthering the impact of the three-time World Champion's comments, is his familial connection to the living legend.
The three-time PBR Canada champion, Roy,  believes Robbins has the potential to be a Top-35 rider by 2019 at the latest.
"Actually my mom, when she was pregnant with me, her and my dad would watch PBR and her favorite was always Adriano Moraes," Robbins said.
"To be able to talk to him, it was crazy. It was a lifetime experience, for sure."
Be sure to stay tuned to PBRCanada.com for all the latest news and follow the tour on Facebook (PBR Canada), Twitter (@PBRCanada), and Instagram (@PBRCanada) for the latest results.