Canadian Invasion
By: Kacie Albert Friday, September 15, 2017 @ 1:02 PM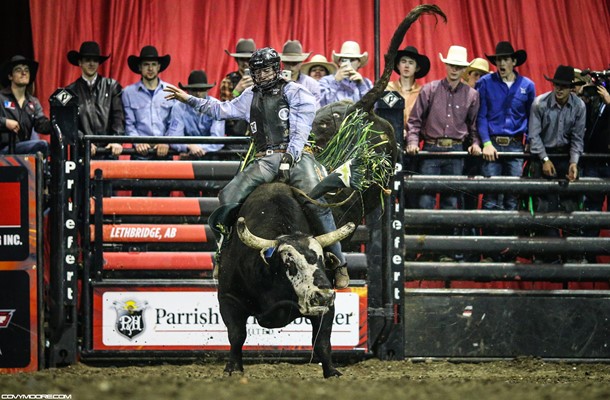 TORONTO – With veterans Aaron Roy and Tanner Byrne sidelined by injuries, new faces have led the Canadian contingent competing on the Built Ford Tough Series (BFTS) this season.
While Dakota Buttar has been a fixture on tour, remaining ranked within the Top 35 since January's season opener at Madison Square Garden, the past two weeks have featured up-and-coming riders making their BFTS debuts.
Last week in Springfield, Missouri it was Brock Radford, and this weekend when the elite tour visits Austin, Texas it will be 24-year-old Jordan Hansen making his rookie debut.
RELATED: Radford is Ready to Hit the Big BFTS Stage
"It will be pretty cool for sure," Hansen said of his first shot at bull riding's big leagues.
"It's something I watch on TV all the time, so it's going to be pretty neat to actually be there."
With numerous riders out due to injury, Hansen is one of eight alternates competing this weekend.
"[The invite] is still pretty fresh, but just competing against all the top guys and bulls is going to be pretty cool," he said of the opportunity.
"I'll definitely take the chance though that's for sure."
Awaiting Hansen is an increased level of competition that Brock Radford experienced first-hand last weekend.
"It was a big piece of humble pie," Radford remarked.
"It was a cool experience. It shows you where you're at and where you've got to go to get where you want to be, that's for damn sure."
One change that particularly stood out to Radford was the caliber of bulls he had the chance to attempt. 
"Those bulls, you've got no room for errors, so you've got to be on your absolute A-game," he said. "You can't be thinking on them, that's for sure. It's a lot faster, there isn't time for thinking, it's just reacting. "
"I love it, I like getting on those types of bulls, and I don't think it will take me too long to figure it out. I've always figured it out every other time I've made a step up so I'm confident that I'll figure out a way to step it up on the Built Ford Tough Series."
In Round 2 of his debut, Radford drew Udder Lover. The D&H Cattle Co./Bob & Jeri Adams' dumped the Canadian in 1.93 seconds to win the American Bucking Bull Inc. (ABBI) Maturity event with an impressive 90-point score. 
"That Udder Lover, he hammered me, but it's a good experience and it will make me a better bull rider, that's for sure," Radford said.
While his debut "didn't quite pan out," the De Winton, Alberta native is ready to improve upon his 0-for-3 performance this weekend in Austin.
"I don't know if I let the big lights get to me or whatever," Radford said.  "I for dang sure was nervous, but there's really no stopping that. I've got Austin this weekend, so I'm excited and hopefully I'll get one there."
"It's something to take in at first. I know I settled in a lot better by the third night. It's a jump at first, it's a little intimidating, but I like it, so I'm all for it and ready for the next one. I'll just keep getting on, and keep trying my guts out, so it should work sooner than later."
Aware of the challenges that faced Radford, which await him in the Lone Star State, Hansen knows it is a necessary step he needs to take in his career to achieve his goals.
"I think it's definitely going to take a little bit of adjustment, but it's what a guy needs to do to better himself in this sport and progress," Hansen remarked.
But, for Radford, it's an adjustment he's committed to making.
"I don't want to be anywhere else, I want to be on that Built Ford Tough Series," Radford said unequivocally.
"Being there, and seeing that, it's the only thing that I want to do. I feel like that's where I belong, that's where I want to be, and that's where I want to ride. It definitely put some new goals in my life that I want to accomplish. I want to make the World Finals this year, get that under my belt, and then I want to start going for a World Championship."
Completing the Canadian trio bound for Texas is 24-year-old Buttar who has been battling the lasting effects of an elbow injury he sustain in April at the BFTS event in Tacoma.
"It wasn't too bad on Sunday," Buttar said of his elbow at last weekend's event.
"The first night it was still pretty sore, the bull was really kicking and he yanked [the rope] out of my hand, but the next night it wasn't as bad."
With a 1-for-6 record as he headed into last weekend's PFIWestern.com Invitational, Buttar made a switch, opting to use a Brazilian rope, which fans can expect to see him using again in Austin.
"I got a Brazilian rope last weekend, it's a little different. I'm getting used to it, but I'm going to keep trying it."
In Round 1 Hansen has drawn Heartbreak Kid, while Radford has Bandy's Boy and Buttar will attempt Shake It.
RELATED: Click HERE for the complete Saturday daysheet.
While this will mark the first weekend the trio will ride together at the BFTS level, they have competed together since childhood.
"I'm really looking forward to it," Hansen said.
"I've known Brock since we were just little kids, we grew up together, and Dakota, I grew up riding with him, so I definitely know them both pretty good. There two pretty good guys to have down there with me."
"There's only going to be three of us, so hopefully we'll do Canada proud."
The Wrangler's Long Live Cowboys Classic, presented by Frontier Communications at the Frank Erwin Center gets underway with Round 1 and the ninth 15/15 Bucking Battle of the season on Saturday, September 16 at 6:45 p.m. CT
The action will conclude with Round 2 and the Built Ford Tough Championship round on Sunday, September 17 at 1:45 p.m. CT.
CBS will air the ninth 15/15 Bucking Battle of the season at 2:00 p.m. CT on Sunday, September 17, check your local listings. Championship Sunday will air on CBS Sports Network on Sunday, September 17 at 5:00 p.m. CT with coverage of Round 2 and the Built Ford Tough Championship Round.
PBR LIVE will also stream the entire event in real time starting at 6:30 p.m. CT on Saturday and 1:30 p.m. CT on Sunday.
PBR LIVE is available at no charge to all fans and media. Visit www.pbrlive.com to view. Fans can also watch all the action live via the PBR LIVE app, available for download now on Google Play and iTunes.
Be sure to stay tuned to PBRCanada.com and follow the tour on Facebook (PBR Canada), Twitter (@PBRCanada), and Instagram (@PBRCanada) for the latest results.