Byrne sidelined until PBR Global Cup
By: Kacie Albert Friday, August 25, 2017 @ 12:36 PM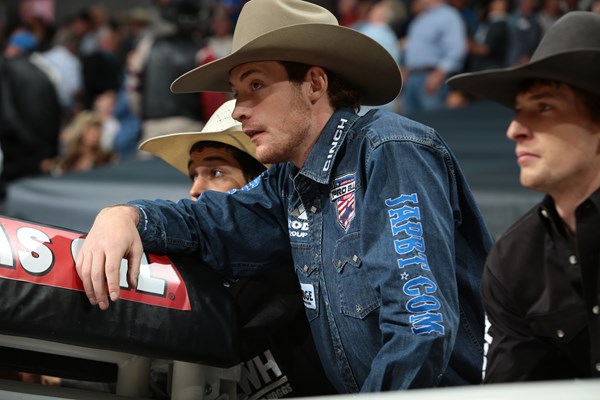 TORONTO – Tanner Byrne's last two seasons with the PBR read much like night and day.
Last year, the Saskatchewan native had already earned two event wins on the elite Built Ford Tough Series (BFTS), in addition to six Top-10 finishes, across the 16 events he competed in prior to the start of September.
This season, however, the fast-rising Canadian has been plagued with injury.
Limited to just five events on the BFTS in 2017, Byrne's first half schedule included several months of rehab to recover from a broken collarbone and torn groin muscles, all sustained before April.
RELATED: Byrne is Back
After working diligently with a team of specialists in Calgary, Byrne returned to competition in June, entering in 14 PBR Canada and Real Time Pain Relief Velocity Tour (RVT) events before the BFTS resumed in August.
RELATED: Back to Work
However, just two events into the latter half of the BFTS season and Byrne once again finds himself out of commission.
But this time, his comeback isn't planned until the PBR's Global Cup in November.
"I'm going to take my exemptions starting in the new season," added Byrne.   
"No point now in being at about 50% health, and just trying to keep going. It's not going to work. I'm riding good, but there's nothing I can do when I can't even hold on to my rope. I have to call it for right now, take care of myself and get back to 100%."
The three-time Glen Keeley Award winner's latest round of injuries includes fractures in both his ankle and wrist, both of which initially began to manifest during his summer campaign.
"I kind of first felt [my wrist] at the Calgary Stampede," remarked Byrne.  "One of those rounds I had a bull that kind of bucked around in the chute a couple times and it really jammed my wrist up. I've had some wrist troubles previous but this one kind of felt a little different. "
After continuing to ride throughout the summer, Byrne became increasingly bothered by his wrist when the BFTS resumed in Tulsa, Oklahoma.
"Going back to the Built Ford Tough events it really started to give me troubles," detailed Byrne. "As soon as I slid up on my rope it started going numb. I was getting to about six seconds and I would be sitting in the middle of their backs then I would be looking at my hand so I went to talk to [Dr.] Tandy [Freeman]."
At Dr. Freeman's recommendation Byrne had x-rays, revealing a fracture.
In addition to his wrist, Byrne is also rehabbing a fractured ankle, which he traces to the August RVT event in Santa Barbara, California. 
"As of right now I'm braced up and told to stay off of [my wrist and ankle] and not use them," said Byrne of his rebab plan.
"[The doctors] didn't want to cast them because the ligaments are torn up in there too, and if I totally quit moving them they thought that they might lock up on me. That would take the physio even longer. I'm just on some light exercises right now, rest, ice and about three weeks from now I can start doing physio and start to get some strength back in it."
"Now the plan is to totally start over, start from scratch. I haven't been in good shape all year," noted Byrne of his numerous injuries.
"It's just going to be a lot in my head to refocus on the sport, refocus on the game."  
"I think I really have to take this sport one day at a time, focus on myself and focus on my body. I think it's just going to be about rehab, physiotherapy and getting in better shape. This has lit a bit of a fire under me and it goes to show that this is not a very forgiving sport. Any little slip up and you can spend the whole year on the sidelines. "
"I'm ready to roll though, ready to rock. Take some time away from the sport here, in a while, maybe take some bulls to some events though and like I said, refocus, regroup and get back to riding like I know I can." 
And while Byrne's season may have come to an abrupt end, he is excited for his fellow Canadians as his home nation prepares to host the first-ever Global Cup.
"To see our country riding and representing, it is super cool," said Byrne. "I think Team Canada's chances look really great with the names we have on the list," said Byrne.
"As of right now, we are on our home turf, double the amount of guys. We have the advantage so we can step up to the plate and keep the Global Cup, the first ever one, in Canada."
Among those names already announced to be a part of Team Canada are Dakota Buttar and Brock Radford, both of whom have caught Byrne's attention this season.
RELATED: PBR Global Cup Riders Announced for Edmonton Event
For Buttar, 2017 marks his first full-season on the BFTS.
The Kindersley, Saskatchewan rider earned his position on tour after finishing 11th at his first-ever BFTS World Finals, concluding 2016 ranked No.31 in the world standings.
Currently ranked No. 32, Buttar has earned five Top-10 finishes at BFTS events so far this year.
"He's proven himself," said Byrne, of Buttar.  "He's had a year of some injuries. To be in that Top 35 after what he's dealt with all year is pretty amazing. "
RELATED: Buttar Aiming for Speedy Return to Action
For Radford he has been seemingly unstoppable at PBR Canada Touring Pro Division events, winning the last four.
"It's awesome to see," said Byrne of the 22-year-old from De Winton, Alberta.
"I've been watching Brock this year and he's been on a roll. I'm proud of him big time and I wish him all the best of luck."
While Radford has yet to ride at a BFTS event, currently ranked No.35 in the world, his debut may come at the tour's next stop in Thackerville, Oklahoma on Sept. 2-3.
"Brock defiantly has that swagger to him and that bad ass attitude that it doesn't matter where he's at or what he's doing he's there to ride bulls," remarked Byrne.  "I think Brock will do just fine."
After a more than two week break, PBR Canada action resumes next weekend in Stavely, Alberta for the Glen Keeley Memorial Bull Riding on Saturday, September 2 at the Stavely Arena. Action gets underway at 7:00 p.m. MT.
Be sure to stay tuned to PBRCanada.com and follow the tour on Facebook (PBR Canada), Twitter (@PBRCanada), and Instagram (@PBRCanada) for the latest results.