Byrne Makes Homecoming for Inaugural PBR Global Cup in Edmonton
By: Ted Stovin Thursday, November 9, 2017 @ 7:26 PM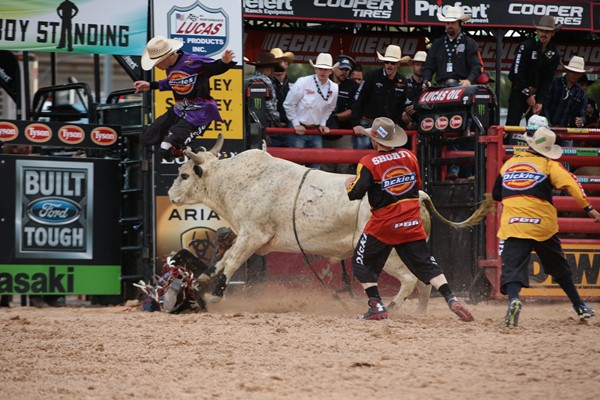 EDMONTON, Alberta – For Canada's Jesse Byrne, working events in his home country was a rare occurrence this season, happening just twice.
As one of three primary bullfighters on the elite Built Ford Tough Series (BFTS), Byrne spends more than 25 weekends per year working in the United States. 
"I have people ask me if I've retired from bullfighting because they don't see me at the rodeos up there anymore," Byrne laughed.
"It's special to have an opportunity to be able to be in front of your home fans." 
Besides this weekend's inaugural PBR Global Cup at Rogers Place in Edmonton, the only other Canadian event Byrne works is July's Calgary Stampede.
Last week, Byrne worked his tenth consecutive PBR Built Ford Tough World Finals in Las Vegas at the T-Mobile Arena.
"Everything is building up, building up, building up and then when the curtain closes on Sunday you can kind of see the air come out of everybody," Byrne said of the final day of the World Finals.
This year, however, is different. One event remains before the 2017 season concludes.
"I think being that it's Edmonton I'm not going to have a problem getting excited to get the bag back out and go to one more."
The past two years Byrne was able to travel alongside brother Tanner each weekend as the elite BFTS toured the United States. The two would split rooms and travel together in between as the tour schedule permitted. Prior to Tanner's arrival on tour, father Ryan would often judge events while Jesse fought bulls with eldest brother Bo.
In 2017, Jesse was on his own, however, with Tanner sidelined the majority of the season with a laundry list of injuries.
"It's kinda funny," Byrne said.
"I've gotten really used to the bull ridings being a family affair for me, but here as of this last year with Tanner being in all kinds of injuries and everything he's been through I've been kind of out here on my own essentially for the year. It's exciting for me to be able to go back to Edmonton and kind of get back to that family experience and sharing it with all those people.
"It's going to be a good week for us."
This weekend, Tanner is set to ride, while father Ryan will brings bulls.
While the return of his family will bring familiarity, the event format is a new experience for the Canadian bullfighter, but Byrne looks forward to the team format of the PBR Global Cup.
"I don't do this job for really any other reason than being a huge fan of bull riding essentially," Byrne said. 
"Most people look at sports as a team thing. There's definitely some standout individual sports that come to mind but it's the team thing people love to get behind."
With the change in format, the competition at Rogers Place may entice new fans with a new way to follow along and cheer for their nation. 
"The team is going to give somebody who hasn't been to a bull riding before a chance to give a side of the home country," Byrne explained.
Byrne also sees the team atmosphere as a source of more inspiration for the bull riders as well.
"When you've kinda got that enthusiasm and support from four other guys standing there at your bucking chute that's gotta help," Byrne said. 
"I think the competition should be strong and I think Canada is going to have a good shot at it. It's stacked up in their favor obviously with more riders being on the team of the home country but I think another advantage is probably the bull knowledge."
With the team atmosphere also comes a coach, another new addition to the bull riding world. 
"It's something that happens so fast," Byrne said. 
"With bull riding being 8 seconds and just the amount of stuff that happens in those seconds that if you're not on point, you're not going to be successful. Having somebody else's perspective on things is just so important." 
"I think there's getting to be a lot more put into this every day and coaches I think are going to be a huge part of it. I think you have to have a coach of some sorts to be able to make it around here."
Coaches can also earn bonuses based on how well their team performs, further increasing the intensity of the event's competition.
"It's exciting but it's kind of nerve wracking at the same time. I think that it's kind of Canada's chance to get behind the best of the best in bull riding," Byrne said. 
It's nation against nation, cowboy versus beast but Byrne is most enthused to be here for his family, friends and fans. 
"I think what I'm most excited about is just being able to share the sport I love and what I do for a living with the people in Canada," Byrne said. "I just don't get that opportunity anymore." 
Tickets for the highly anticipated Global Cup are on sale now and can be purchased at RogersPlace.com.
Be sure to stay tuned to PBRCanada.com and follow the tour on Facebook (PBR Canada), Twitter (@PBRCanada), and Instagram (@PBRCanada) for the latest results.