Buttar Takes Gorham's Advice to Heart, Wins First Event
By: Justin Felisko Tuesday, October 10, 2017 @ 2:36 PM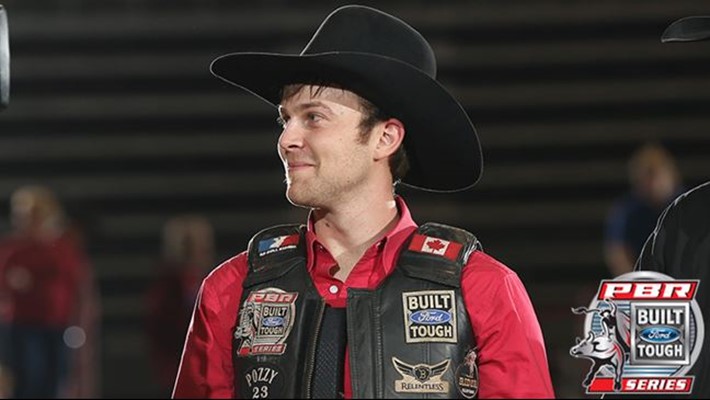 PUEBLO, Colo. – Dakota Buttar was heading down Interstate 15 on his way to Nampa, Idaho, last week when he sat up straight in his seat and stuck his chest out.
No, Buttar wasn't having back pain or feeling serious discomfort from his 15-hour drive to the 22nd Built Ford Tough Series event of his career.
Instead, Buttar was practicing what he spent the entire week at home studying.
It was in Colorado Springs, Colorado, that Matador Jerky Bullfighter Shorty Gorham pulled Buttar aside for a brief conversation. Gorham had noticed during Buttar's recent struggles (2-for-12) that the second-year bull rider was getting out way too far over his bulls inside the bucking chute.
"He was almost laying down on their shoulder before he nodded his head," Gorham said. "The first thing that happens is your upper body is going to go back and your bull is going to get away from you and get you behind your rope. I told him to just sit up straight and leave when the bull leaves."
Sit up more in the chute?
Buttar repeated the phrase over and over to himself. He thought that was a pretty simple adjustment, but it wasn't the first time someone had brought it up to him this year. In fact, fellow bullfighter Frank Newsom had also mentioned it to him recently.
Therefore, Buttar went home and re-watched every video he could find of himself on his cell phone and YouTube.
Buttar wanted to absolutely clear with what Gorham had noticed, and, sure enough, Gorham was right.
"I seem to ride better when I didn't get over them as far, so I have been working on that," Buttar said. "I used to always ride really far over the front because I noticed on some better rides I wasn't getting as far in the front. I was blowing my feet (lately) and he said that is what was happening, and I think he was right."
The small adjustment paid off in a big way this past weekend in Nampa.
Buttar was the only rider to go a perfect 3-for-3, and he walked out of the Ford Idaho Center Sunday night as the winner of the DeWALT Guaranteed Tough Invitational, presented by Ariat.
The 23-year-old joins Tanner Byrne as the only two Canadian-born riders to have won a BFTS event since 2003.
Buttar began his weekend with 86.75 points on Voo Doo Too in Round 1. He then followed that up with 85.25 points on Modified Clyde in Round 2 and his event-winning 86.5 points on BC Circular Insanity.
You could really notice Buttar's chute adjustment on his final ride of the weekend.
Right before Buttar nodded for the gate during the championship round, he consciously stuck out his chest just a tad and straightened his back.
It was then easy pickings for Buttar once the gate opened as he rode BC Circular Insanity into his hand for not only the first win of his career, but his first championship-round qualified ride.
"Sitting up straighter instead of leaning over more, I am in better timing with them than when I am leaving the chutes farther forward. If I sit back before they leave, I am in better time."
Buttar was previously 0-for-8 in the championship round.
"I have been in enough short rounds I should have got one rode by now," Buttar said. "That is the first one I got ridden in the short round. It is a big factor for me."
Two-time World Champion Justin McBride said he agreed with Gorham's advice.
"Well, (Buttar) just stays forward a lot too," he said. "It is a give and take. It is a timing thing. The front end is up, that is when you are forward. When it drops out, you straighten up. He just stays there a little long sometimes and that is why you see his feet come up behind him."
Two weeks after Derek Kolbaba made some slight physical adjustments to his riding, Buttar also found payday with an adjustment.
McBride said all of the riders in the locker room can fix little errors in their riding, but it takes discovering what they are doing wrong and then having the will to make the change.
"Man, little technical things can be fixed on these guys," McBride said. "You have to have the guts, first and foremost, and that is what Buttar has going for him. That is a gritty and tough guy. Man, we have seen him get the shit beat out of him, and he keeps coming back trying his ass off. I am really happy for him."
Buttar has been attempting to ride with a torn ligament in his riding elbow, and he recently switched to a Brazilian bull rope a few weeks ago to help alleviate the pain.
"This is the best my elbow has felt," Buttar said. "I barely have the brace. I cranked (the elbow) pretty straight. This rope seems to be helping."
Buttar earned 475 points toward the world standings and the two-time Canadian Pro Rodeo Association champion is now ranked 27th in the world standings.
The Kindersley, Saskatchewn, native is 18-for-53 (33.96 percent) in his first full season on the BFTS. Buttar last year qualified for the World Finals despite competing in only two events.
With a second consecutive trip to the PBR Built Ford Tough World Finals all but locked up, Buttar is happy to now be able to exhale and truly take things one bull at a time.
Buttar even admitted the last few weeks had been more stressful than trying to win those two Canadian titles.
"Getting to the Finals is harder than winning the CPRA," Buttar said. "Shoot before I was just having fun, and those other years I felt I couldn't really do anything wrong on the back of the bull. It just seemed so much easier than it has been this year.
"This takes a big weight off my shoulders. I can relax a little bit now that I have bumped up a bit. I can just go ride bulls."
Follow Justin Felisko on Twitter @jfelisko