Bull rope switch helping Buttar with elbow injury
By: Justin Felisko Thursday, September 21, 2017 @ 3:45 PM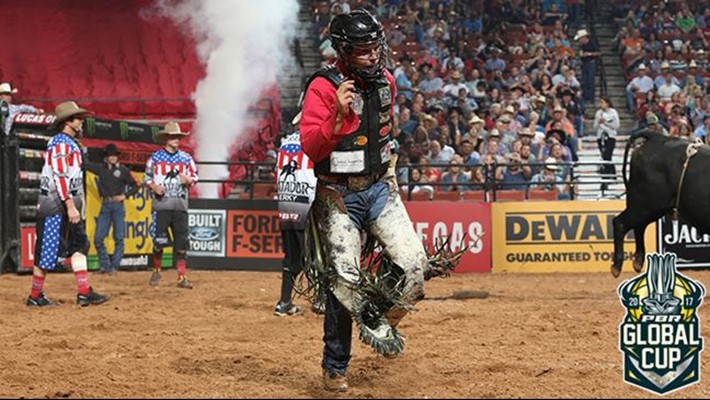 PUEBLO, Colo. – Dakota Buttar will look to be a key cog for Team Canada at the Global Cup on Nov. 9-11 in Edmonton, Alberta, and Buttar is hoping his 2017 injuries are far behind him now.
A torn ligament (UCL) in his riding elbow this past spring has given the two-time Canadian Pro Rodeo Association champion fits as he tries to also qualify for the 2017 PBR Built Ford Tough World Finals on Nov. 1-5 in Las Vegas.
Buttar is 3-for-13 since tearing the ligament attempting to ride Smooth Sailing in Tacoma, Washington, in April and the injury was one of a slew that have affected him this season.
The Kindersley, Saskatchewan, bull rider thinks he may have found a relief for the pain in his riding elbow over the course of the past two Built Ford Tough Series events.
"I used a Brazilian rope the last weekend and this weekend," Buttar said on Sunday. "Since Tacoma, my elbow has been having hell. Last year, Matt Triplett had the same thing in his elbow and he recommended I switch to the Brazilian and that is may help my elbow a bit."
Buttar first made the switch in Springfield, Missouri, where he saw mixed results. The second-year pro didn't earn a qualified ride, but two of his buckoffs came beyond 6 seconds and his elbow didn't feel nearly as sore as it did at BFTS events in August.
In Austin, Buttar hit payday with his first two-ride weekend since April and covered Shake It for 83.75 pints and What the Heck for 82.25 points.
"Hopefully this Brazilian rope is what triggers it (feeling not as sore)," Buttar said. "I feel like this weekend I figured things out a little better."
Buttar's performance was tremendously important in Austin as every single point toward the world standings matters for riders on the cutline of qualifying for the World Finals.
The top-ranked Canadian in the world earned 70 world points with his seventh-place finish to move from 34th to 32nd in the world standings.
Buttar had not earned any points toward the standings in three months.
"It is a big relief to get some points," Buttar said. "For me, it had been a while since I got one (ridden). This helps the confidence to finally get one out of the way."
Buttar heads into this weekend's Buck Off The Island, presented by Cooper Tires, in Uniondale, New York, only 65.42 points ahead of No. 36 Cody Rodeo Tyler.
Uniondale is one of five remaining regular-season BFTS events.
Buttar has drawn Dirt Road (3-5, BFTS) for Round 1 on Saturday night.
Fans can watch all of the action exclusively on PBR LIVE beginning at 7:30 p.m. ET.
Buttar was ranked 27th in the world standings at the time of his elbow injury in April.
"I am," Buttar responded when asked if he was aware of his drop in the world standings prior to Austin. "But I have a lot more to focus on with my riding. I need to take care of that and the standings will take care of itself."
One thing that Buttar has already locked up is a spot on Team Canada for the PBR Global Cup competition in Edmonton.
Single-day tickets for the international bull riding team competition are now on sale.
Buttar was named to Team Canada alongside Brock Radford, Jordan Hansen, Justin Lloyd and Cody Coverchuk last month.
He leads all Team Canada invites with 15 qualified rides on the BFTS (15-for-46) in 17 events this season.
Buttar is hoping he will be as healthy as possible for the Global Cup after dealing with his rash of injuries.
He finally believes he is regaining his momentum after sustaining the torn elbow ligament, as well as a punctured lung this summer at the Calgary Stampede and a minor hip injury during the first half of the season.
"I have never actually had to sit out with an injury ever, and this year it felt like I was sitting out every other week," Buttar said. "It has been one thing after another. I think I got one thing figured out and then I get hurt on the next one. It has been so frustrating."
Buttar doesn't believe he will need surgery on his elbow this year.
"Sports med says it will flare up all the time for no reason," Buttar said. "If I can ride with it, I won't need surgery. Surgery will be a last resort."
Buttar certainly doesn't want to miss the Global Cup.
He called Alberta the "heart" of bull riding and rodeo and he expects Rogers Place to be a raucous environment for Team Canada this fall.   
"This is the first time we have ever had something this big up there," Buttar concluded. "It is going to be pretty special to be a part of it."
Follow Justin Felisko on Twitter @jfelisko