Built Ford Tough Series Update - Uniondale
By: Kacie Albert Saturday, September 23, 2017 @ 8:23 AM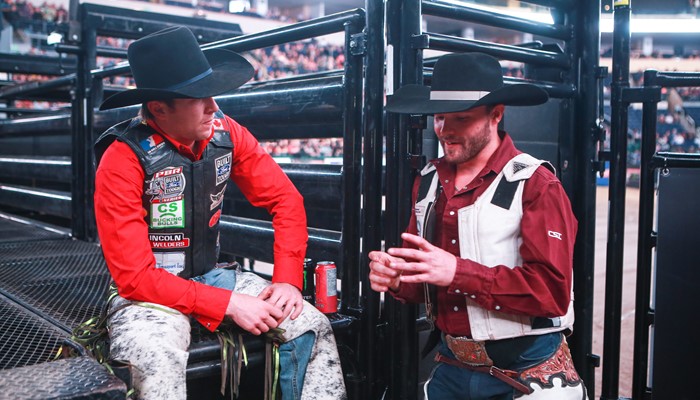 TORONTO – When PBR's premier Built Ford Tough Series returns to Uniondale, New York this weekend for the first time in more than a decade, the draw will once again include the Canadian trio of Dakota Buttar, Jordan Hansen and Brock Radford.
The Canadian contingent, which expanded by one at last weekend's event when Alberta's Hansen made his rookie debut, is fresh off an stop which featured two of the riders logging Top-10 finishes.
RELATED:  Jordan Hansen Makes Built Ford Tough Series Debut in Austin
Saskatchewan rider Buttar, who had bucked off seven straight as he began the event in the Austin, went 2-for-3 to finish seventh. The outing marked his first two-ride weekend since the April stop in Sioux Falls, South Dakota.
Buttar began the two-day event riding Shake It for 83.75 points in Round 1.
"I was pretty happy with the first one," Buttar said.
"I was just happy to get one rode finally. It had been awhile, it had been a slump. Everything finally felt good. Nothing hurt or anything last weekend so I'm hoping it continues that way."
Since tearing a ligament (UCL) in his riding elbow at the April stop in Tacoma, the two-time Canadian Pro Rodeo Association champion has been riding with lingering effects, but believes he has finally found a relief in switching to a Brazilian rope.
RELATED:  Bull Rope Switch Helping Buttar with Elbow Injury
 "Since Tacoma, my elbow has been having hell," Buttar said. "Last year, Matt Triplett had the same thing in his elbow and he recommended I switch to the Brazilian and that it may help my elbow a bit."
One the second day of the event, Buttar continued what was potentially building to a perfect weekend when he covered What the Heck for 82.25 points in Round 2.
Buttar advanced to the championship round for the seventh time this season, where he drafted Red Bandana.
"I got on Red Bandana in Billings this year and I went like [6.53] on him," Buttar said.
"I wanted to get on him again, but he got me the same way. He kind of threw me over his front shoulder, and it was identical to last time."
Buttar bucked off at the 7.27-second mark, but his 2-for-3 outing earned him a seventh place finish and 70 world points, elevating him two spots from No.34 to No.32 in the world standings.
"It took a little bit of grief off getting up a couple more spots," Buttar said. "I'm not really where I want to be, but it helped a lot. Hopefully I can get some more this weekend."
This weekend, Buttar will face Dirt Road in the first round, and Tahonta's Magic in the second.
"I have two really good draws. That Tahonta's Magic you could probably win the round on, and the other is a little spinner I think. I'm pretty excited about those draws. "
Close behind Buttar at last weekend's Wrangler's Long Live Cowboys Classic was Hansen who finished ninth at his debut event, netting 55 world points.
"Well it's quite the production that's for sure," Hansen said of his first event on the BFTS. "A lot of really good bulls, and a lot of really good riders so it definitely makes a guy step up, that's for sure. "
In Round 1 Hansen bucked off Heartbreak Kid at the 1.98-second mark, but he rebounded to cover Machinery Auctioneer's Mack Daddy for 86 points and a third place finish In the second round.
Advancing to the Built Ford Tough Championship Round, the 24-year-old drafted Beans & Cornbread who dispatched him in 3.71 seconds.
"I didn't do bad, I'd say," Hansen remarked of his performance. "I definitely wanted to do a lot better, but it could have gone a heck of a lot worse."
This weekend, Hansen will once again have the opportunity to build upon his first outing, selected as an alternate to compete in Uniondale.
In the first two rounds he has drawn Road Rage and Well Hello.
For Alberta's Radford, last weekend marked his second event on the elite tour, however he has yet to log a qualified ride on the tour, currently 0-for-5.
RELATED: Brock Radford Cracks Top 35, Earns Spot On Elite Built Ford Tough Series in Springfield
"Well It hasn't been very good yet, skunked me again last weekend," Radford said.
"I'm not letting it bug me too much, they're the best bulls in the world, so I'm just going to keep getting on and try my guts out and it will click sooner than later."
"It's like [Derek] Jeter, he says you're bound to hit one when you're missing."
In Austin, Radford bucked off Bandy's Bad Boy at 3.64 seconds and Butter Face at 5.41 seconds, the longest he has lasted at the BFTS level.
"I've been making some mistakes that I've been working on at home during the week. I've just got to slow things down and ride them right. I don't know if I got my motor going a little bit too much there, I've been doing more than I need to and it's put me in some bad spots, so I've just got to go back to having fun, and loosen up, and ride them jump-for-jump."
At this weekend's Buck Off The Island, Radford will face Whoop Ass in Round 1 and Jungle Fire in Round 2.
While Radford is ready to ride, he is also looking forward to competing alongside two of his countrymen.
"It is always cool to have the Maple Leaf represented and get a few more guys on tour," Radford said.
Championship Sunday will air on CBS Sports Network on Sunday, September 24 at 6:00 p.m. ET with coverage of Round 2 and the Built Ford Tough Championship Round.
PBR LIVE will also stream the entire event in real time starting at 6:30 p.m. ET on Saturday, September 23 and 1:30 p.m. ET on Sunday, September 24.
PBR LIVE is available at no charge to all fans and media. Visit www.pbrlive.com to view. Fans can also watch all the action live via the PBR LIVE app, available for download now on Google Play and iTunes.